The tokens allow players of the popular blockchain game to buy and sell game assets, buy equipment and have more control in Star Atlas.
As highlighted by Paolo Ardoino, CTO at Bitfinex, the company believes in the potential of adopting metaverse tokens.
"Bitfinex is pleased to add ATLAS and POLIS to the platform in order to bring its users direct access to what is intended to be an exciting futuristic sci-fi experience. Meanwhile, it also expands its reach in the blockchain games sector. We believe there is considerable potential for greater adoption and application of metaverse tokens and we are pleased to provide access to token users interested in participating in the metaverse."
About Star Atlas metaverse game
Star Atlas is a platform built on the Solana blockchain. It is a virtual AAA type game. That is, it is a high-budget, high-profile game, which can be classified as a "blockbuster".
The game consists of a multiplayer metaverse that is set in a fictional distant future.
In this world, three different factions fight for resources through space exploration and territorial conquest. So, as players conquer territories they earn rewards.
About POLIS and ATLAS tokens
Inside the game there are two digital assets, they are: ATLAS and POLIS. The POLIS token plays a governance role in the ecosystem. In other words, crypto gives players control over both in-game activities and changes in game parameters.
Meanwhile, the ATLAS token works as a unit of exchange for buying and selling in-game assets.
According to the developers, the game's platform economy is designed with the aim of mirroring real-world economies built around real-world asset ownership.
While blockchain games keep announcing new developments, the tokens are not performing at their best. Not even listing on Bitfinex boosted prices
ATLAS, for example, has dropped more than 12% in the last week and about 5% in the last 24 hours.
At the time of writing this article, the asset price is at $0.008224.
ATLAS token price chart. Source: CoinMarketCap
Likewise, the POLIS token does poorly. In the last week, the digital asset devalued 4%. In the last 24 hours, the price has dropped just over 5%. At the time of writing, POLIS is trading at $0.61.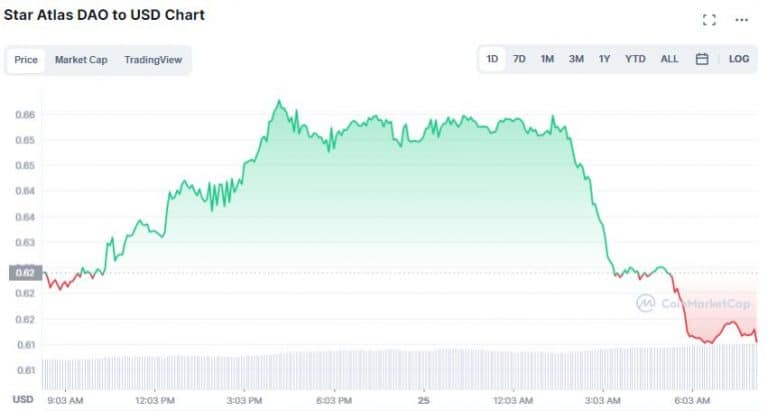 POLIS token price chart. Source: CoinMarketCap
Also read: Earth 2.0: Check out the key information from Friday's release