Decentraland (MANA) price reached $0.42 on Wednesday as the bull drove the rally to a 100-day peak. On-chain analysis uncovers major data points that could impact MANA price action in the coming days.
Decentraland has continued to attract significant investment this week as the bulls extend the monthly price gains to 13%. Can the rising whale demand push MANA price above the landmark $0.50 territory?
Crypto Whales Spotted Buying 24 Million MANA Tokens This Week
After a slow start to H2 2023, investors have rekindled interest in Decentraland and other leading metaverse tokens like Enjin (ENJ) and The Sandbox (SAND) over the past month. This week, Decentraland whales again sprang into action, buying up another 23.9 million MANA in the last 3 days.
The Santiment chart below illustrates how whales (wallets holding one million to 100 million MANA) increased their holdings from 560.6 million to 584.5 million MANA between Nov. 5 and Nov. 8.
Read more: What Is Decentraland (MANA)?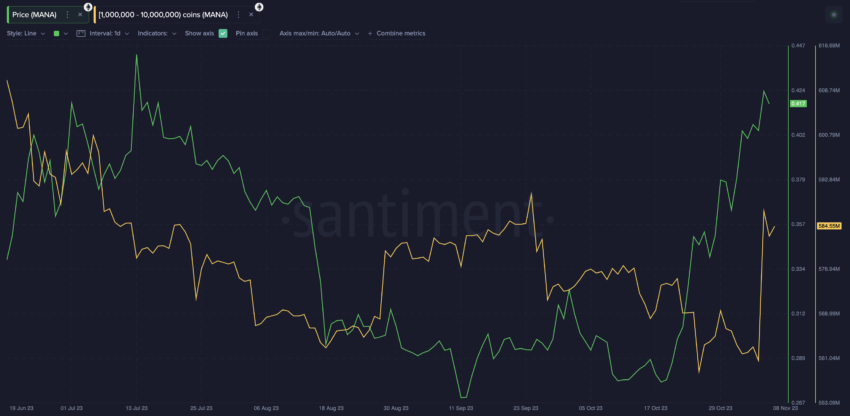 Decentraland (MANA) Whales Wallet Balances. Source: Santiment
The newly-acquired 23.9 million MANA tokens are worth approximately $10 million when valued at the current market price of $0.42. This increased whale demand appears to have put upward pressure on MANA price, driving it above the critical resistance zone at $0.40.
When whales keep buying more tokens as prices approach critical peaks, it implies that they are positioning for more gains rather than booking early profits. More so, it infuses much-needed liquidity into the market, enabling traders to execute trades efficiently at favorable prices.
Also, considering their influence, the whales' recent bullish moves could encourage strategic retail investors to double down on their Long positions as well. These factors could further propel MANA's price closer to the milestone $0.50 mark in the days ahead.
Read more: 5 Best Decentraland (MANA) Wallets for 2023
Liquidity is Returning to Decentraland Markets
As MANA's price dropped to a two-year low of $0.26 in mid-September, many dysphoric investors closed their positions and exited the market. However, courtesy of the increased whale demand and improvement in the overall sentiment surrounding the metaverse, liquidity within the Decentraland markets has increased significantly.
According to Santiment, MANA Daily Trading Volume reached an H2 2023 peak of $193.4 million this week.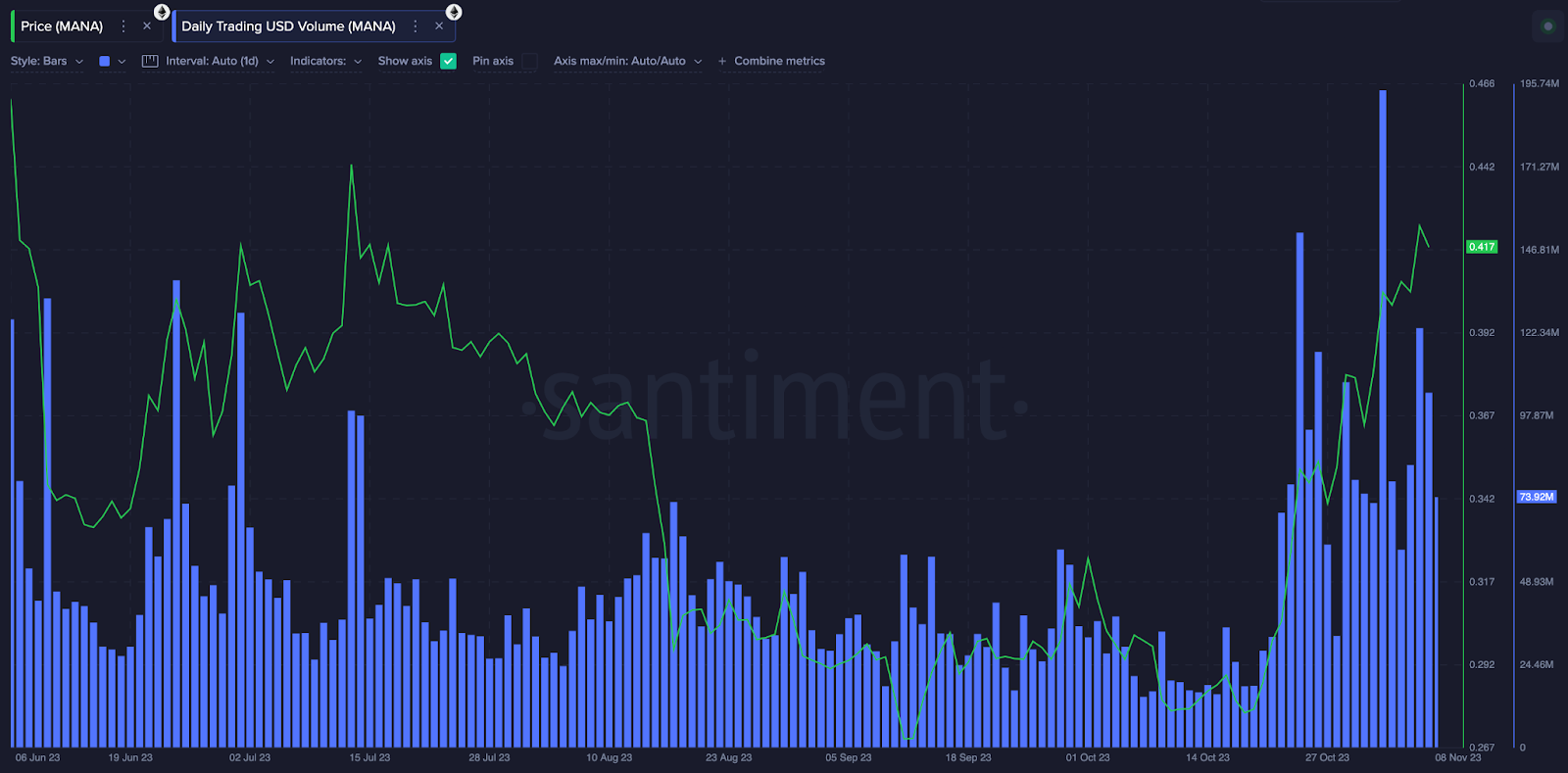 Decentraland (MANA) Daily Trading Volume. Source: Santiment
The Daily Trading Volume metric measures the nominal value of all trades and transfers involving a particular cryptocurrency on a given day. An increase in trading volume is a vital bullish signal. It indicates improved market liquidity and growing investor interest in the underlying asset.
However, the timing and price trend that followed this noticeable uptick in MANA trading volume suggests that much of the capital inflows in the last few days could be from bullish investors pushing for more gains.
Read more: How to Buy Decentraland (MANA) With a Credit Card: A Step-By-Step Guide
MANA Price Prediction: Road to $0.50
From an on-chain perspective, Decentraland's recent price breakout above $40 was driven mainly by the rising whale demand and improved market liquidity. And with these metrics still trending upward, MANA is in a prime position to extend its gains toward $0.50
The Global In/Out of the Money (GIOM) data, which groups the current MANA holders according to their entry prices, also confirms this bullish prediction.
It, however, shows that MANA must first scale the initial resistance at $0.46 for the bulls to be confident of reclaiming $0.50.
As depicted below, a large cluster of 23,990 holders had bought 347.45 million MANA at the minimum price of $0.46. If those holders close their positions early, they could slow down the Decentraland price rally.
But if the bulls can push aside that resistance level, MANA price will likely reclaim $0.50 as predicted.

Decentraland (MANA) GIOM data. Source: IntoTheBlock
Yet, the bears could negate the optimistic prediction if the MANA price reverses below $0.30. But, in that case, the 20,320 holders that bought 205.05 million MANA at the minimum price of $0.35 could mount a support wall. If those investors can HODL firmly, the Decentraland native token will likely avoid a significant price retracement.