Ethereum token unlock is near with the Shapella hard fork scheduled for April 12, re-staking platforms and banks are rolling out their announcements. 
Nearly 15% of Ethereum's total supply is currently staked, making it one of the lowest staked assets among competitors. 
Ethereum "re-staking" could ease the pressure of a sell-off and keep the blue-chip digital asset's circulating supply relatively low. 
Ethereum token unlock is drawing close with the upcoming Shanghai hard fork, also known as Shapella. Currently, nearly 15% of the asset's supply is staked, lower than its Proof-of-Stake (PoS) competitor blockchains. Prior to token unlock, projects and institutions have announced "re-staking" solutions for Ethereum, and this is expected to ease the selling pressure from ETH withdrawals. 
Ethereum "re-staking" can ease selling pressure on ETH
Ethereum token unlock is a key event for the altcoin's community as stakers will have access to their staked ETH for the first time since December 2020. However, given that the altcoin's price is over 60% away from its all-time high and nearly 15% of the supply is staked, less than most other PoS blockchains experts believe the community is looking for "re-staking" opportunities.
Several firms have lined up their services for "re-staking" the second-largest cryptocurrency by market capitalization. Experts on crypto Twitter believe Ethereum validators who staked ETH in the ETH2 deposit contract are maximalists, or believers in the altcoin's technology. This makes it less likely that validators sell their partially or completely withdrawn ETH tokens on exchanges. "Re-staking" and the Liquid Staking Derivatives narrative therefore poses a superior alternative to shedding ETH holdings across exchanges.
Will re-staking emerge as a driver that pushes ETH to $2,000?
Re-staking ensures that unstaked ETH does not flood crypto exchanges, in turn easing the selling pressure. At the same time, re-staking combined with ETH burn, contributes to Ethereum turning deflationary over time. Re-staking of the altcoin could therefore emerge as a bullish driver for Ethereum and act as a catalyst that pushes ETH closer to its bullish target of $2,000.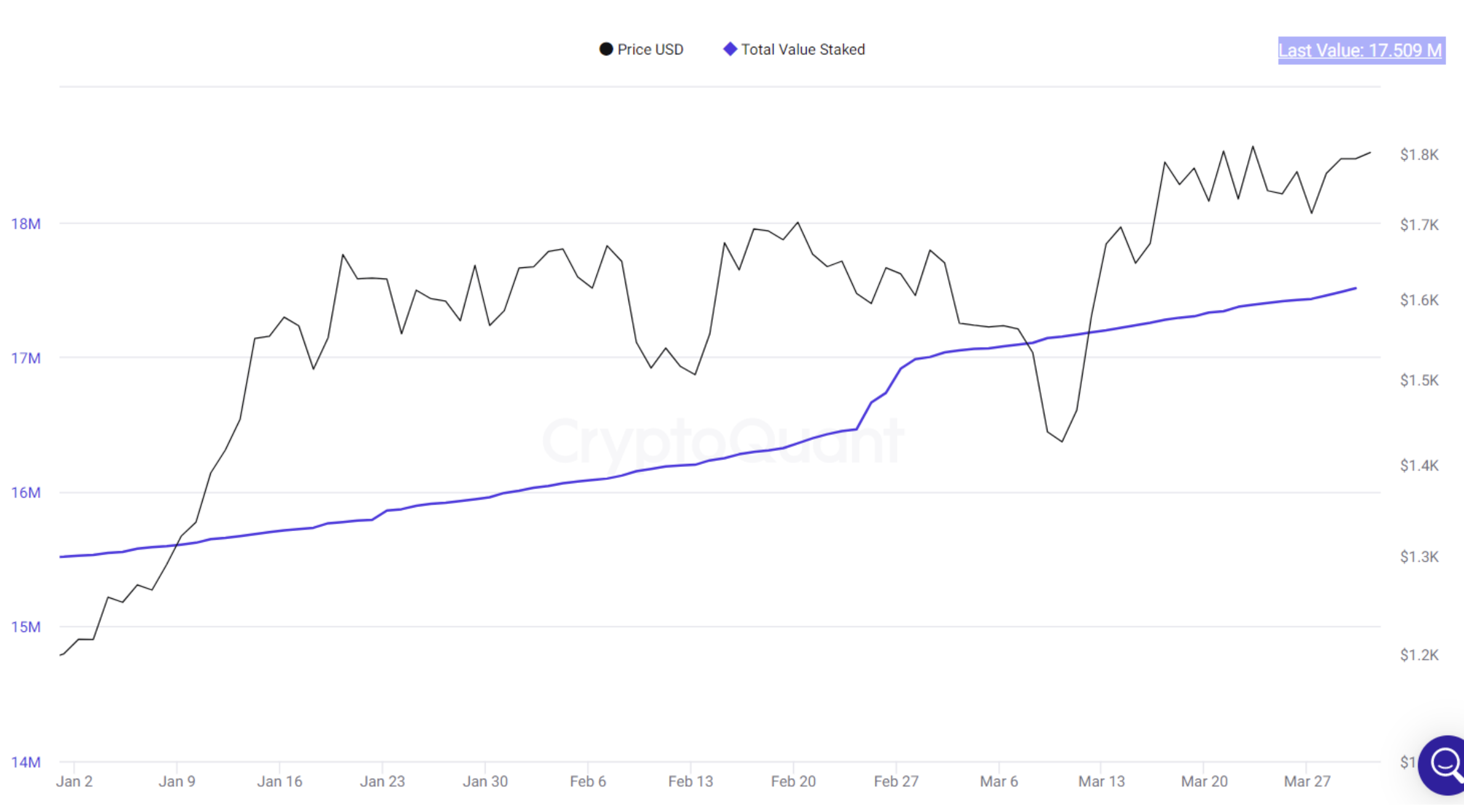 ETH total value staked
Interestingly, closer to the date of ETH token unlock with the Shapella upgrade, there is a spike in Ethereum tokens staked on the deposit contract, based on data from crypto intelligence tracker CryptoQuant. This reveals an interest from the ETH holder community, in staking the asset and pulling the altcoin out of its circulating supply.