As 'Floktober' gets underway, a recent AMA, conducted by the team behind the FLOKI memecoin, added further clarity on the future of the Floki-ecosystem, and what is yet to come. A thread posted by @RealFlokiInu on X (Twitter), appeared to further discuss and, in some instances, confirm a host of updates.
Institutional Adoption on the Horizon?
In response to a question geared around institutional adoption, core contributor, @100bviking (a.k.a. 'B'), appeared to confirm expectations around engagements with crypto market maker, DWF Labs, claiming that there is "A LOT being planned with them in particular, especially for FLOKTOBER".
According to the contributor, there is only so much that can be shared at this time (owing to NDAs), but further announcements are expected later this month. 'B' also reiterated that FLOKI's relationship with well-respected market maker, Wintermute, "remains intact and strong".
"We continue to get interest from institutions too, and with the combo of Project TL, Mystery Project, and Valhalla mainnet which are all around the corner I think we're going to see institutional interest balloon for Floki!"
Floki's 'Mystery Project'
Unsurprisingly, questions were asked regarding the 'mystery project' detailed on Floki's published roadmap.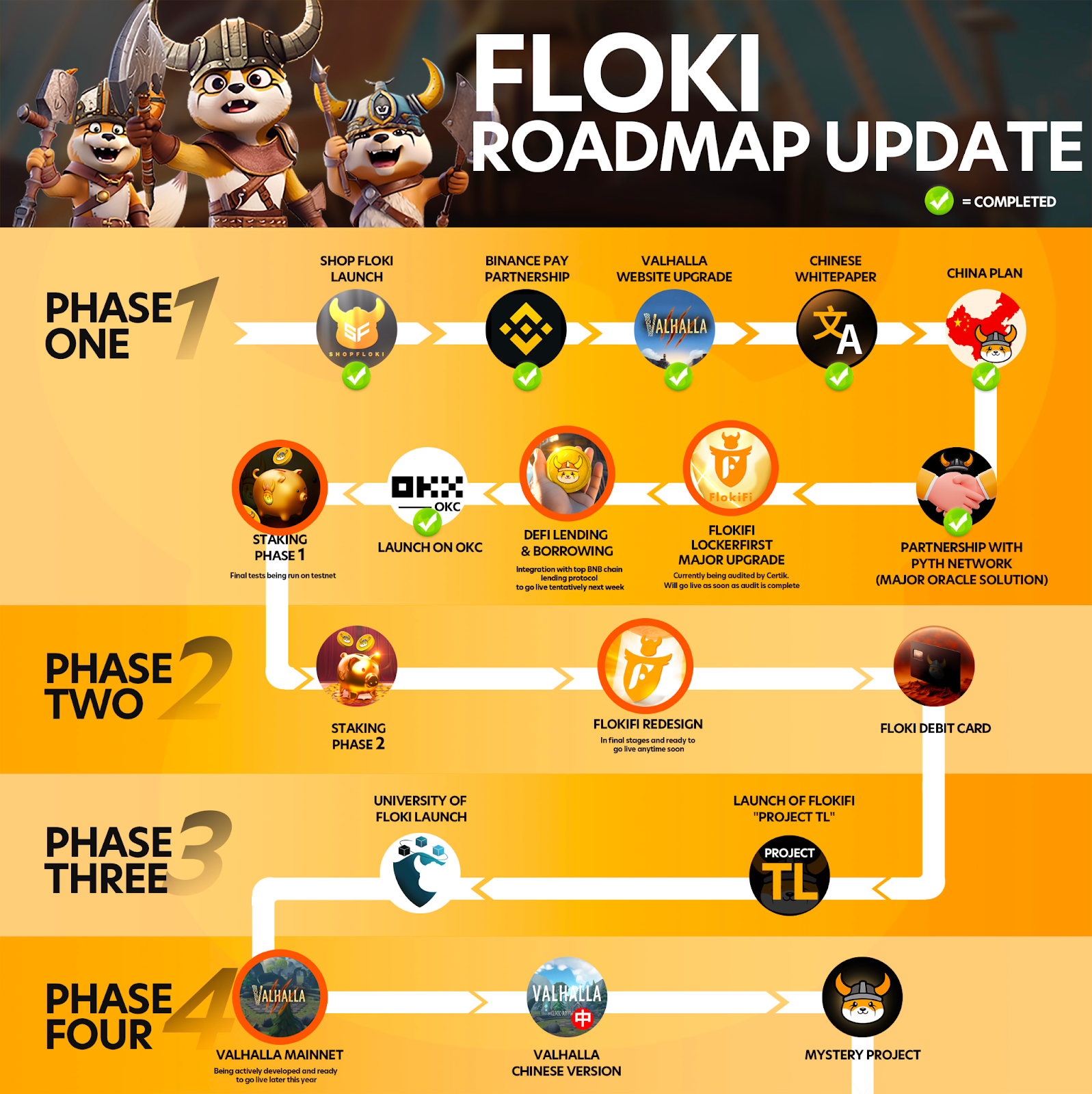 Source: @RealFlokiInu
Whilst 'B' was willing to share very little on what is now a hot topic for discussion, they did hint that "Some of these products might also be more related/intertwined than most people realize".
"Yes, it is being worked on and I am SUPER EXCITED about it!"
Floki's Place in the Memecoin Landscape
Following questions around Floki's ability to compete with contenders in the over-saturated memecoin vertical, 'B' highlighted some of the key elements that they believe render FLOKI a competitive prospect.
In particular:
FLOKI's success despite its late arrival to the memecoin space.
FLOKI's attainment of a Binance spot listing, in spite of bear market conditions.
An alleged emphasis on FLOKI's utility and "creating actual disruptive and sustainable value in the industry".
An ability to manufacture a "strong brand" and procure key strategic partnerships.
"We're not just a memecoin: we are a memecoin because we believe that retail appeal is essential to mainstream adoption for crypto and the innovative products that we are building, and Floki is the only memecoin with this advantage as far as I'm concerned."
Questions Around Security
After it was pointed out that blockchain security firm, Certik, gave Floki a security score of 86.65, and questions arose around how said security could be improved, 'B' highlighted that Certik has previously ranked FLOKI as the 31st most-secure project in the entire cryptocurrency ecosystem.
They further confirmed that talks with Certik were ongoing as to how FLOKI could improve its security rating even further.
"We're actively in discussions with Certik about how to make Floki a lot more secure, and the last time I checked I believe they ranked FLOKI as the 31st most secure project in ALL of crypto. THAT IS NO JOKE!"
Educational Initiatives: University of Floki
The community further probed regarding Floki's expected educational platform, dubbed 'University of Floki'.
'B' appeared to confirm that development of Floki's university is well underway, but disclaimed that it may take some time for the platform to become well-populated with content. 'B' further invited individuals that feel themselves to be "subject matter experts" to contribute to the growth of the initiative.
"Things are quite advanced when it comes to the University of Floki platform development, but content is an important part as well and we are prepared for it."