November is poised to be an active and engaging month for altcoins, presenting investors with good opportunities for trading.
The market has been highly reactive to conferences and events recently, with coming ones likely to offer similarly positive catalysts.
Solana, Arbitrum, Ripple and Axie Infinity are among the ecosystems with events this month.
The cryptocurrency market has a lot to look forward to in November, which has been touted as the best-performing month in terms of returns, particularly for Bitcoin (BTC). Besides the Ripple Swell event set to begin on November 8, other ecosystems also have activities on the calendar that could drive some volatility in the market.
Also Read: Uptober was great, but party may not be over as November is historically best performing month for Bitcoin
November altcoin setups to watch
While the XRP community has its eyes peeled on Ripple Swell 2023, several other ecosystems have conferences and events planned and spread out across the month. These could serve as positive catalysts, considering how the market has been highly reactive to such gatherings of late.
After the Solana Breakpoint conference in Amsterdam last week featuring creators and developers, Ripple is following with a meeting for leading industry innovators. For SOL, the purported Ethereum killer soldiers on despite FTX exchange still sending tokens to exchanges. This could either mean that the market shows a "bearish overhang" thesis is invalidated or that buying pressure is enough to outweigh the supply.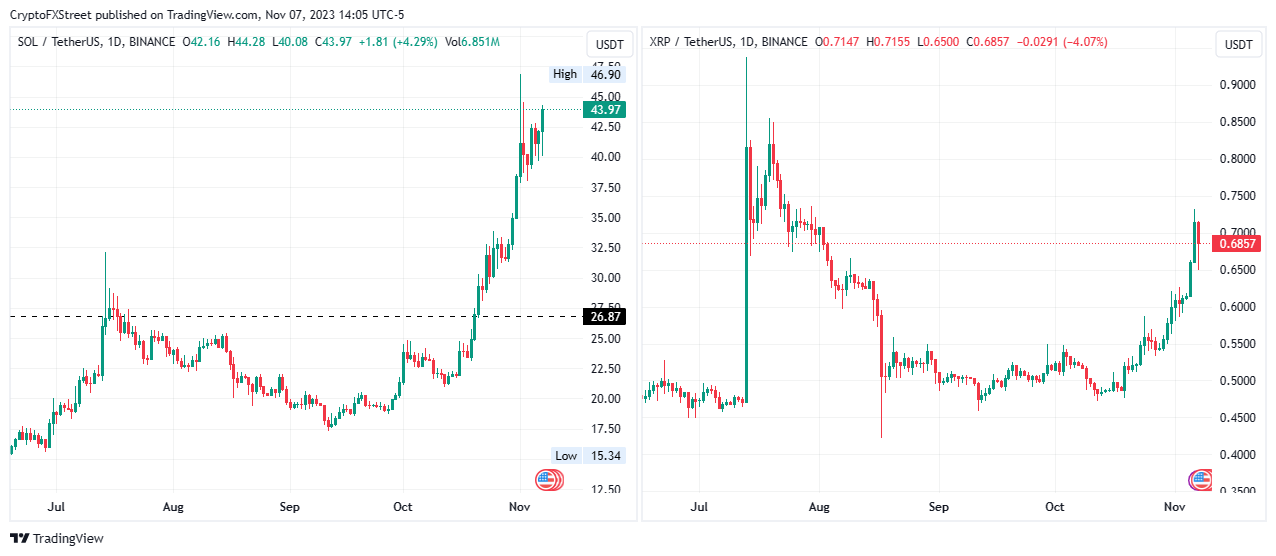 SOL/USDT 1-day chart, XRP/USDT 1-day chart
The Yield Guild Games (YGG) ecosystem will also be hosting a summit stretching fromNovember 17 to 25. The altcoin is already showing solid momentum, despite the conference being two weeks out, thereby giving traders room for trading here.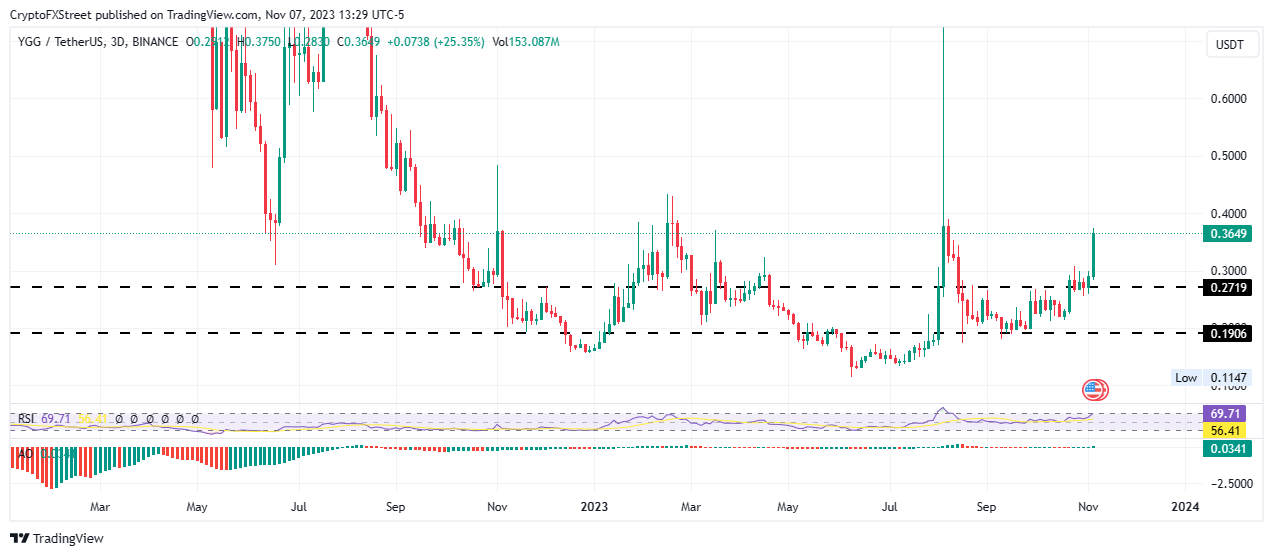 YGG/USDT 1-day chart
In the gaming space, the STEPN (GMT) and Axie Infinity (AXS) ecosystems are also poised for volatility with the sector leaders performing the strongest. Historically, once gaming gets going, it runs aggressively, and as some of the big names in the crypto space continue talking about gaming, this space could provide good trading opportunities for forward-looking investors.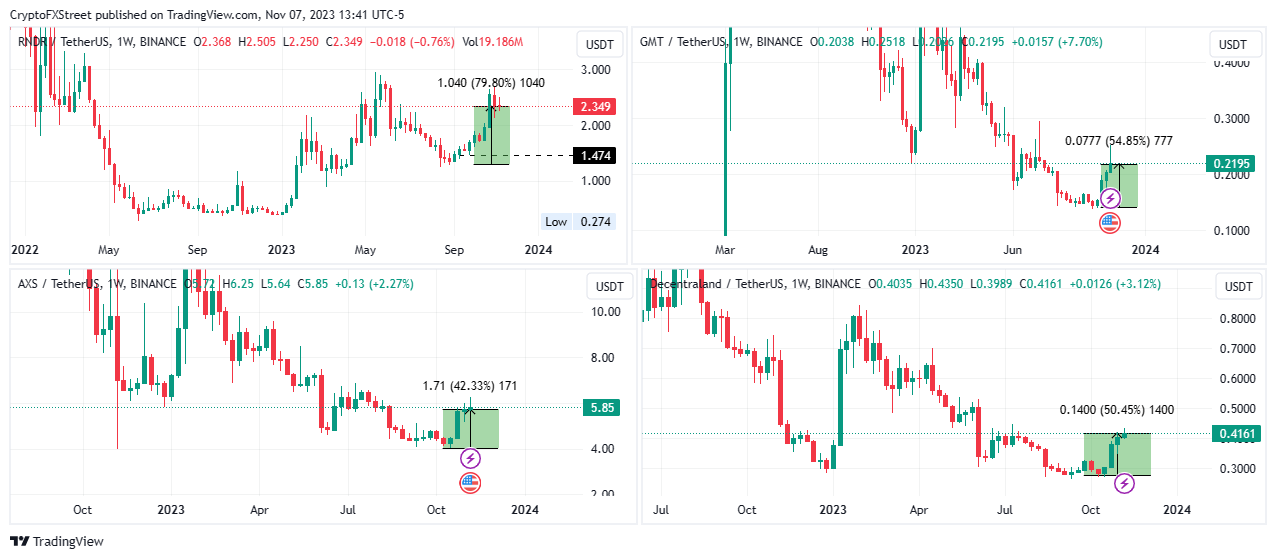 RNDR/USDT 1-week chart, GMT/USDT 1-week chart, AXS/USDT 1-week chart, MANA/USDT 1-week chart
Meanwhile, the Arbitrum (ARB) network has been busy, with the ARB eco incentives due for launch next week. The Arbitrum staking proposal was also passed on November 7, with the EIP still oncoming as a fundamental narrative. Notably, traders have already started booking profits on their ARB positions, while broader fundamental metrics continue to recover. Besides ARB, ecosystem altcoins including but not limited to GMX (GMX) and Pendle (PENDLE) could provide interesting trades as well owing to the fact that they are direct beneficiaries of the ecosystem fund.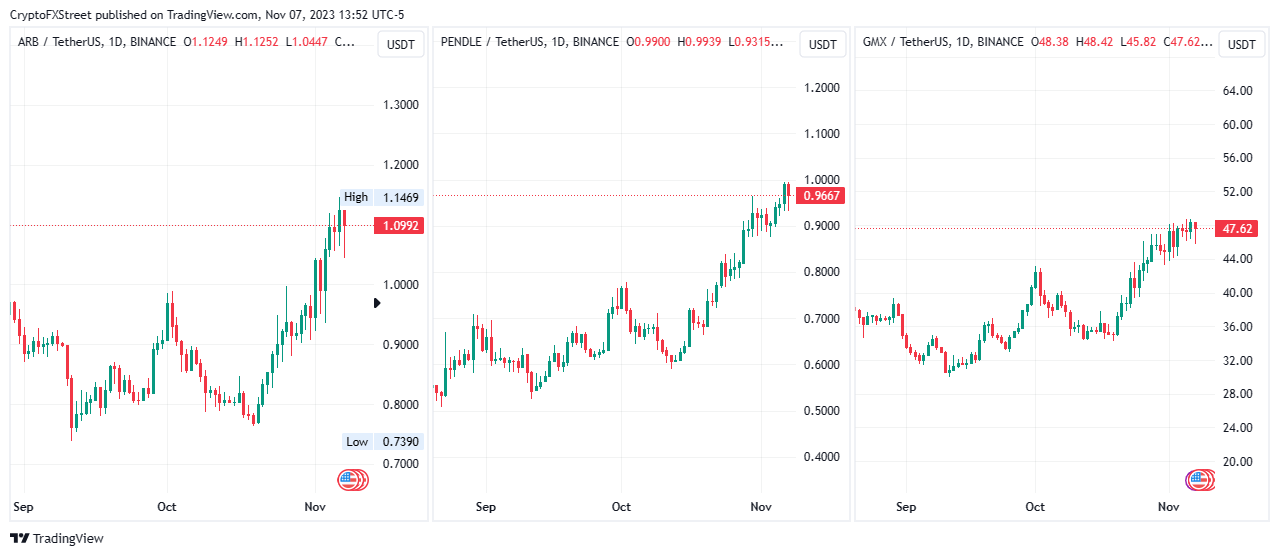 ARB/USDT 1-day chart, PENDLE/USDT 1-day chart, GMX/USDT 1-day chart
For the AI space, Fetch.ai (FET) and SingularityNET (AGIX) come to mind, with the OpenAI conference kicking off on Tuesday. While FET and AGIX have little to do with OpenAI, they rallied before the conference, as overflows from related tokens such as Worldcoin (WLD) benefit the space as a trend.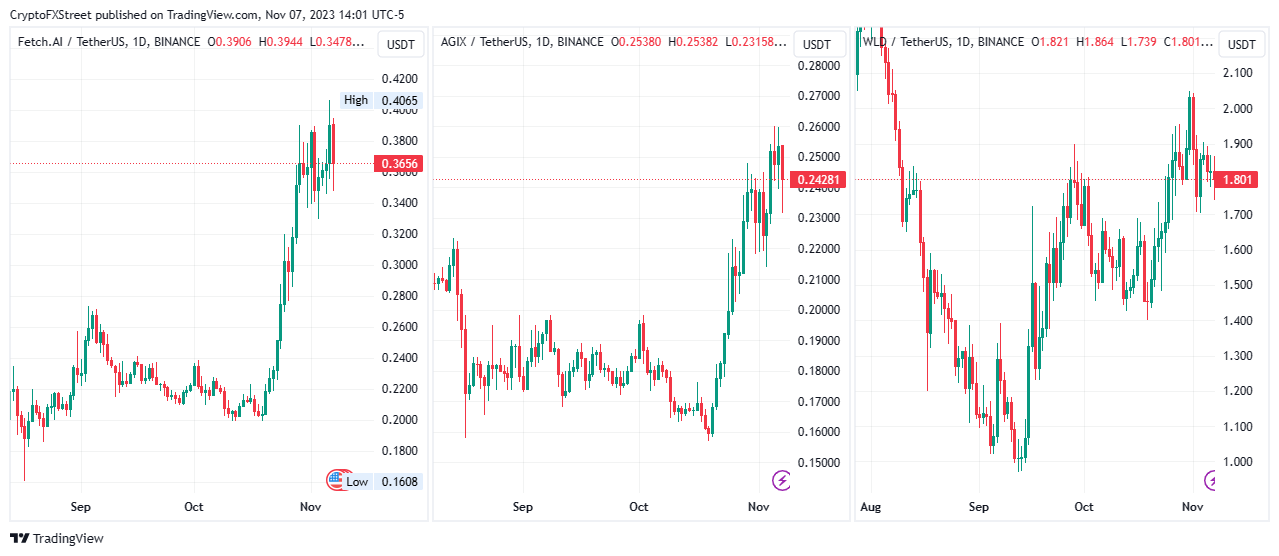 FET/USDT 1-day chart, AGIX/USDT 1-day chart, WLD/USDT 1-day chart
As these ecosystems grind toward their respective events, traders may have them on their watchlists with news from the conferences likely to influence traders. The "buy the rumor, sell the news" narrative could also play out. Caution should be taken when shorting in these environments, and generally during bull markets, unless news is released and there is movement in price, traders could then look for opportunities to leverage the "sell the news" event.
Source