SUI price at the time of writing fell below $0.5 after barely breaching it over the weekend.
Over the next seven days, about $36 million worth of tokens are set to be unlocked.
The likes of SUI, dYdX, and ImmutableX could observe price declines as selling is likely.
SUI price action took a disappointing turn over the past day, emerging as a leader of the cryptocurrencies witnessing a price fall. This is expected to intensify going forward as the crypto market is set to witness token unlocks this week around $36 million.
SUI price to be impacted by token unlocks
SUI price has slipped by more than 7.7% in the previous 24 hours, trading at $0.46 at the time of writing. The red candlestick came the very next day after the altcoin witnessed a 7.6% increase in price to breach through the $0.50 mark.
The altcoin, however, still has room to recover, as observed on the Relative Strength Index (RSI). The indicator still being above the neutral line at 50.0 is a positive sign for SUI, suggesting a bounce back in price is likely.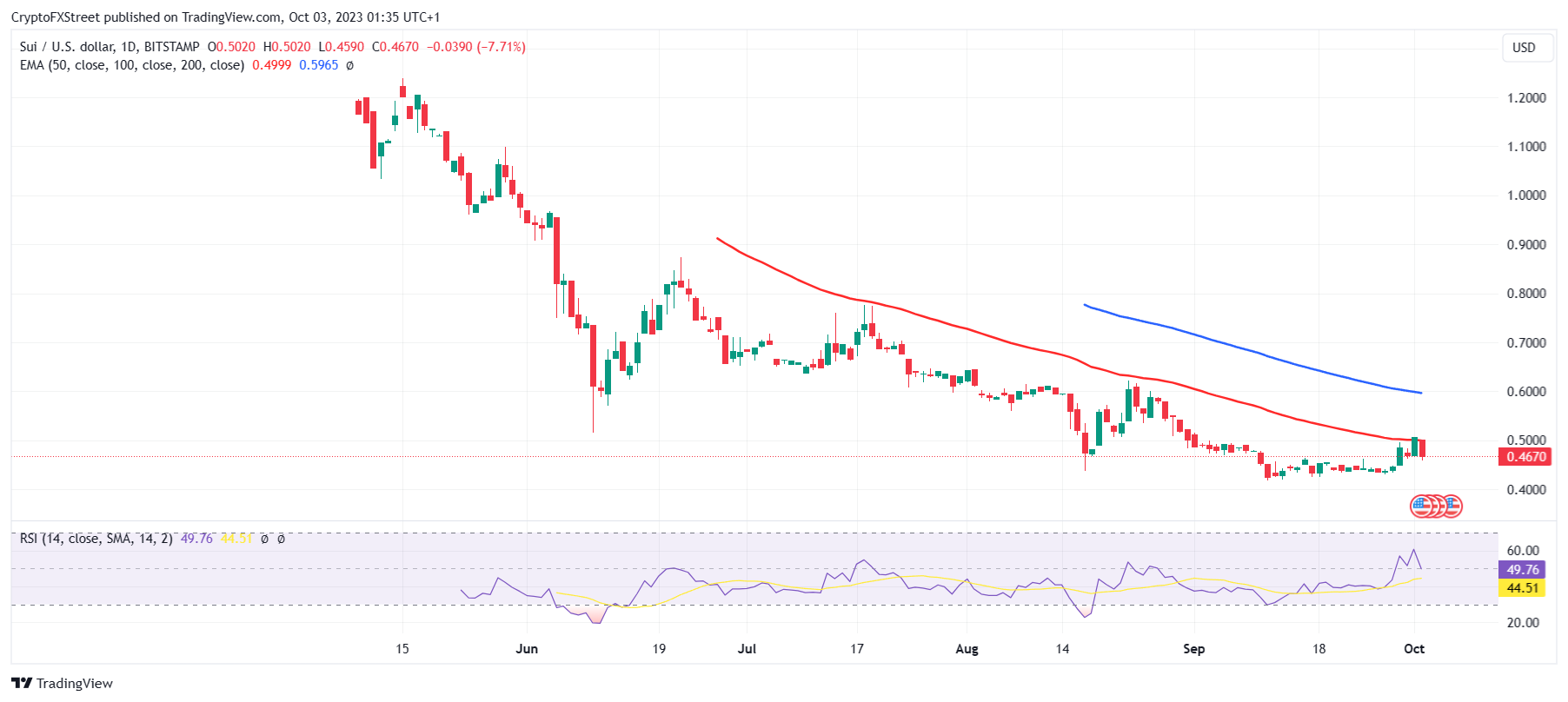 SUI/USD 1-day chart
However, a decline is also on the cards as altcoins are set to witness a token unlock worth nearly $16 million this week. Scheduled to take place today, the unlock would flood the market with almost 35 million SUI tokens worth over $16 million.
Going forward, the crypto market is expected to witness a total of $36 million worth of token unlocks that could potentially have a bearish impact on the price. Token unlocks usually result in a bearish outlook for cryptocurrencies as investors are motivated to make profits, but at the same time, selling could also lead to a price crash.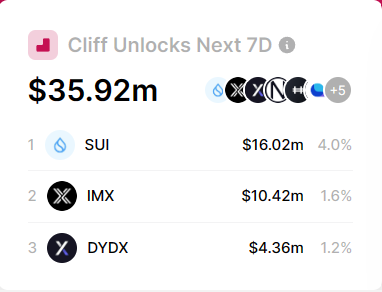 Major token unlocks coming to crypto market
Among the major assets set to witness crucial unlock events are ImmutableX and decentralized exchange dYdX's native token DYDX. While the former will note the unlock of $13 million worth of coins, the latter's unlock will result in $4.47 million worth of emissions over the next week.
The unlocks of other tokens will collectively add to the $36 million worth of assets awaiting unlocking. Investors are advised to watch the markets as well as the assets since token unlocks usually lead to a price decline.