The volatile nature of the cryptocurrency market, while for many is a problematic feature, has often been welcomed by traders who are well-versed with its volatility and are thus, able to reap profits. Such a case of extreme volatility was noted by the Bitcoin market late on 1 June, wherein the coin's price surged by 8.01% in an hour, from $9,656.11 to $10,429.26. However, true to its nature, the market did not hold on to this price for long and slid back to $10,241.92 in the next hour.
At press time, BTC was being traded at $10,102.06, as it hovered over its immediate support. Nevertheless, the current supply of BTC has been majorly in profit due to the aforementioned surge in the market. According to data provider Glassnode, 79% of all BTC supply is in a state of profit.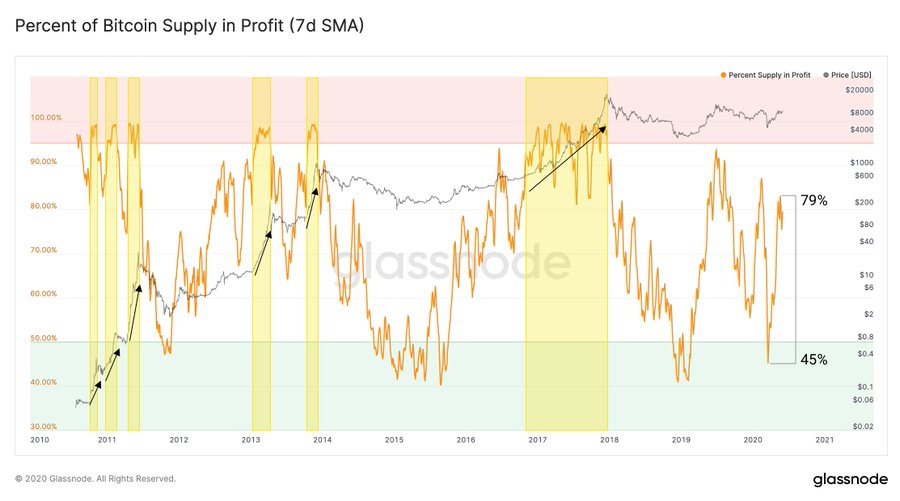 Source: Twitter
Ever since the violent market crash in March, Bitcoin's returns have been slashed almost in half. The world's largest cryptocurrency, however, has since been trying to build the market. As per Glassnode, levels of 90% or higher on the attached chart are usually indicators of bull markets, adding that if the percentage of BTC supply in profit were to climb higher, a bull run in the market will be imminent.
Interestingly, the rise in BTC value and supply, both coincided with the rising volumes of Tether moving into exchanges. As per Glassnode, USDT transfers to exchanges skyrocketed to register an all-time high, with the number of USDT deposits on exchanges reported having reached 20k.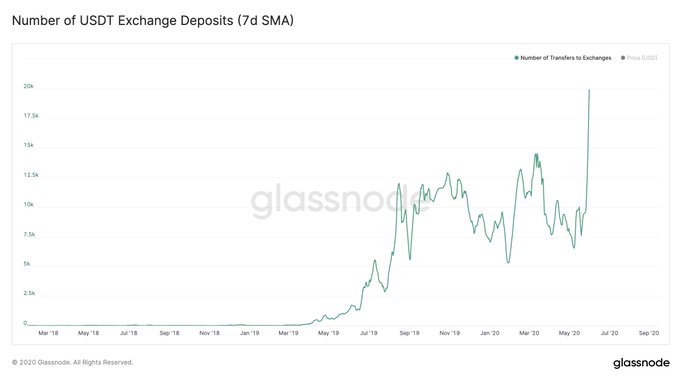 Source: Twitter
Despite a surge in movement on exchanges, it can be pointed out that inflow volume hasn't significantly increased. This suggests that actually, a huge volume of small-sized Tether deposits took place on exchanges. The main exchange for these transfers was observed to be Huobi, according to Glassnode.
Further, with the bull market seemingly right around the corner, BTC users have started hodling. According to data provided by bitinfocharts, the Bitcoin rich list is getting richer. Addresses with a BTC balance of 0 to 0.001 BTC increased by 32.49% over the past year, with the figure recorded to be 14.43 million, at the time of writing, holding some 2,982 BTC. On the contrary, just 2031 addresses held over 5 million BTCs.