Regulatory clarity helped crypto prices recover Monday losses.
Futures Markets continue their bullish outlook.
US Markets suffer losses after election fraud allegations and new COVID restrictions.
It was a bumpy Monday for the cryptomarkets. After the fanfare of Bitcoin breaking the $30,000 barrier, it quickly shed $5,000 or 33% of its value in a number of hours, reminding new investors that investing in cryptocurrencies can be rough on the nerves.
Adding to that pain, in January alone (that's just five days), more than $2 billion worth of futures contracts have been liquidated as a result of Bitcoin's volatility. But there was a ray of sunshine for rattled investors yesterday in the form of new regulation.
Overnight, the Office of the Comptroller of the Currency (OCC), the bureau of the US Treasury Department charged with regulating banks, gave the green light for banks to use stablecoins and blockchains for payments.The news sent prices moving upwards again. Ethereum rose by nearly 12% in the immediate aftermath, thanks in part to the sheer volume of stablecoins using the network. Bitcoin headed back above the $30,000 and has stayed there ever since.
The good news led to a flurry of money moves overnight, with 24-hour volume up 6,203%, according to data provider Nomics.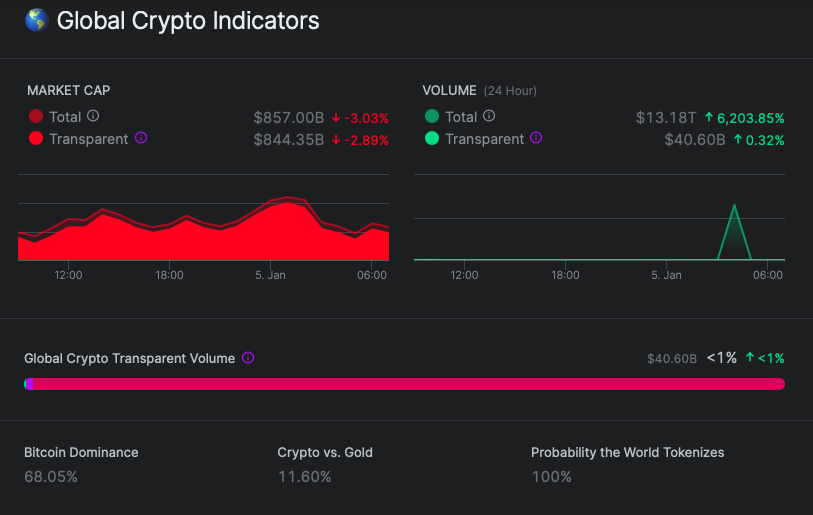 Despite the wipe out in the futures markets and increased volatility, sentiment among investors is still firmly in the 'buy' camp according to TradingView.

The bullish sentiment is being driven by ever more institutional investors piling into to cash in on the market beating performance of Bitcoin. As we reported yesterday, the word on Wall Street is, "Momentum is a powerful force, and we don't want to fight it."
Markets Suffer Worst Start Since 2016
It was a similar story yesterday for stock markets. The S&P 500 suffered its worst start to a year since 2016, with declines continuing in Asia amidst concern that two new COVID variants are squeezing economies even further.
In the UK, a fresh nationwide lockdown has led to school closures and a ban on meeting others outside. While in South Africa, a vaccine-resistant strain is starting to gather pace.
With chaos in the US and in Europe over how quickly they can deploy a vaccine – at its current rate, the UK will take six years to fully vaccinate the population, despite being first out of the gate with its immunisation programme.
The ongoing political saga in the US is also adding pressure to prices, as the Georgia Senate runoff and fresh allegations of election fraud dominate the headlines.  As a result, volatility indexes tipped up – the Cboe jumped the most since October.
But investors are holding onto the panic being consigned to the first quarter of the year. If we learned anything in 2020, it's that predictions rarely come true.