Bitcoin has been moving in a resistance-filled zone over the course of the month of May. The much-anticipated halving, followed by the huge movement of BTCs, caused a lot of panic in the market. This triggered sell-offs, a development that pulled down the value of the world's largest digital asset to $8,897.56, at press time. Despite recovering from the March market crash by nearly 141%, BTC's value has slumped by 4.47% this month, This has opened the gateway for the market's derivatives players to hedge against the upcoming volatility.
According to data from the Skew markets, 23,000 Bitcoin Futures contracts, by open and active positions, will expire on 29 May. As the traders await the effect of the halving to play out, the expirations may have some negative impact on the spot price of BTC. Interestingly, this expiration was close to 50% of the Open Interest for Bitcoin Futures.
Source: Skew
Similarly, 50% of the total Bitcoin Options Open Interest is also set to expire this weekend. As per the data, nearly 10,000 Bitcoin Options contracts will expire this Friday.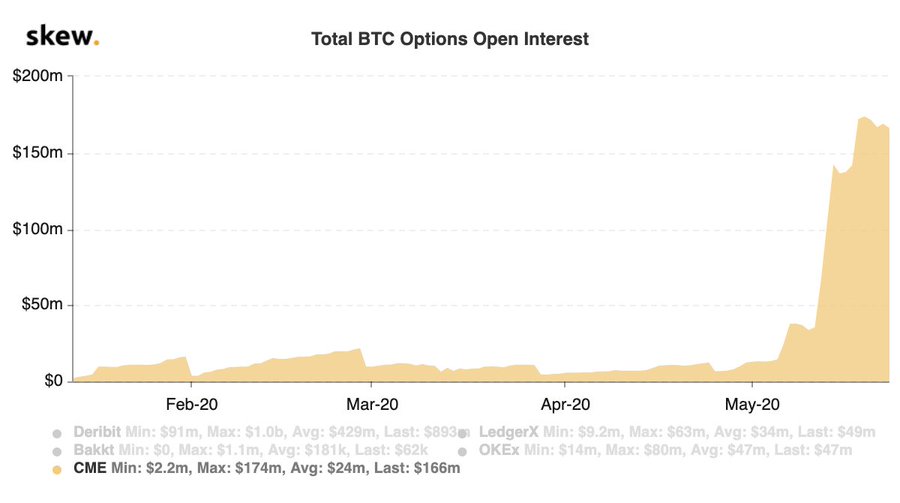 Source: Skew
The Options market has been seeing growing interest from traders since the beginning of May, especially among the institutional interest crowd brought by the CME. The CME expiration, clubbed with open positions on other Options platforms, marked one of the largest single-day expiries all year.
Source: Skew
Further, the data suggested that a total of 32,100 BTC Options positions are to expire on 29 May, whereas, the next largest expiry is expected for 26 June, with 53,400 BTC worth contracts by Open Interest.
Looking at the current state of the Bitcoin market, it can be observed that the sideways movement of the coin combined with the expiration of contracts spells bearish implications.
On the contrary, the press time Put/Call ratio suggested changing the direction of the existing trends as the traders were buying more calls than put, with the hopes of the price rising. This could be due to the halving as many traders predicted the price action to be visible only after two weeks of halving.
Source: Skew
Finally, the aforementioned data also implied that the present day's trading volume showed Puts or Options contracts to sell, having a significantly lower proportion than Calls, or Options contracts to buy. This re-affirmed the market's positive outlook towards Bitcoin's price.