The US Federal Reserve is expected to increase its funding rate by a quarter point to 5% on Wednesday. 
Bitcoin and Ethereum prices are holding steady after posting recent gains in the past week, anticipating a moderate interest rate hike. 
Experts argue that the fear of inflation and bank runs are driving investors' flight to Bitcoin, fueling the cryptocurrency's price rally. 
The US Federal Reserve is expected to raise interest rates while facing the tough task of tackling the banking crisis. Economists expect the central bank to increase its target rate range to 4.75% -5%, although there is a debate as some believe the Fed will not raise its rates at all. 
Bitcoin price rally steadied above the $28,000 level after yielding nearly 15% gains over the past week. BTC's run up to $30,000 depends on market participants' reaction to the Fed rate hike and FOMC meeting.
The US Fed plots its next interest rate move while the financial market is in turmoil
The US Federal Reserve is scheduled to release its rate decision along with its new economic projections at 18:00 GMT on Wednesday, March 22. Fed chair Jerome Powell will speak at 18:30 GMT. As of March 22, there is an 89.3% chance of a quarter-point increase by the central bank, according to the CME Group's FedWatch tool.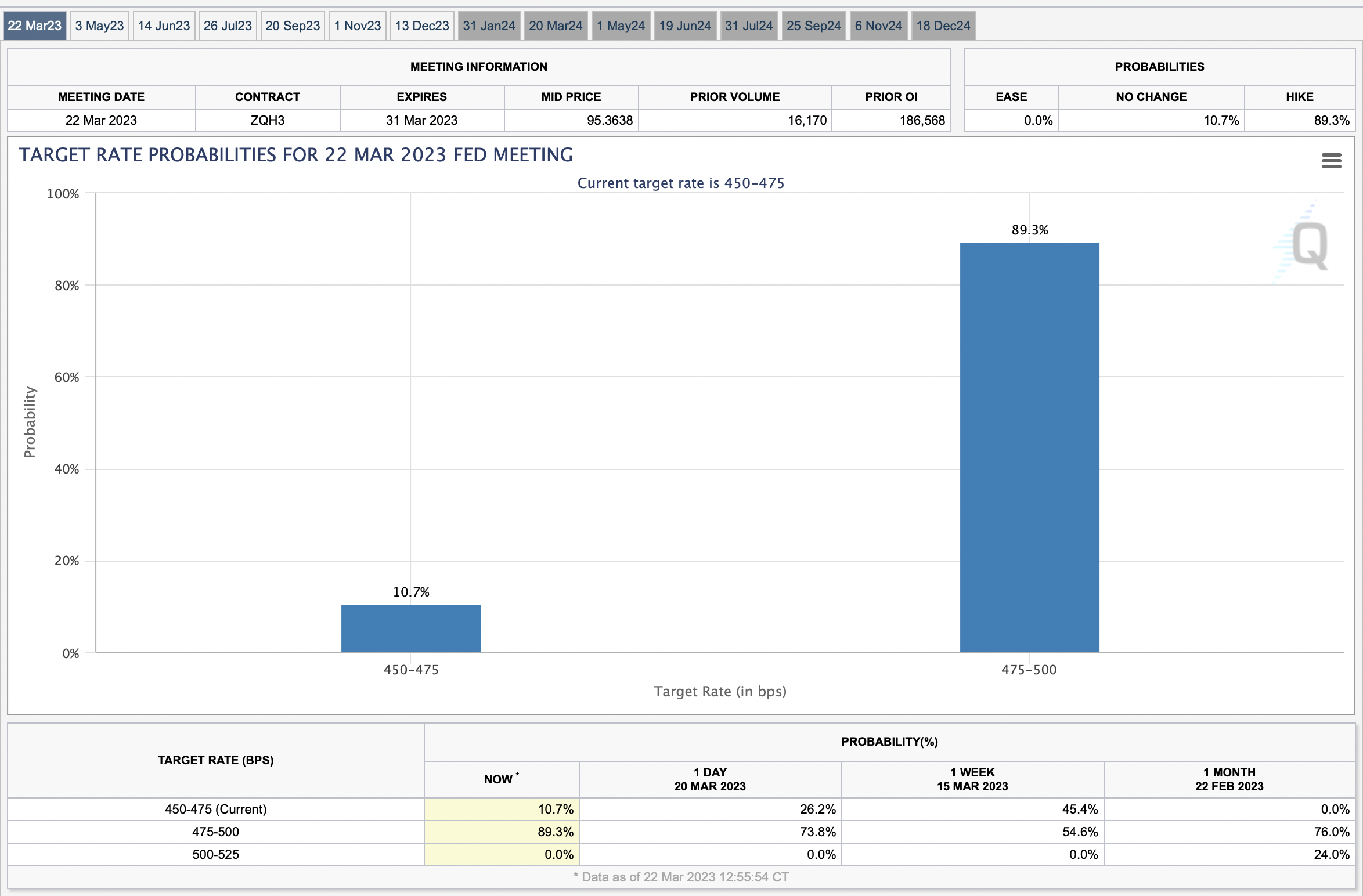 CME Fedwatch Tool
The tool shows a 10.7% probability there will be no hike and Fed chair Jerome Powell may start to ease his easing campaign amid fears of emerging financial contagion.
Wednesday's rate hike decision is tougher given the recent collapse of two large US banks and the financial market turmoil. 
Banking crisis, Bitcoin "safe haven" narrative and rally to $28,000
In light of the US banking crisis and the global financial crisis, experts believe Gold and Bitcoin are the assets that gained relevance. Interestingly, as BTC fell out of its correlation with US tech stocks and equities, its correlation with Gold increased.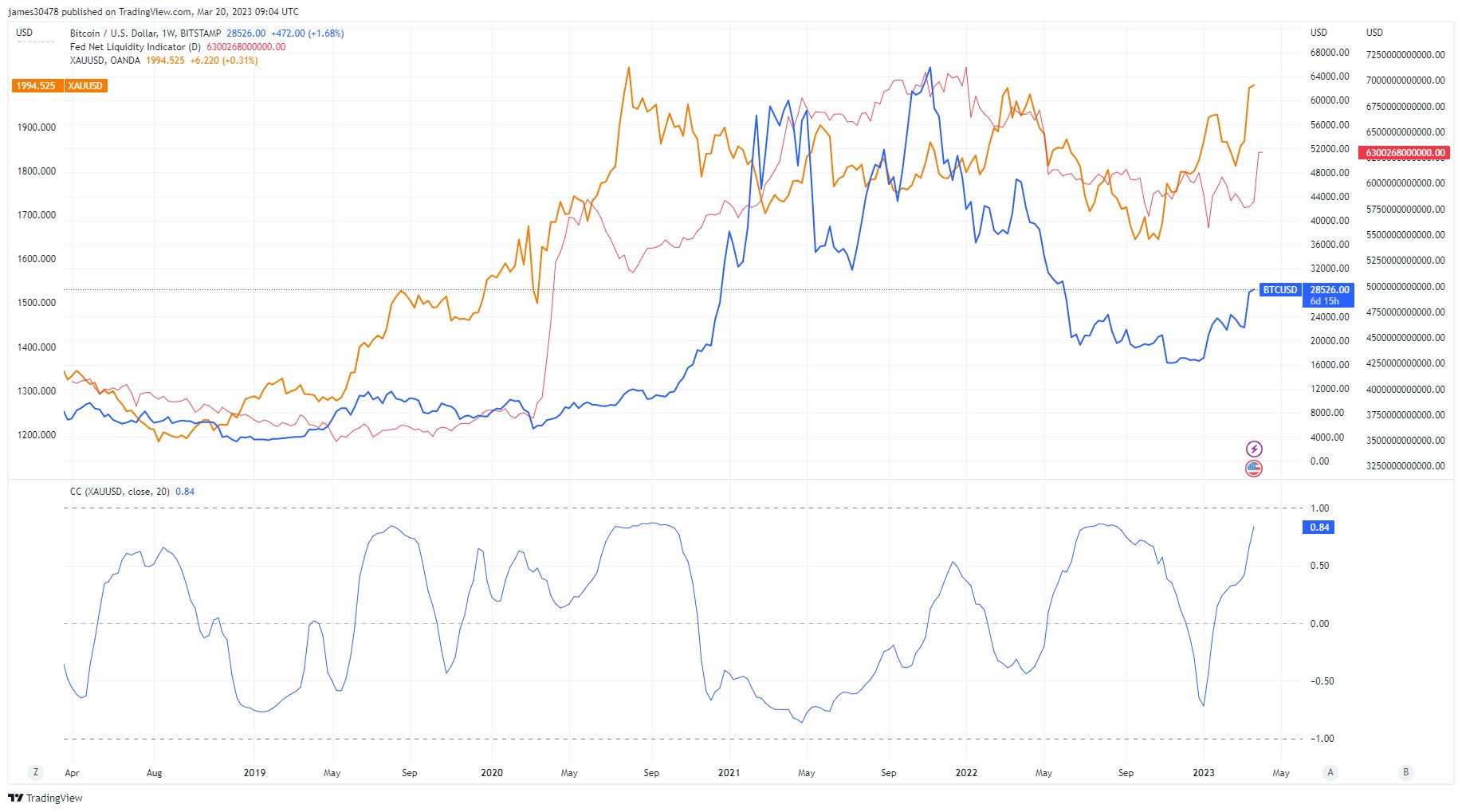 Bitcoin-Gold correlation increases to 84% as of March 20
According to a recent report from CoinShares, inflows of capital to Bitcoin are negative for the sixth consecutive week. Yet despite the decline in capital inflow, BTC price rallied above the $28,000 level and steadied, ahead of the Fed's rate hike decision. 
Ethereum is exchanging hands at the $1,800 level ahead of ETH token unlock, as investors price in a quarter percentage point hike. 
How will Bitcoin react to an above or below-expectation rate hike announcement?
While Bitcoin's "safe haven" narrative has made a comeback and long-term holders sit on unrealized profits, the asset's run-up to the $30,000 level could be quashed by a higher-than-quarter-point hike. 
Bitcoin, like other risk assets, benefits from looser monetary policy and the availability of liquidity in the economy. BTC could also garner attention from investors looking to move away from centralized trust institutions like banks, after the recent collapses. This is why not raising interest rates as expected or strong indications in the FOMC statement that the monetary policy will ease in light of the banking crisis would further damage the confidence in the financial system.
Therefore, if the central bank does not hike at all or Powell's stance turns dovish in light of the US banking crisis and global financial market turmoil, Bitcoin and risk assets could rejoice. BTC price rally could gather bullish momentum to hit its $30,000 target in the ongoing uptrend. 
Bitcoin price: Key levels to watch out
Bitcoin price is in an uptrend that started in January 2023. As seen in the Bitcoin/TetherUS 1D price chart below, BTC price rallied with two bull flag formations in early January. The pattern appears to have repeated itself in the price rally that kicked off on March 12, with the US Federal Reserve's announcement of the Bank Term Funding Program (BTFP). 
The US central bank's recent announcements have fueled the asset's uptrend, since they fall in line with injecting liquidity in the economy. Wednesday's rate hike announcement is therefore key and BTC holders will closely watch Powell's speech to ascertain whether to expect further quantitative tightening measures or expect easing.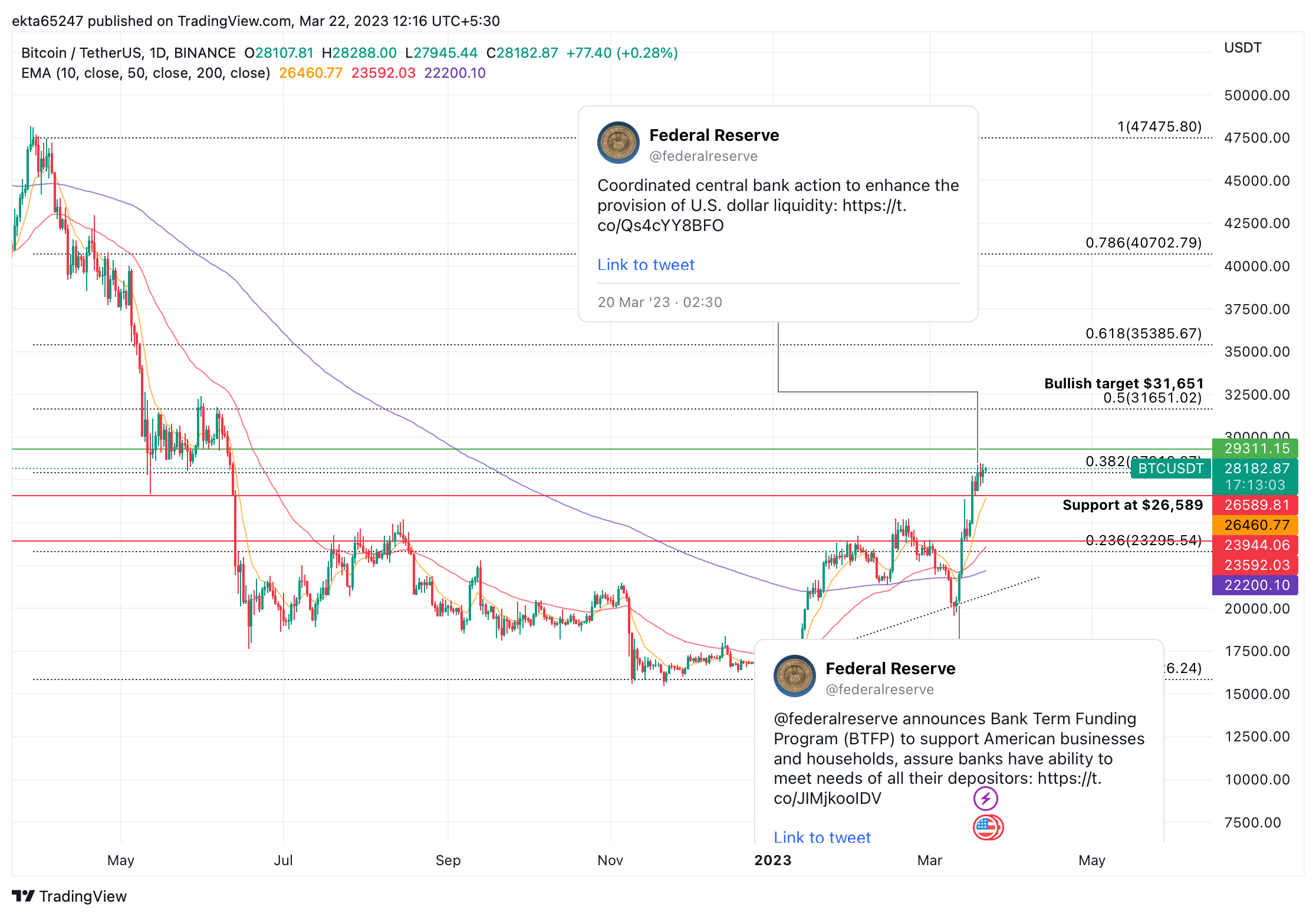 BTC/USDT 1D price chart 
Bitcoin price is currently battling resistance close to the 38.2% Fibonacci Retracement level at $28,182. A clean break above the resistance clears BTC's path to the next resistance at the 50% Fibonacci Retracement of the previous bear market decline at $31,651. In the current uptrend, the bullish target is a close above the $31,000 level. 
If Powell's speech reveals the Fed's hawkishness and expectation of higher rate hikes for longer, a knee-jerk reaction could send Bitcoin reeling to its support at $26,589 before subsequent drop to key support at $23,944 and lower.