Even after rallying $1,000 in an hour last week, Bitcoin purportedly remains in a tight range, with no concrete trend. As Blockware mining chief executive Matt D'Souza explained in a recent tweet:
"What's interesting is bitcoin has stayed in a range I call 'purgatory'. 8k-11.5kish."
Bitcoin's charts cement this sentiment. The cryptocurrency has traded in a less than $2,000 range, as depicted below, since the end of April, with all attempts at breaking out of the range failing dramatically.
There are signs that a bullish breakout to the upside is imminent, though.
An impending bullish breakout for Bitcoin
As reported by CryptoSlate previously, Preston Pysh — co-host of the popular podcast The Investor's Podcast and a popular commentator in financial markets —  identified four signs that Bitcoin will see a "very bullish" trend in the near future. They are as follows:
Bitcoin miners haven't capitulated despite the halving, indicating they have faith in the long-term prospects of the cryptocurrency.
Digital asset fund manager Grayscale Investments (on behalf of its clients) has accumulated a vast amount of cryptocurrency over the past few months, amounting for a large portion of the supply mined.
The Chinese yuan is showing weakness over new tensions with the U.S., potentially making Bitcoin a safe-haven play.
The global financial system is still showing cracks, which could usher in BTC and cryptocurrency.
The average crypto investor has picked up on the bullish narratives, with Bitfinex's BTC/USD market order book showing that there is a convergence of bids in the $9,500 range.
This is important because as the chart below indicates, Bitfinex's order book, which basically shows the aggregate sentiment of the crypto market has been extremely, has accurately predicted price action over the past four months.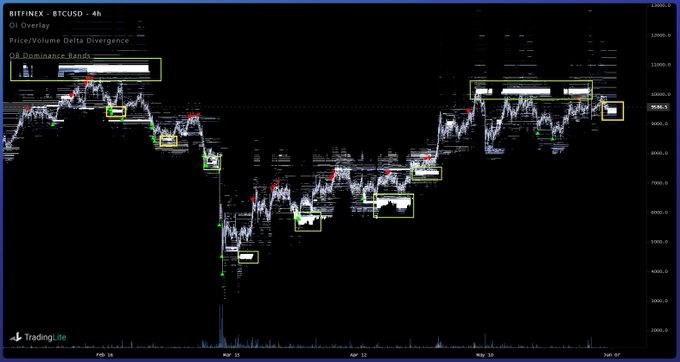 Economy not out of the woods
While Bitcoin may have a writ large bull case, the global economy is not yet out of the woods despite the vast amount of stimulus, meaning the cryptocurrency market isn't either.
Bloomberg reported on Jun. 8 that the World Bank said in a recent report that the "global economy will contract the most since World War II," citing a projected 5.2 percent drop in GDP, and the output of emerging markets will "shrink for the first time in at least six decades."
This has not been reflected in the stock market: the Nasdaq 100 just printed a new all-time high despite over 40 million unemployment claims in the U.S. alone and expectations of a more than 50 percent drop in Q2 GDP.
Yet some are starting to fear that the stock market is moving far ahead of the economy, meaning an eventual "reversion to mean" in risk assets like Bitcoin and equities will take place.