The month of June is one looked at with anticipation by many Bitcoin traders. According to many, the impact of Bitcoin's halving is expected to be visible in the market by the end of the month. Interestingly, many BTC options traders have contracts expiring by 26 June 2020. According to data provider Skew, the BTC Options for the aforementioned date have been rising over the past few weeks, rising to 84,000.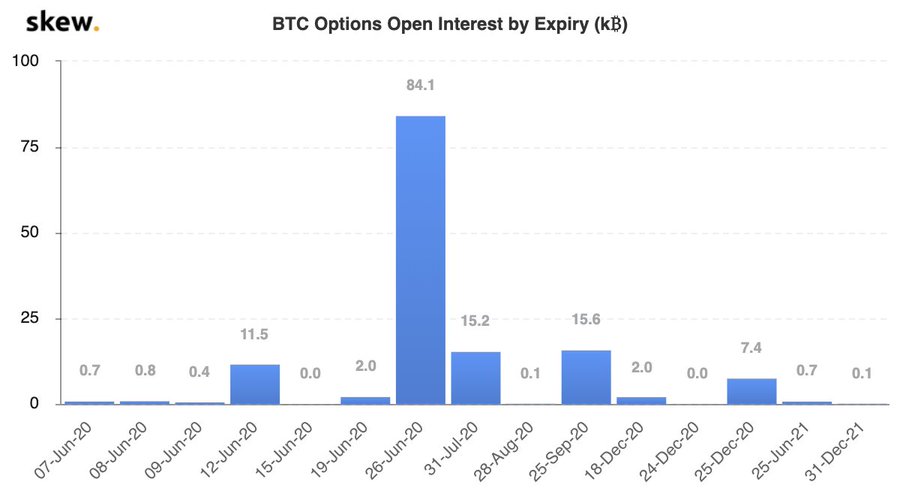 Source: Skew
The figure for the contracts set to expire on 26 June has been growing since May, as many tried to hedge their investments from the upcoming volatility. Calls took precedence in the market as the constant rise and drop in value was presented as an opportune time throughout May. The Put/Call ratio also sunk and pointed to traders being in the mood to buy more call options than Puts.
At press time, the Put/Call ratio stood at 0.42, which also hinted that the traders were buying more calls than puts. However, there was a sudden spike in the volume between 5 June and 6 June to 0.95, one that continued to move up to 1.25 on 7 June.
Source: Skew
This rise in volume suggested that the volume of Put options traded relative to Call options was rebounding strongly, as observed during the weekend. As the Put options are defined as an option to sell assets at an agreed price on or before a particular date, the rising trend suggested that the traders were partially bearish about the market movement and may have been hedging against unforeseen sell-offs that could take place in the market.
However, the price of Bitcoin has been trying to breach the immediate and strong resistance at $10k. Its price has made seven attempts in 2020 to breach the resistance, but has slid back almost immediately each time. With Bitcoin trading at $9,683.81 and inching closer to $10k, the expiration of the derivatives contracts could go either way for BTC's price.