The crypto market cap spikes above $700 billion, while BTC's dominance rises to over 70% as altcoins can't catch up with bitcoin's surge.
Another day and another all-time high for bitcoin as the asset broke above $27,000 and even neared $28,000. Most alternative coins have failed to mimic BTC's gains, and bitcoin's dominance has exploded to above 70% for the first time since September 2019.
New ATH For BTC At $27,900
This year's Holiday season has turned to be quite bullish for the primary cryptocurrency. Ever since December 24th, bitcoin has painted a new all-time high daily.
After breaking above $25,000 and $26,000 in the past two days, the time for $27,000 came hours ago, as CryptoPotato reported.
However, the asset didn't stop there and continued forwards to what became the latest ATH – $27,913 (on Binance). The question within the cryptocurrency community remains if BTC could break above $28,000 by the end of the day and $30,000 by the end of 2020.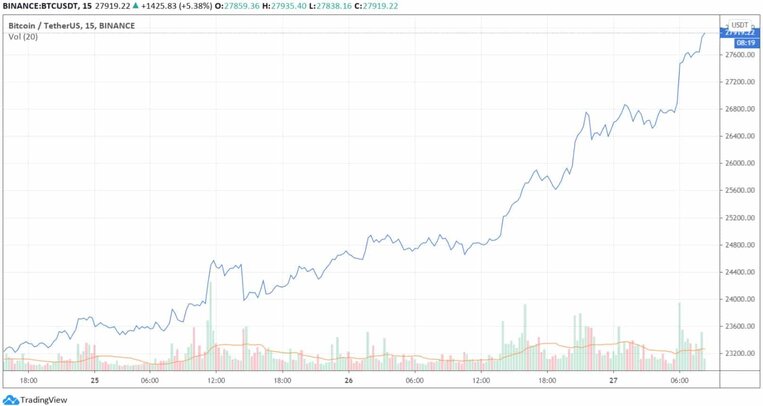 Altcoins Bleed Out Against BTC
Most altcoins have gained value against the dollar in the past 24 hours. Ethereum is up by 5% to $650, Bitcoin Cash (8%) to $340, Binance Coin (3.5%) to $34, Polkadot (3.7%) to $5.3, and Cardano (6%) to $0.16.
Litecoin has doubled-down on its recent impressive performance with another 6% surge to a new yearly high of $136.
However, all large-cap and most lower- and mid-cap altcoins have lost value against BTC. As the graph below demonstrates, ETH is down by 6% to 0.024 BTC, while Ripple has dropped by more than 13%. Even LTC couldn't compete with the primary cryptocurrency after a 5% decline.
Consequently, as altcoins have failed to copy BTC's impressive gains, the metric that compares bitcoin's market cap with all other alternative coins have expanded to a new yearly high. Bitcoin's dominance is north of 70% – the highest level shown since September 2019, according to TradingView data.
It's also worth noting that the cumulative market capitalization of all digital assets has added $110 billion in three days. It has risen to $725 billion – the highest level since January 2018.