Analysts expect Bitcoin to see a "significant retracement" if the cryptocurrency falls below the crucial $8,600 support in the coming few days.
BITCOIN MUST HOLD THE MID-$8,000S, ANALYSTS EXPLAIN
Bitcoin moving under $8,600 will spell disaster for the bull case, a top trader has shared. 
The $8,600 region has held as support on multiple occasions over the past few weeks, acting as a point at which bear trends have bounced on at least three separate occasions.
The cryptocurrency moving below that level, then, indicates that bulls are no longer in control.
"As you can see $8600 is a super strong market level that has been only tested a few times previously since being in this range, and this is a level that I would really be expecting for bulls to defend. If bulls fails to defend this level then I think this could signal a pretty significant retrace for HTF momentum."
There are other commentators that have drawn attention to the importance of the mid-$8,000s from a technical perspective.
As reported by Bitcoinist previously, a top trader recently said that Bitcoin must hold $8,700 to maintain the path of "bullish continuation" it is on.
TradingView.com BTC chart annotated by BitDealer (@Bitdealer_ on Twitter)
He published the chart seen above that illustrates that below $8,700, there is a lack of market liquidity that could force BTC to plunge lower.
"If price was to close below 8700, this gap would likely fill in a high volatility quick move," he wrote, pointing to the low-$6,000s as a likely place at which said "quick move" could bottom.
Importantly, the mid-$8,000s is also the point at which a block of Bitcoin buy orders will end.
Below is a chart shared by analyst Cole Garner. It shows BTC's price action over the past ~two months along with the Order Book Dominance Bands indicator, which forms bands where there is a black of buy or sell orders.
The current block of buys supporting the Bitcoin price ends at $8,600.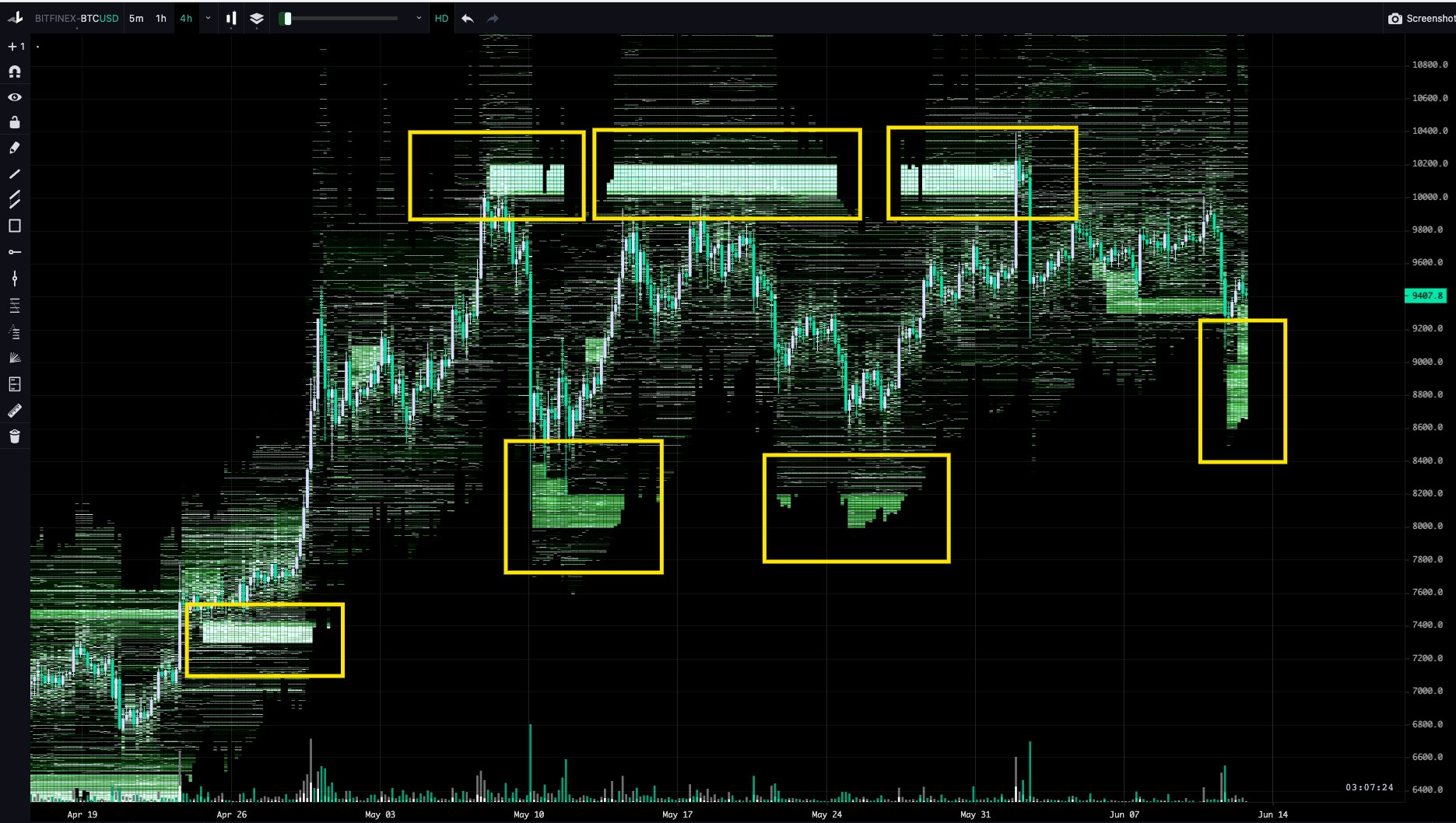 Bitcoin price chart shared by Cole Garner. The chart shows BTC's order book data on Bitfinex.
THE FUNDAMENTALS WILL HELP BTC HOLD ON
The fundamentals will help Bitcoin hold onto the crucial mid-$8,000 region, analysts say.
Bloomberg senior commodities strategist Mike McGlone released a report titled "Bitcoin $10,000 Gaining Support" earlier in June. In the report, the analyst opined that "something needs to go really wrong for BTC not to appreciate."
In the report, he identified upwards of 10 technical, fundamental, and on-chain trends showing that Bitcoin remains in an uptrend.
According to the cryptocurrency community, one of the main takeaways of the report is that McGlone expects for Bitcoin to trade at $20,000-28,000 this year.