Despite a booming stock market that is nearing all-time highs, Bitcoin has been stalling in the $8,000s and $9,000s. The relative weakness BTC has expressed compared to equities has had some worried, worried to the point where some are expecting a strong price breakdown.
It is important now more than ever before to "be patient" with Bitcoin, according to a top investor in the space. Here's why.
IT'S A WAITING GAME FOR BITCOIN
Analysts over the past few months have come to the conclusion that a "perfect storm" has brewed for Bitcoin. That's to say, if there was ever a time for the cryptocurrency to succeed, now would be it.
This is likely in reference to Bitcoin's propensity to take multiple months accumulating, then breaking out of the consolidation to establish a macro trend.
Prior to crashing ~50% from $6,000 to $3,150 in late-2018, the cryptocurrency traded at $6,000 for around three months. And prior to rallying from the hundreds to $20,000, BTC settled in between $200-400 for around half a year.
INVESTORS ARE BECOMING INCREASINGLY PATIENT
Investors are, in fact, heeding the advice of being patient touted by prominent names in the space.
Alistair Milne recently observed that blockchain data shows that more than 61% of all Bitcoin in circulation has been "inactive" for over a year. That's to say, 61% of the ~19 million coins in circulation haven't been touched or moved from their original addresses in at least a year.
"What if I told you that the amount of #Bitcoin held without moving for >12 months is on course to make new ATHs (>61%) and barely changed in the March COVID panic …"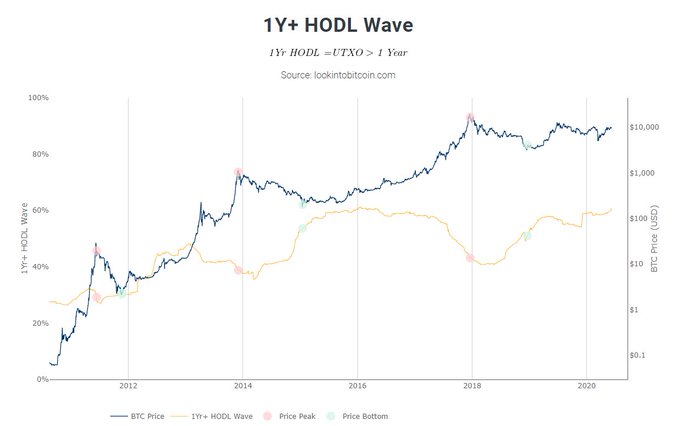 Bitcoin "HODL wave" indicator (one year or more setting) shared by Alistair Milne, from LookIntoBitcoin.com
This propensity to HODL amongst Bitcoin investors may have a bullish impact on the price of the cryptocurrency.
As the chart above indicates, the last time this much of BTC's circulating supply was inactive was at the start of the bull run that took Bitcoin from the hundreds to $20,000 in just around two years.