Bitcoin has fallen below the average price at which investors originally bought it, known as the 'Realized Price'.
Market participants distribute their assets when BTC is below the realized price level, this causes further downside in some cases. 
If Bitcoin recovers, and surpasses the Realized Price at $19,700 it could be a sign of a resurrection for the leading crypto.
Bitcoin, the largest asset by market capitalization, is currently exchanging hands below the average price investors originally paid for it, a key market watermark known as the 'Realized Price' level. The Realized Price (RP) – currently at around $19,700 – in reality provides a dynamic level of support and resistance as bulls will often make a stand at levels where they originally bought, in an effort to push the market back up into 'profit'. Thus the fact Bitcoin price has slipped below the RP is one sign the market may be nearing a cycle low, however, there may be more blood before the confirmation signal for bulls to go long is given. 
Bitcoin price needs to climb above the realized price to usher in a bull market
Bitcoin, an asset with a market capitalization of $331.27 billion is currently trading at the $17,202.10 level. Experts have noted that BTC price has nosedived below the Realized Price. When the largest crypto asset is above the RP, then on aggregate market participants are in profit and when below, traders are incurring unrealized losses. 
Typically, the periods of time where Bitcoin price plummets below the Realized Price occur at major cycle lows. This can be seen in the chart below: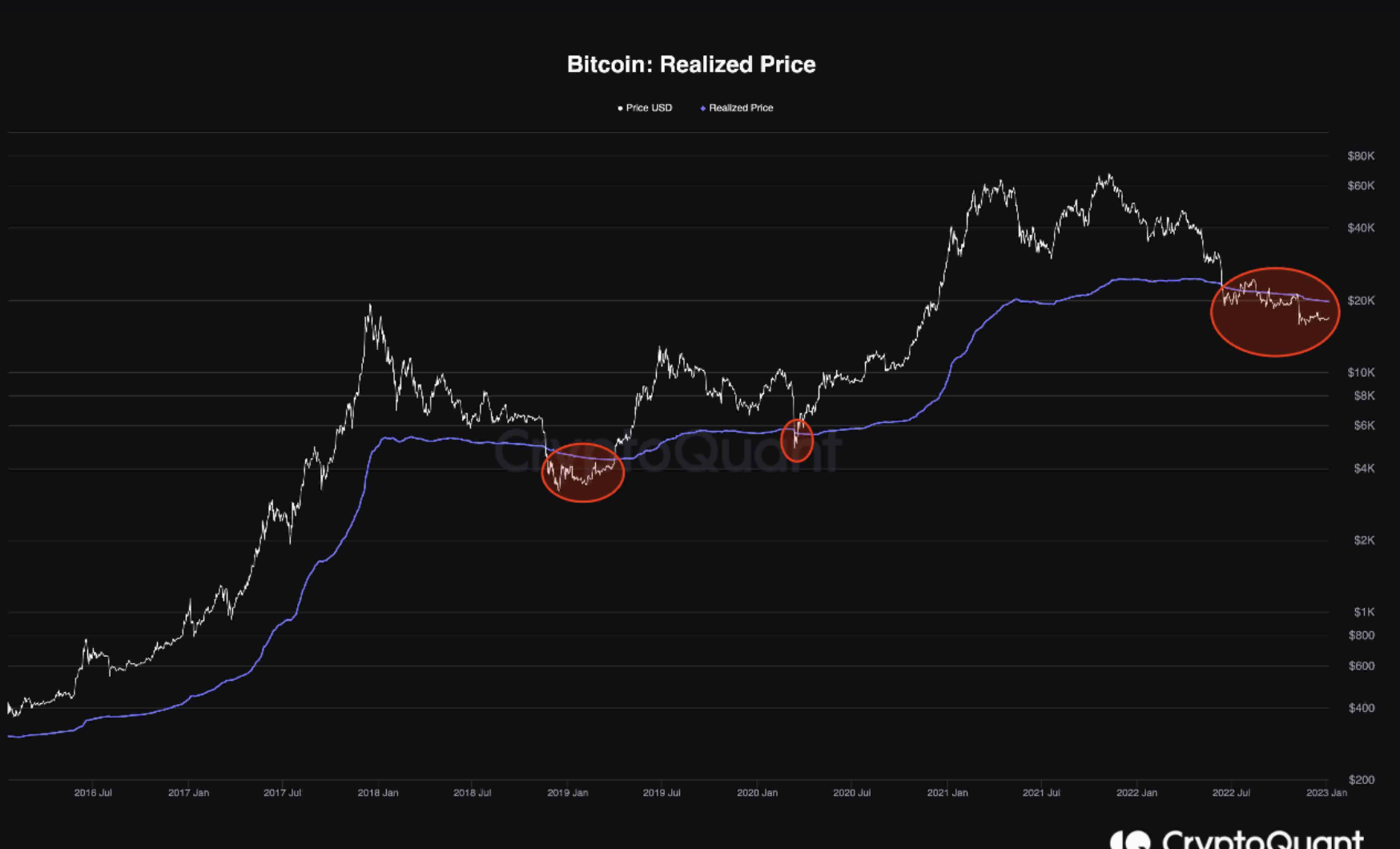 Bitcoin: Realized price on CryptoQuant
Historically, this has occurred at major cycle lows, marked in red in the chart above. When BTC drops below the RP, market participants are not comfortable holding onto losing positions and fear that they could incur further losses. Particularly, in a crypto bear market, where the narrative surrounding the asset is negative, market participants will often wait for the cryptocurrency to climb above the Realized Price level before increasing their exposure. 
Typically, when BTC climbs above the RP it is a sign the digital asset is entering a bull market phase. This narrative has been true throughout BTC's move through the adoption cycle. If BTC fails to surpass RP, it is usually rejected to the downside with substantial bearish momentum. Greatest_Trader, a pseudonymous crypto analyst at CryptoQuant argues that although there is room for the digital asset to bleed, the end of the current bear market could be signaled by the asset's climb above the RP at  $19,700.