The number of BTC and ETH whales has continued to increase in the past week, while mid-tear traders took short-term profits amid the price drops.
Recent data indicated that mid-tier traders took profits before and during yesterday's massive price drops for bitcoin and Ethereum. Furthermore, it disputed the assumptions that whales and institutional investors have disposed of their BTC holdings.
Mid-Level BTC Holders Took Profits Amid The Drop
Following the highly positive first days of 2020 in which bitcoin exploded above $30,000 to a new all-time high of nearly $35,000, the cryptocurrency retraced heavily yesterday. As CryptoPotato reported, BTC went from over $33,500 to an intraday low of beneath $28,000 (on Bitstamp) in hours.
Simultaneously, the second-largest cryptocurrency by market cap was flying to its new near 3-year high at $1,170 before it went through a similar sharp price correction to below $900.
According to information from the analytics company Santiment, the so-called "mid-tier holders" took this opportunity to collect short-term profits during these price developments. These are addresses containing between 10-1,000 bitcoins and 100-10,000 ETH.
As the graphs below demonstrate, the number of such BTC wallets had dropped by over 1,100 in the past week, while the ETH wallets with that amount had decreased by 523.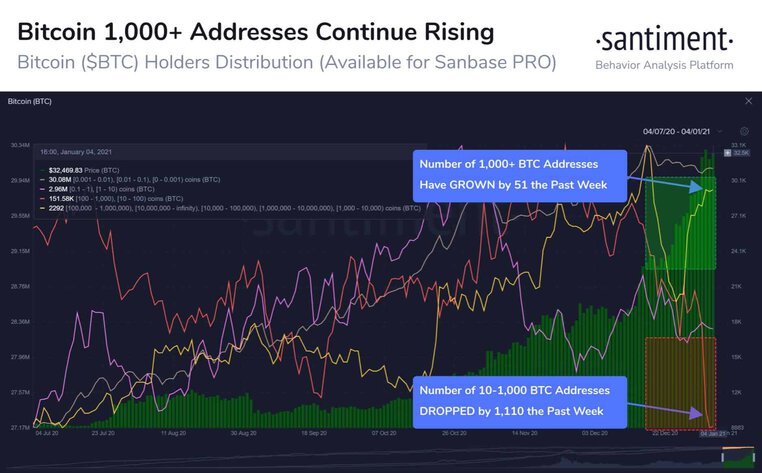 Santiment also refuted the claims that whales and institutional investors with massive BTC and ETH positions have started to dispose of their digital assets. In contrast, the company highlighted that BTC addresses with over 1,000 tokens and ETH wallets with 10,000 or more coins had increased by 51 and 17, respectively, in the past week.
Analysts Agree With The Profit-taking Theory
Jason Deane, an analyst at the cryptocurrency advisory firm Quantum Economics, supported the narrative mentioned above in a CNBC interview.
He outlined the growing demand from institutions towards bitcoin. Those included massive purchases from insurance giant MassMutual, hedge fund managers One River Asset Management and Ruffer Investment, and the Wall Street behemoth Guggenheim Partners.
Consequently, he believes that "any correction will be short-lived," given the "current sentiment and appetite for bitcoin."
"The most likely explanation for the pullback is short term profit taking by traders, rather than long-term investors." – he concluded.
Bitpanda's CEO, Eric Demuth, added that "there's no denying that bitcoin has proven itself as an established and top-performing asset. Bitcoin's value grew over 300% last year as more institutional investors took that leap to embrace digital currencies."