Crypto sentiment and net unrealized profit/loss suggest that bitcoin still has room for growth before it reaches the peak.
Despite surging in value to fresh all-time highs, the community's social perspective on bitcoin hasn't peaked yet, unlike previous bull runs. Since euphoric levels are typically a good indicator of an upcoming correction, this raises discussions if the current levels suggest that BTC is still a long way from its top.
Positive But Not Euphoric On BTC
Bitcoin has enjoyed the past few weeks, especially after it broke above $20,000 for the first time in mid-December. The cryptocurrency continued forwards into uncharted territory and registered several consecutive all-time highs. The latest one saw BTC reaching $28,300.
Somewhat expectedly, such price developments lead to major shifts in the sentiment towards the cryptocurrency. Apart from the highly volatile price movements, the cryptocurrency community's opinions and beliefs could change just as rapidly as data from Santiment shows. They could range from extreme pessimism when prices drop to euphoric states during a bull run.
However, the sentiment going too much in either direction could lead to opposing price developments. Back in mid-May, around the third BTC halving, the general sentiment on Twitter had skyrocketed as bitcoin jumped above $10,000. Shortly after, though, the cryptocurrency plummeted by nearly 20%.
Something similar transpired in late August and early September when BTC headed for a yearly high of $12,400. While the sentiment surged immediately, bitcoin's price dipped beneath $10,000 in the following days.
Nevertheless, the analytics firm said that the current sentiment is still far from breaching into a euphoric state, suggesting that it could continue upwards to its peak. The company described the situation now as "positive, but not euphoric to the degree where prices tops are imminent."
Bitcoin To $65K?
Another blockchain analytics firm, Glassnode, published its weekly insights on BTC's performance and actually confirmed the conclusion from above. The company explored the Net Unrealized Profit/Loss (NUPL), which is still relatively low at 0.67.
According to Glassnode, this means that the metric is "still in the green 'belief' zone, and hasn't yet reached the blue 'euphoria' zone that usually represents market tops."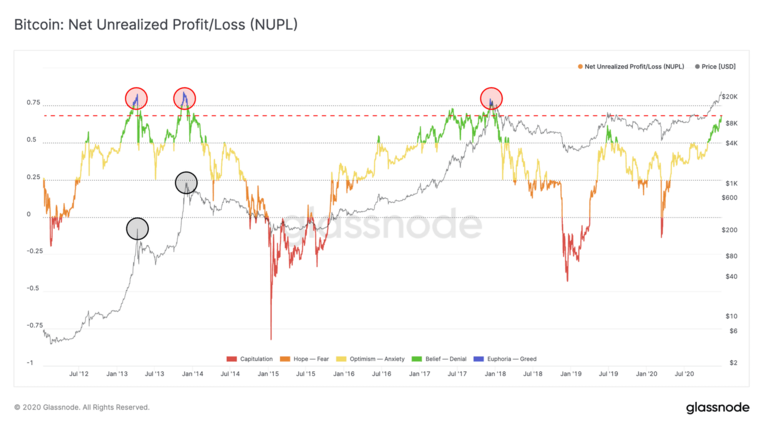 During the 2017 parabolic price increase, the NUPR was at its current value when bitcoin traded at $5,600 and still increased by about 250% to its top. Should BTC follow this trend again, the price could see a top of $65,500