Bitcoin has begun to lose grip of the bullish uptrend it was embroiled in. According to CryptoSlate market data, the leading cryptocurrency has slipped 2.5 percent in the past 24 hours, trading at $11,720 as of this article's writing. This is around $700 shy of the $12,500 high BTC reached earlier this week.
This retracement has put some investors on edge, especially considering the importance of $12,000 to Bitcoin's recent price action. If you peruse Twitter, you will likely find a number of commentators from analysts mentioning that BTC is on the verge of plunging towards the $10,000s, then lower.
Mike McGlone, a senior commodity analyst at Bloomberg Intelligence, though, begs to differ.
He expects for Bitcoin to continue appreciating on a medium to long-term time frame in spite of the recent price weakness.
Bitcoin set to continue price uptrend: Mike McGlone of Bloomberg
Bitcoin is expected to continue its macro uptrend despite the recent weakness, McGlone wrote in an analysis published on Aug. 19.
He shared this chart below, which shows that Bitcoin's macro Bollinger Bands are at historic lows. The Bollinger Bands is a technical indicator that denotes volatility and important technical levels for an asset.
According to McGlone's chart, Bitcoin volatility is starting to stretch higher as the price is poised to exit the upper Bollinger Band. This suggests that the cryptocurrency is on the verge of starting a longer-term rally.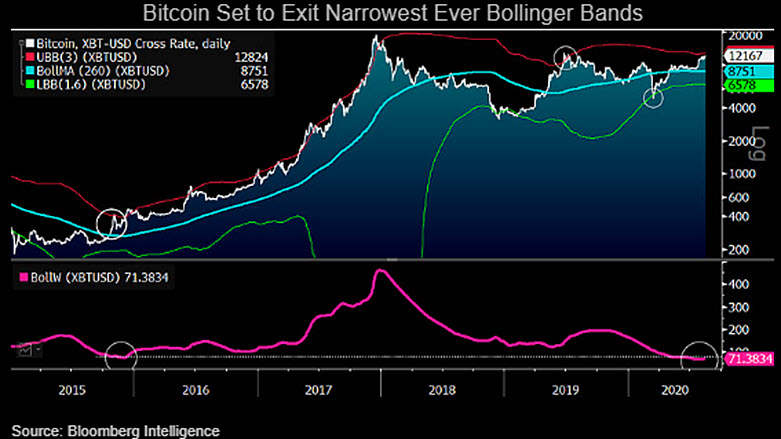 The Bloomberg analyst also added that the fundamentals remain in favor of Bitcoin price appreciation:
"Bloomberg Intelligence Commodity Primer – Something unexpected needs to happen for #Bitcoin's price to stop doing what it's been doing for most of the past decade: appreciating. Demand and adoption metrics remain favorable vs. the #crypto asset's unique attribute of fixed supply."
Not the only bull
McGlone's recent comment on Bitcoin's case for upside comes as a number of other analysts and investors have asserted that the leading cryptocurrency remains in a positive state.
Bitcoin proponent "Vortex" noted this week that there are four key metrics showing Bitcoin is on the verge of a "multi-year" bull run:
"All these charts resembling early 2017 patterns indicating Bitcoin is beginning a multi-year bull run: -Segwit adoption reaches new ATH -HR [hash rate] reaches new ATH -BTC not moved in 1+ yrs still at ATHs at over 63% -Google trends building."
Derivatives data also indicates that there has been an influx of institutional capital into the cryptocurrency market, a trend that Ikigai's Travis Kling describes as "wildly bullish."