Most investors have no idea which way Bitcoin will trend.
Take the funding rate of BTC futures markets, which are flip-flopping between slightly positive and slightly negative as the consolidation drags on. The chart seen below shows this trend.
Chart of BTC's price action over the past three months with BitMEX funding rate + premium index. Chart from TradingView.com
A trader that predicted Bitcoin would bottom at $3,200 months before it did in 2018, though, recently shared bearish sentiment. He shared an analysis predicting that BTC is likely prone to fall to the low-$8,000s for the first time in around 10 weeks.
BITCOIN COULD SOON PLUNGE TOWARDS LOW-$8,000S, SAYS TOP ANALYST
Six months before Bitcoin fell as low as $3,150 in December 2018, a trader speculated that the then-ongoing bear market would end at $3,200. He was proven almost exactly correct when the asset dipped to that region.
That same trader now believes that BTC is on track to plunge in the days ahead.
Referencing the chart below, which suggests Bitcoin could fall to the range lows around $8,300, the trader said:
"So I find it kinda hard to get over the fact that BTC keeps falling in 5 waves but recovering in 3's. its defo starting to feel bearflaggy now and I think if we lose 9150, then 8800 and 8300 will come relatively quickly."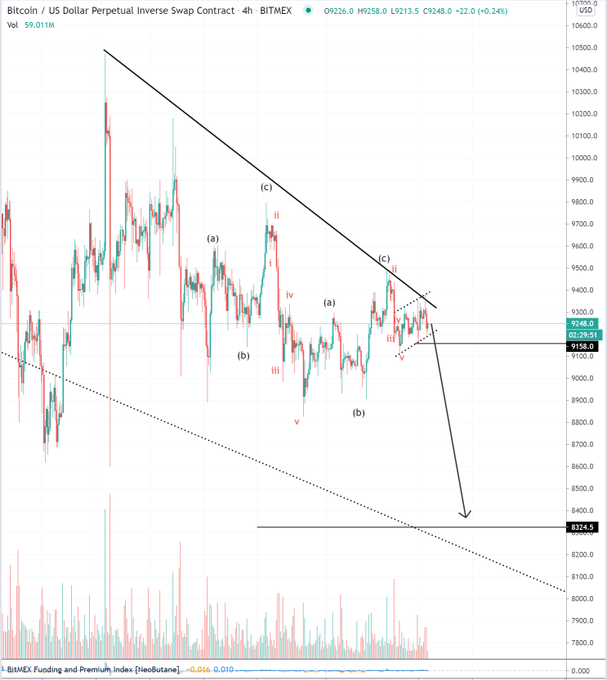 Short-term BTC analysis by trader @SmartContracter (Twitter handle). Chart from TradingView.com
For context, Bitcoin dropping to $8,300 from current prices would imply a drop of approximately 10%.
Also betting on the downside is institutional traders on the CME. Institutional users of the regulated prominent futures platform have built up a cumulative net short over recent weeks, public data has revealed.
As reported by Bitcoinist, that short position currently has a size of over 2,000 contracts. This is pertinent as the last time these traders had built such a big short position, the cryptocurrency market crashed 60% in two weeks.
OTHER TECHNICAL SIGNS ALSO PREDICTING DOWNSIDE
There are other technical signals indicating that BTC will retrace from the current range and to the downside.
The head of technical analysis at Blockfyre, a cryptocurrency research firm, shared the chart below. It shows that with the recent price action, BTC is now trading below the range equilibrium and other key technical levels.
Analysis of BTC's price action from trader Pentoshi (@Pentosh1 on Twitter). Chart from TradingView.com
He added that there are other "signs of short-term weakness starting to appear" that suggests price could visit "8.6-9k demand areas short term."
Another prominent trader made a similar comment, writing how BTC's price action has brought it under a crucial technical level. To him, this implies "weakness in the local range" that could bring BTC close to $9,000 and potentially under that level.