Bitcoin has bounced back after plunging as low as $11,400 on Friday.
The leading cryptocurrency now trades for $11,650 as of this article's writing, up around 2% in the past 24 hours.
BTC's recent price action has confused pundits as they believed that the asset was in a clear uptrend.
One historically accurate analyst said that Bitcoin's price action is actually quite predictable.
His analysis suggests that BTC will actually consolidate/flatline for another month.
He came to this conclusion by analyzing a fractal of Bitcoin's price, when an asset's historical price action repeats itself.
WHAT'S NEXT FOR BITCOIN?
Bitcoin's ongoing move lower isn't entirely unexpected or bearish, one cryptocurrency noted on August 22nd.
He shared the chart below expressing this sentiment. It shows that Bitcoin's recent price action is actually likely a fractal of the price action of May to the end of August of this year.
A fractal in technical analysis terms is when an asset's historical price action is repeated over a different time frame. Fractals can be used when analysts identify an asset's price action on another point in the chart, then transpose this historic moment onto the current price action.
According to the trader, the fractal suggests that Bitcoin will likely flatline for the next four weeks or so in the $11,000 to $12,000 range, then break higher into a bull market.
"Find this fractal of interest at the moment. With price now sitting on the buy zone/ log curve, wouldn't be surprised if it settles down [relatively speaking] – current price action extended as compared to previous moves," the trader commented in reference to the chart below.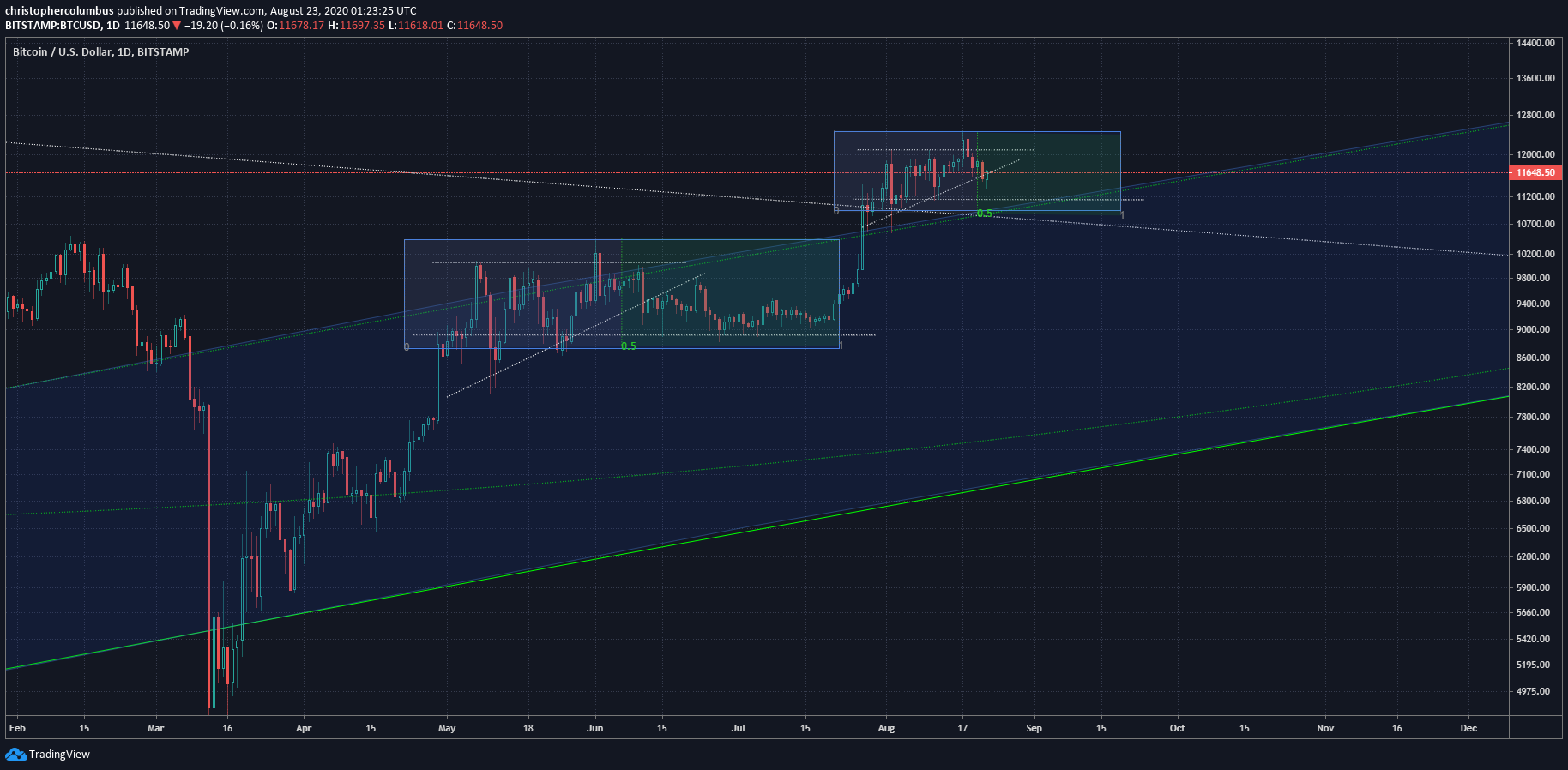 Chart of BTC's price action since February with a a fractal analysis by crypto trader "Dave the Wave" (@Davthewave on Twitter). Chart from TradingView.com
Another analyst has noticed this fractal as well but has argued that the consolidation could end sooner than one month.
VOLATILITY COULD COME SOONER
Volatility may come sooner than both interpretations of the fractal suggests, though.
From a macro scale, analysts are starting to see interesting movements in the stock market and in the foreign exchange market that could send the crypto market either shooting higher or reeling lower.
And on a BTC scale, analysts have noted that volatility is reaching levels that historically precedes a rally.
As reported by Bitcoinist previously, Brave New Coin crypto analyst Josh Olszewicz shared that the Bollinger bands are tightening. The Bollinger Bands are a technical indicator used to denote a market's volatility and important technical price levels/trading ranges.
While the bands are not as tight as they were prior to Bitcoin taking off in July, they are continuing to squeeze.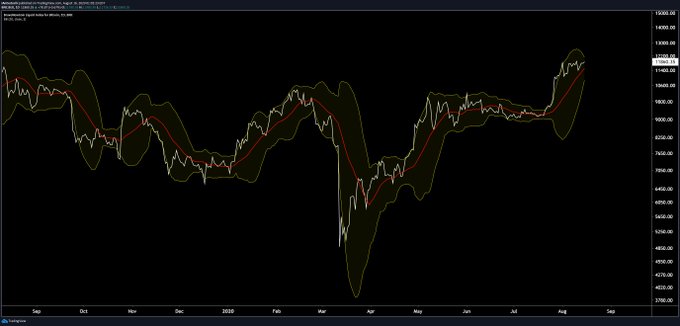 Chart of BTC's price action over the past year with the Bollinger Bands indicator by tra

News source