A prominent cryptocurrency analyst thinks that Bitcoin is primed to fall lower after June 11th's 10% drop, despite the 5% bounce from the lows.
He remarked in a post published on June 12th that the cryptocurrency has lost the support of a short-term ascending triangle, and thus is primed to fall to the range lows of $8,575. A drop to that level would amount to approximately a 10% move lower.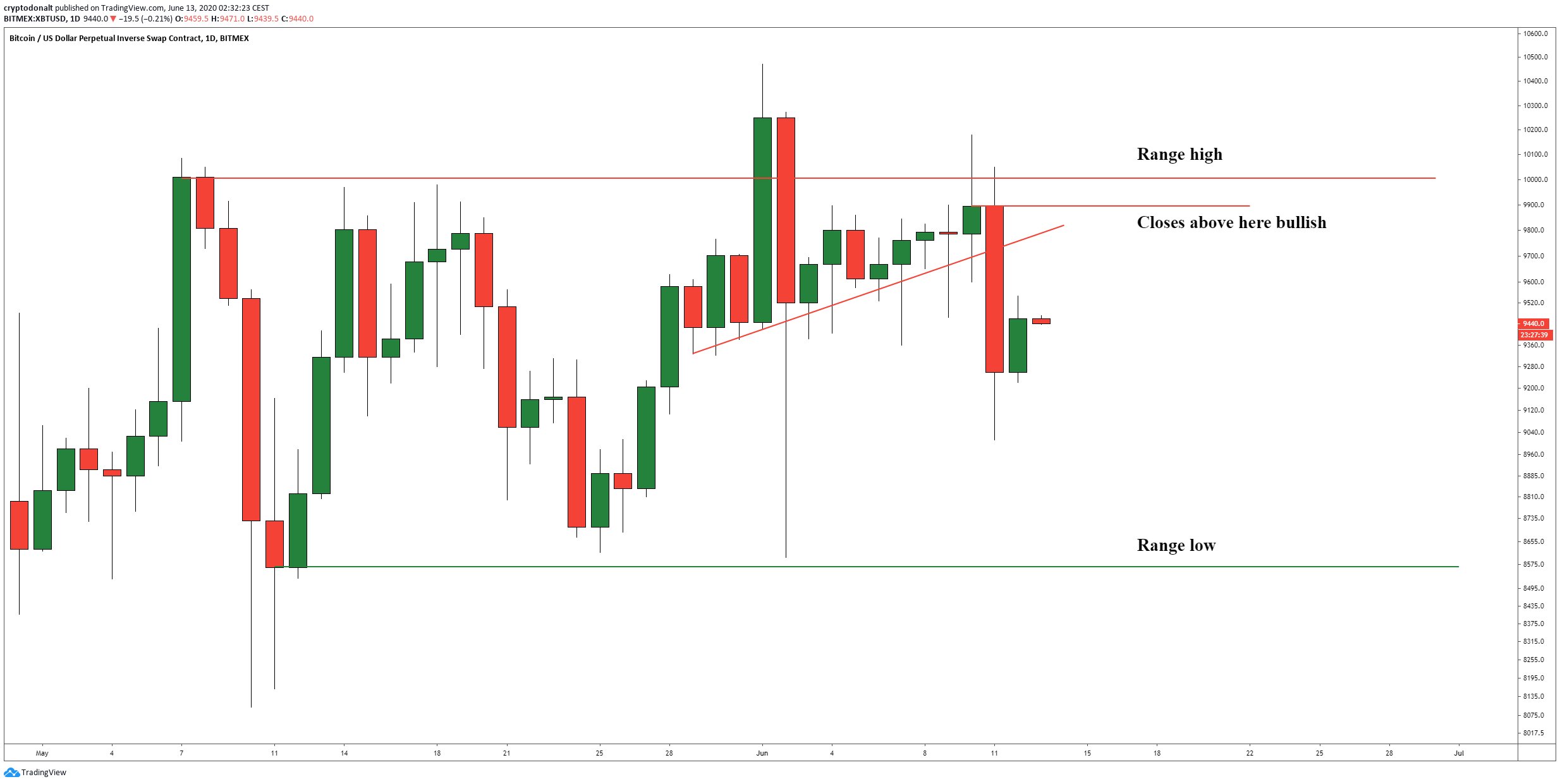 TradingView.com chart of Bitcoin price, annotated by DonAlt (@CryptoDonAlt on Twitter).
As reported by Bitcoinist previously, other analysts are bearish as well.
One day trader in the space noted after yesterday's dip that BTC has broken below a "pitchfork" pattern that confined its price action from the March and April lows. This suggested to him that a "much bigger breakdown" may be starting.
THE START OF A BIGGER DROP
The trader who shared the chart above believes that Bitcoin may drop even further than $8,500 in the coming weeks. The same pseudonymous analyst wrote:
"BTC. I've been seeing more and more comments saying BTC going down to support is unlikely because that'd be too big a drop. That's not how Bitcoin works. Retraces are short and vicious. Crashes even more so. 40% down is not unlikely, it's happened before, it'll happen again," he stated.
This comment was made in reference to the fact that multiple times during 2015-2017's bull run did Bitcoin crash 40% before heading to fresh all-time highs.
This sentiment has been somewhat corroborated by another analyst.
As reported by Bitcoinist previously, a trader shared the chart below, noting the lack of liquidity below $8,700.
"If price was to close below 8700, this gap would likely fill in a high volatility quick move," he wrote, pointing to the low-$6,000s as a likely place at which said "quick move" could bottom.
TradingView.com BTC chart annotated by BitDealer (@Bitdealer_ on Twitter)
BITCOIN'S FUNDAMENTAL TRENDS REMAIN POSITIVE
Despite the harrowing technical case, the fundamental case for Bitcoin continues to swell at a rapid clip.
Bloomberg senior commodities strategist Mike McGlone released his latest monthly report earlier this month outlining a convergence of strong fundamental factors for Bitcoin.
The cryptocurrency continues to mature into "digital gold" as central banks have continued to print more money than ever before.
BTC's price action looks very similar to that seen after the previous 2016 halving.
Volatility is decreasing on a macro scale, keeping prices "tilted toward appreciation."
This confluence led him to suggest that by the end of the year, BTC could trade as high as $20,000-28,000 — which would mark more than a doubling and even close to a tripling of current prices.
BlockTower Capital's traders have echoed the positivity, arguing the fundamental case for the leading cryptocurrency.
They wrote in a newsletter published in May that the "macro case for Bitcoin has never been more obvious," referring to the number of geopolitical and macroeconomic trends making BTC a logical investment.