Bitcoin's rally has stalled after hitting $12,500 on Monday.
As of this article's writing, the price of the leading cryptocurrency is $11,800. This is $700 shy of the local high.
The recent drop has scared some analysts, with some arguing that a drop towards the $10,000 is possible.
Mike McGlone, the senior commodity analyst at Bloomberg Intelligence, says that Bitcoin remains poised to move higher, though.
At Bloomberg, McGlone has closely tracked the cryptocurrency markets for months, releasing extensive reports on the subject matter.
BITCOIN IS "TILTED" TOWARDS RESUMING PRICE APPRECIATION: MIKE MCGLONE FROM BLOOMBERG
Despite the recent retracement from the $12,500 high, Bitcoin remains tilted towards resuming price appreciation, Bloomberg's Mike McGlone commented on August 20th.
Referencing the chart below, he wrote that the volatility of Bitcoin in comparison to gold suggests BTC is "tilted toward resuming appreciation":
Stuck between 3-9x over the past few years, the price of #Bitcoin per ounce of #gold tilts the crypto toward resuming appreciation, if volatility history tells us anything. The Aug. 19 cross rate of 6x is the same as in 2017, yet Bitcoins's volatility has dropped relative to gold."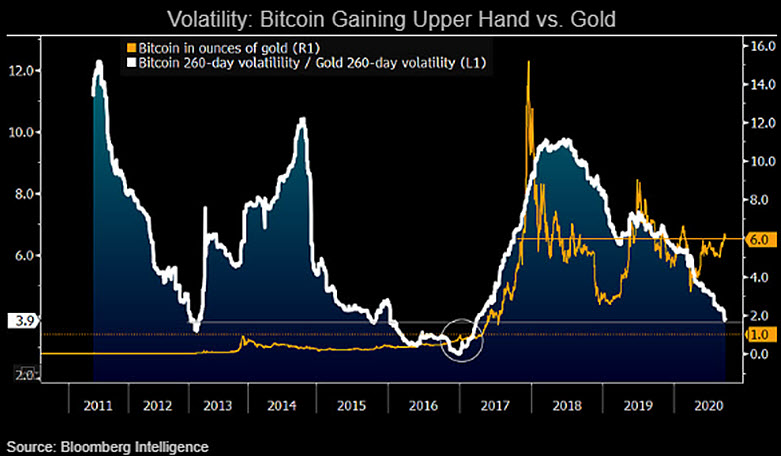 Chart of BTC's price action over the past 10 years with analysis by Mike McGlone, Bloomberg senior commodity analyst
Chart from TradingView.com
Gold's volatility has been increasing recently as the U.S. dollar swings back and for, responding to macroeconomic trends like news regarding the next U.S. stimulus bill and the predictions for the election.
Bitcoin's volatility has been decreasing recently as the asset has found itself stuck in a range between $11,000 and $12,000.
NOT THE ONLY FUNDAMENTAL TREND BOOSTING BTC
This isn't the only fundamental trend shared by McGlone suggesting that Bitcoin's price is poised to continue its uptrend.
The analyst recently commented that Bitcoin's decreasing supply, enabled through block reward halvings, and an increase in demand should result in an increase in value over time:
"Bloomberg Intelligence Commodity Primer – Something unexpected needs to happen for #Bitcoin's price to stop doing what it's been doing for most of the past decade: appreciating. Demand and adoption metrics remain favorable vs. the #crypto asset's unique attribute of fixed supply."
Explaining how demand for Bitcoin is increasing, McGlone has mentioned the CME's BTC futures market and the Grayscale Bitcoin Trust. These are two markets through which institutions can gain exposure to the leading cryptocurrency.
Grayscale's Bitcoin Trust holds a large portion of all BTC in circulation as institutional investors have poured capital into the fund while the open interest of the CME's BTC market has increased.
Assuming that the market supply of BTC decreased in the wake of the halving, this increase in demand should allow prices to drift higher over time.