As Bitcoin has stalled in the $8,000s and $9,000s over recent weeks, certain analysts have begun to expect a strong move lower.
One top trader went as far as to say that BTC could see a 40% drop in the coming months. He attributed this sentiment to how the cryptocurrency has seen such retracements in previous bull markets:
"I've been seeing more and more comments saying BTC going down to support is unlikely because that'd be too big a drop. That's not how BTC works. Retraces are short and vicious. Crashes even more so. 40% down is not unlikely, it's happened before, it'll happen again."
Image Courtesy of DonAlt. Chart from TradingView.com
Yet an on-chain analyst has argued that with the ongoing macroeconomic environment, there is a low chance BTC slides under $7,000.
BITCOIN IS UNLIKELY TO SLIP UNDER $7,000: ON-CHAIN ANALYST
Every bear market over the past decade, Bitcoin moved below its two-year moving average to mark the bottom of a bear trend.
In 2015, BTC fell to the $200-400 range to confirm this pattern. And even this year, during March's crash, the cryptocurrency briefly traded under the pivotal technical level before recovering just weeks ago.
According to the on-chain analyst that popularized this form of cycle analysis, Philip Swift, there's a low chance Bitcoin dips under the moving average again during this cycle."With mega money printing and growing unrest about (financial) freedoms around the world, dips below the 2yr MA (green line) are increasingly unlikely IMO," he remarked, referencing how the recent "boring" price action looks exactly as BTC did at the start of previous parabolic bull runs.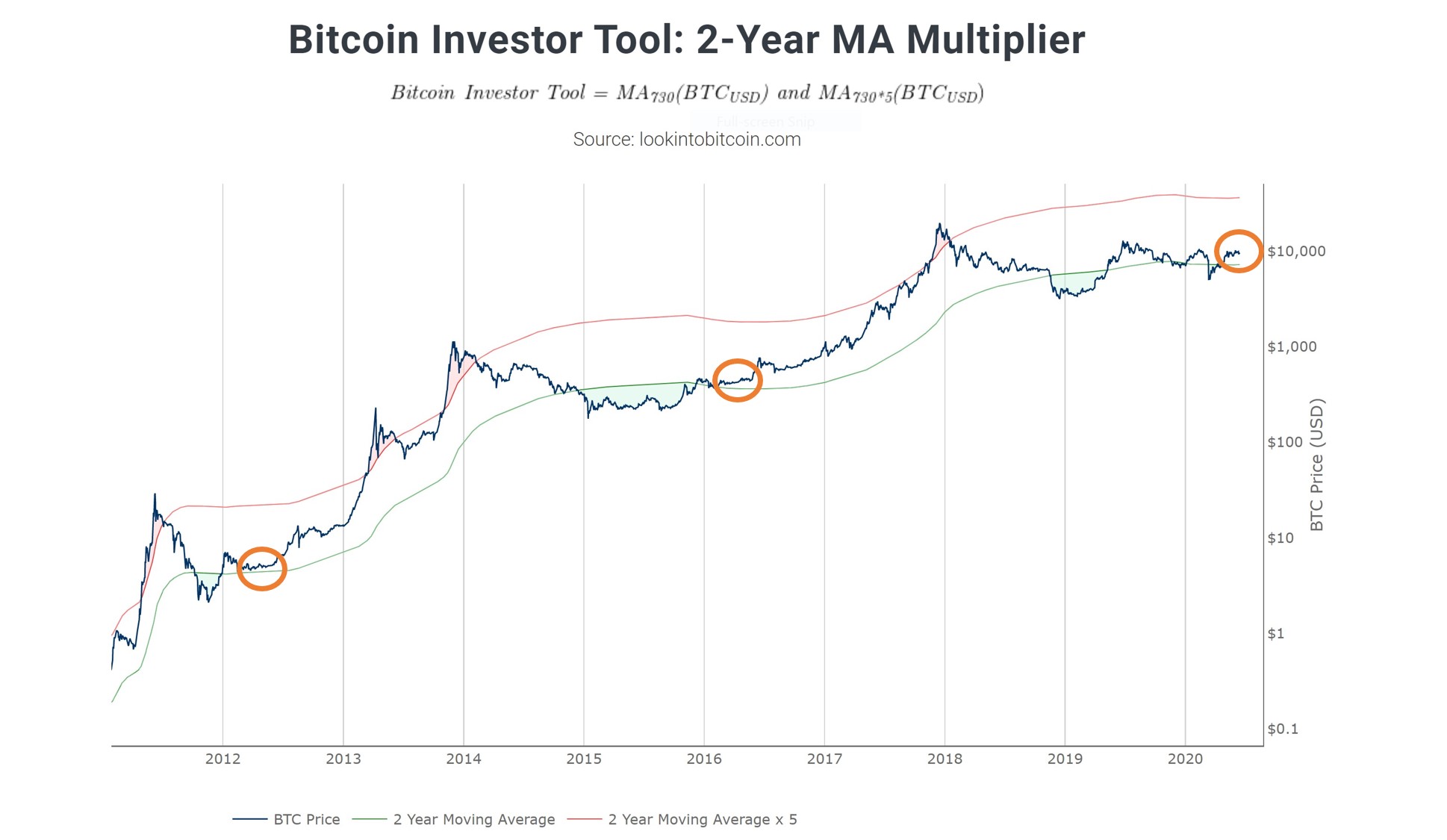 Bitcoin price chart with the Two-Year Moving Average Multiplier tool from on-chain analyst Philip Swift (@PositiveCrypto on Twitter).
The moving average is currently trending around $7,000, meaning Swift doesn't believe BTC will slide under the level.
THE FUNDAMENTAL TRENDS BOOSTING BTC
Investors and executives in the space have recently postulated that Bitcoin is on the verge of a long-term uptrend. This corroborates Swift's sentiment that Bitcoin is unlikely to dip under the moving average in this phase of the market cycle.
They cite macro factors like money printing as reasons why BTC is poised to trend to the upside.
In an interview with Bloomberg, Blockstream chief executive Adam Back remarked that BTC hitting $300,000 in the next five years is feasible. Some think Back is Satoshi Nakamoto, yet he has vehemently denied the rumors.
The prominent programmer argued that with "a lot of money printing" going on in the world, BTC is making much more sense as an investment.
This has been corroborated by Paul Tudor Jones, a billionaire investor. The Wall Street veteran wrote in a May report that he thinks BTC is the "fastest horse in the race" in a world where money is being printed en masse by central banks.