Ethereum has embarked on a stellar rally over the past few months. Since the March lows, the asset has gained around 400%, rallying from ~$90 to $425, where it trades as of this article's writing.
The cryptocurrency, in the past month alone, has gained 80%. It isn't clear what exactly has been catalyzing this rally, but analysts have suggested that it's a confluence of at least three things:
Bitcoin gaining strength, both in price and in intrinsic value due to macroeconomic trends like money printing.
Decentralized finance applications largely based on Ethereum garnering many users, increasing the demand for ETH as gas.
ETH experiencing an influx of investment as smaller altcoins gain in value and as the market noticed that the asset was oversold.
Blockchain analytics firm Santiment, though, has just reported that Ethereum's medium-term rally is at risk due to on-chain factors.
Ethereum's Medium-Term Rally Is At Risk: Santiment
Santiment reported on August 18th that Ethereum is showing some on-chain signs that it may soon correct lower, despite strong fundamentals:
"However, on the shorter term scale, our daily active address vs. price model continues to show a concerning lack of unique addresses transacting on the network to sustain its current market cap. Currently, $ETH looks to be outputting its 10th straight day of a bottom 10% signal when comparing its median DAA vs. its median price."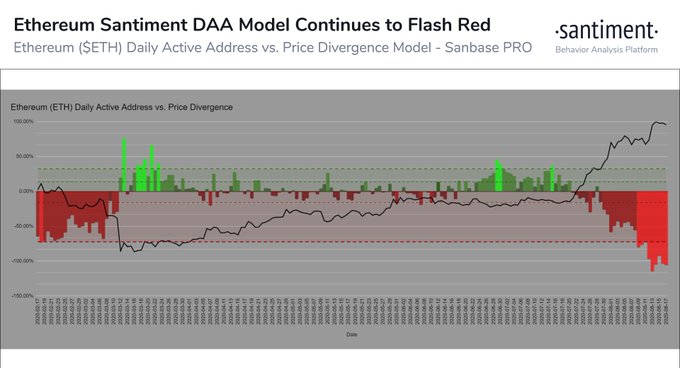 Chart from Santiment, a blockchain analytics firm, that shows Ethereum's daily active addresses vs. the price divergence model. Current as of August 18th.
The company added that unless Ethereum's active addresses "surge again," the "viability of $ETH's midterm rally may be put to the test."
The relatively small number of users transacting on Ethereum comes in spite of a spike in daily transaction counts. It can be said that high Ethereum transaction fees, along with the technical expertise required to use DeFi, is forcing many users to sit on the sidelines as decentralized finance gains steam.
Long-Term Uptrend Is Intact
Although there is the short-term risk of a correction, Santiment says that Ethereum's long-term uptrend is intact due to other on-chain trends:
"The $ETH daily transaction count neared an all-time high this week. Its ATH of 1.34M was set back on Jan 4, 2018 when #Ethereum had an average market price of $1,042. Earlier this week its transaction count was within shouting distance at 1.27M. $ETH transaction fees also broke all-time highs two days in a row, with fees of 17.8k $ETH (8/12) and 20.3k $ETH (8/13)."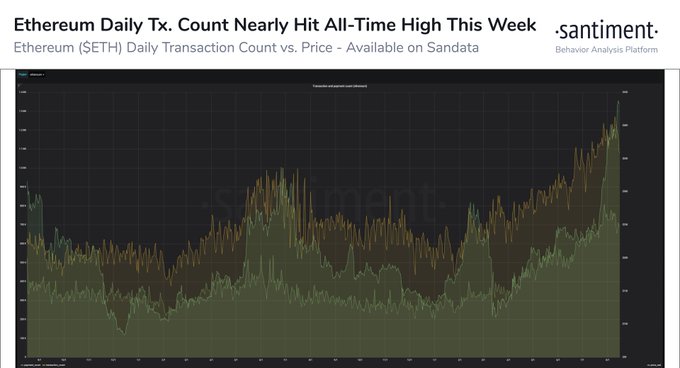 Chart of ETH's price action with the number of daily transactions from Santiment, a blockchain analytics firm.
The firm explained that these metrics achieving these levels is "a good long-term sign of things to come for #Ethereum holders."