Like Bitcoin and most other top cryptocurrencies, the past few weeks have been stagnant for Ethereum. The cryptocurrency has consolidated around ~$230, failing to breakout in either direction.
Stepping back, though, analysts are saying that ETH's chart looks bearish. One analyst went as far as to say that the cryptocurrency is currently in an "ominous" position due to a strong rejection at a crucial horizontal level.14 BTC & 95,000 Free Spins for every player, only in mBitcasino's Exotic Crypto Paradise! Play Now!
Related Reading: Fund Manager Reminds Bitcoin Investors to "Be Patient" as Price Stalls in $9ks
ETHEREUM IS PRIMED TO CORRECT LOWER
The lead technical analyst at crypto research firm Blockfyre recently said that "zooming out" to the three-day time frame, Ethereum's recent price action looks "ominous" due to the rejection at $250:
"Maybe a short term bounce coming but eh [sic] downside seems so favorable."
Ethereum price analysis by Pentoshi (@Pentosh1 on Twitter). Chart from TradingView.com
As the chart indicates, $250 has been a crucial region for the cryptocurrency over the past few months, and also acted as a level of importance in the previous bull run.
The aforementioned analyst is far from the only one indicating they see a correction for Ethereum down the pike.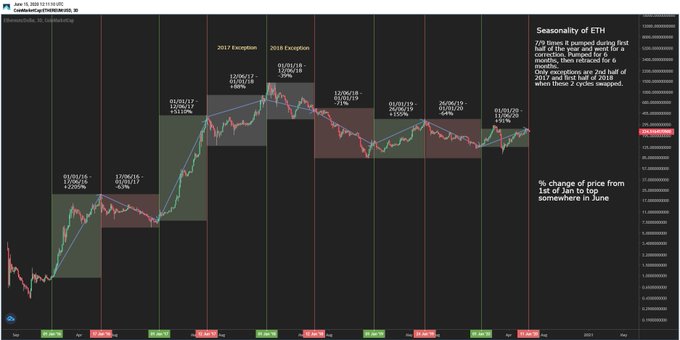 Ethereum price analysis by cryptocurrency trader 'Edward Morra' (@edwardsmorra_BTC on Twitter). The chart from TradingView.com
Per previous reports from Bitcoinist, an analyst suggested that Ethereum has an underlying seasonality where it rallies in the first half of the year, then corrects in the second half.
Should this pattern persist in 2020, the top altcoin is poised to experience a six-month correction that could potentially bring it back towards the ~$100 range.
"Since 2016, 7/9 times ETH pumped during first of the year & then corrected during second half. Only exceptions are 2 cycles in 2017-18 bullmarket when they swapped. If ETH follows its cycle this time then high of the year could be in & we've 6 month correction," the analyst who shared the chart above remarked.
INVESTORS ARE BETTING ON UPSIDE
Ethereum investors seem to be betting on the bull case, though.
Blockchain analytics firm Santiment reported on June 17th that addresses associated with ETH miners are accumulating the cryptocurrency en-masse.
"$ETH miners appear to be back in accumulation mode. After a mild bag dump around the time $ETH began to consolidate, miners have resumed accumulating for the time being."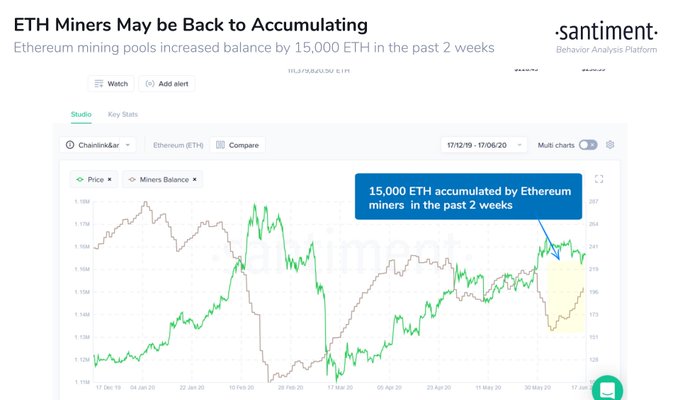 "ETH Miners May be Back to Accumulating" chart from blockchain analytics firm Santiment
The accumulation has purportedly taken the form of 15,000 ETH in the past two weeks. That's to say, miners have collectively accumulated ~$2.5 million worth of the cryptocurrency over the past two weeks alone, suggesting they are expecting medium-term upside.
Smaller market participants, too, are optimistic. Glassnode reported on June 17th that the number of ETH addresses holding at least 0.1 coins (~$23) "just reached an ATH of 3,002,281.000 Previous ATH of 3,002,015.000 was observed on 17 June 2020."