After grabbing all the headlines recently after it emerged to be the most expensive blockchain, Ethereum's transaction fees finally took a massive dive. According to data provided by Santiment, Ethereum's transaction fees dropped by almost 80 percent on 22 August, taking the fee structure back to its levels back in mid-July.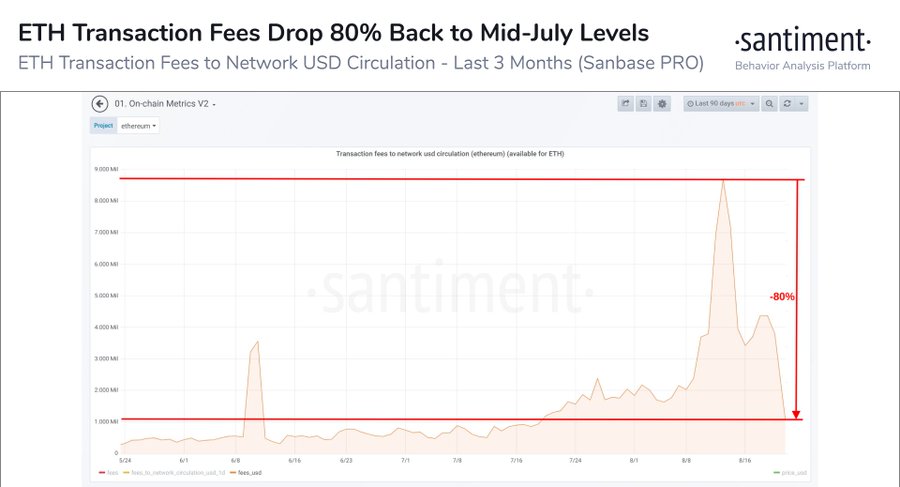 Source: Twitter
With the drop in prices, Santiment expected on-chain operations on the network to gather speed again. However, that isn't the only matter that should be kept in mind.
Why did the price drop and what now?
A series of events has led to Ethereum's present situation. Ethereum's congestion problems started way back when stablecoin issuance on the network eclipsed Ether's own position on the blockchain. Over the last few weeks, DeFi has capped off the last remaining bit of space in the ecosystem and when push came to shove, transaction fees sky-rocketed as well.
Now, with no more space on the parent chain, Tether's hand was possibly forced, following which it adopted the OMG Network, a 2nd layer off-chain solution on Ethereum itself. It was a good move if you ask OMG token holders as its prices surged by over 100 percent soon after.
Now, with the congestion problem supposedly under control, where does Ethereum go from here?
Ethereum's price has a chance to rise on strong grounds
Ethereum, at the time of writing, was valued at $390, which wasn't surprising at all. When it was climbing all the way up to to $442, repeated red flags in terms of a drop in Daily Active Addresses had been noted, but they were blatantly overlooked.
Now, Ethereum might just have the chance to start over again.
With Tether switching to the OMG network for now and transaction fees dropping, there is a chance now that on-chain user operations will not get priced out again in the network.
Right now, organic growth is required to establish a strong foundational base for Ethereum in order to rally the right way. For Ethereum, the plot is still not lost. The overall trend remains bullish and considering the corrections aren't very dramatic, a hand is all that is needed for another bullish drive.
However, it is imperative that this time the rally is cohesive with fundamental metrics backing it otherwise, the past will repeat itself and Ethereum's value will continue to suffer from its consequences.