Ethereum gas usage and fees both have been climbing higher with each passing day. Though the gas fees are not at an all-time high (seen in 2018), it has increased strikingly since mid-may. The gas fee is used to calculate fees needed to be paid to the network to perform a certain transaction and with an increase, users have been paying higher transaction fees.
According to Wilson Withiam, a researcher at Messari, Ethereum was "on pace to shatter its previous annual record for total gas spent in native units."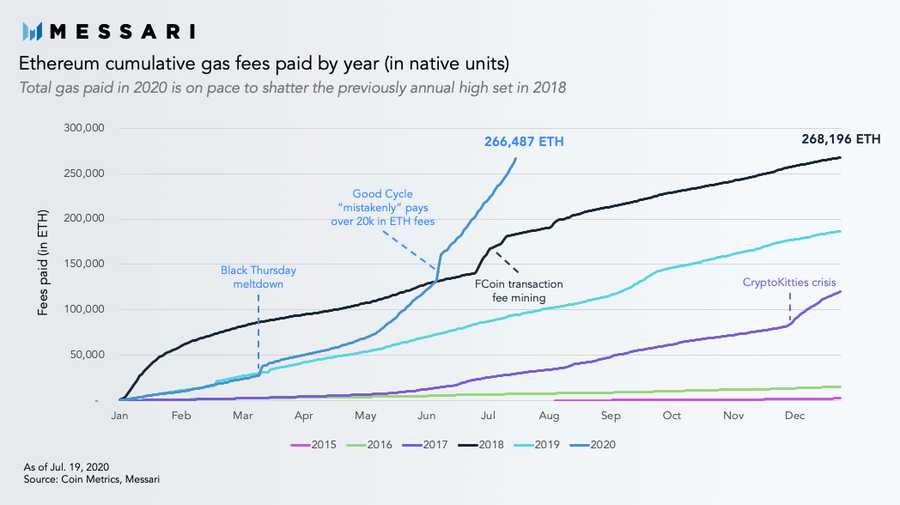 Source: Twitter
This rising cost of gas was a double-edged sword for Ethereum; On one hand, it did signify growth, but on the other hand, it was adding to the network's security budget, noted the researcher. Gas recorded its ATH in 2018; gas payments are currently only 2,000 ETH lower and may set a new record.
Miner revenue has also been skyrocketing in the past two months and has reached an all-time high. According to data provided by Glassnode, miner revenue from fees was surging to a new high.
Source: Twitter
Hourly chart suggested that more than a third of the ETH miner revenue came from fees rather than block subsidy. The +25% mark has been a good leap from less than 5% in April. Though miner revenue from fees has increased, its Fee Ratio Multiple [FRM] has been impacted negatively.
FRM relates to the security of the blockchain. Standing at a lower value between 0 and 10, FRM suggested that Ethereum could maintain its security budget [miner revenue] and did not need to depend on an inflationary subsidy. Currently, FRM reached 21.51.
Source: Glassnode
In the near future, Ethereum will require heavy inflation via block rewards subsidies in order to maintain its existing security budget.
Ethereum has been stuck in a loop of problems: high gas price that has been also pushing transaction fees. DeFi and Tether have brought growth to Ethereum, they have contributed to user traffic on the network, as utilization of gas on a daily basis has also reached an all-time high. However, the high fee has also been driving away potential users which is not a good sign for adoption.Did