Messari senior research analyst Ryan Watkins says Ethereum is on track to power $1 trillion in transactions in the span of one year.
Watkins is highlighting an extensive look into the research he recently published on behalf of market data aggregator Messari. According to Watkins' data, Bitcoin is now processing twice as many payments and on-chain transactions as Bitcoin per day.
"Ethereum now transacts two times more value than Bitcoin daily. This is what a cryptoeconomy looks like when it starts to find product-market fit."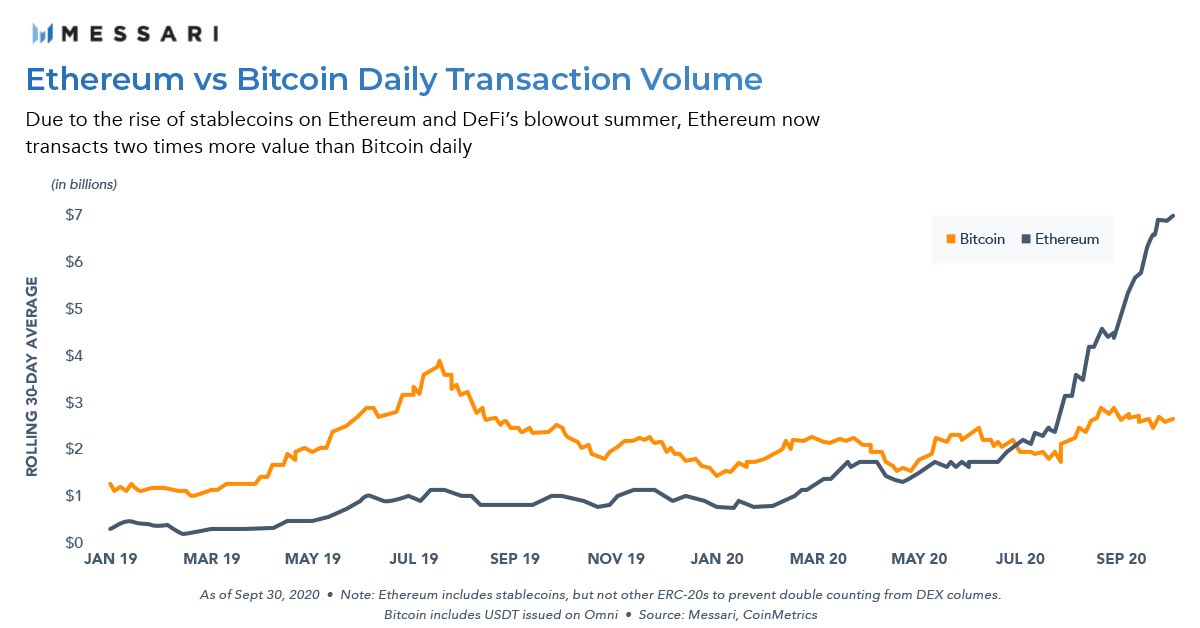 According to Watkins' chart, the transaction volume being processed on the Ethereum network daily is fast approaching $7 billion. Meanwhile, Bitcoin is processing less than $3 billion per day, which is lower than its previous high of about $4 billion in July.
The surge in Ethereum's volume can be attributed to the significant increase in ERC-20 stablecoin volumes such as Tether (USDT) and to the recent boom in decentralized finance (DeFi), says Watkins.
Tether alone processes more transactions than Bitcoin, Watkins points out.
"Much of this activity is attributable to Etherum's stablecoin volumes. Tether alone now transacts more daily than Bitcoin. Most of this volume is ERC-20 Tether."
In terms of the DeFi boom's part in catalyzing this rapid growth in on-chain Ethereum transactions, Watkins specifically highlights the huge volume on decentralized exchanges (DEXs).
"The second leading reason for this is Ethereum's boom in on-chain liquidity. Uniswap and Curve did more than $20 billion in combined volume for September. DEXs now comprise 13.6% of total volumes from all exchanges both centralized and decentralized."
If the current rate of growth is sustained, Watkins believes Ethereum will likely breach the unseen annual $1 trillion transaction volume level.
"Ethereum's progress has been so incredible that it will likely become the first public blockchain ever to settle $1 trillion in a year."