Ethereum (ETH) price has over the last few days, affirming the ongoing bullish grip with higher support above $1,800. Most investors have a long-term outlook for Ethereum, with many of them booking positions ahead of the next bull market.
Meanwhile, corrections have significantly reduced, elevating October as one of the most bullish months. If traders focus on holding their long positions intact, Ethereum price is bound to quickly close the gap to $2,000 with the possibility of the second recovery phase following suit to $3,000.
When Is Ethereum Price Expected To Hit $2,000
According to the Moving Average Convergence Divergence (MACD) indicator, ETH's uptrend is far from over. Possibly, bulls are just starting their field day. Traders began paying more attention to Ethereum longs after the blue MACD line flipped above the red signal line, sending a vivid buy signal on October 20.
If these long positions remain open while more traders seek exposure to ETH, the climb to $2,000 would be a matter of when and not if.
Ethereum price prediction daily chart | Tradingview
The 21-day Exponential Moving Average (EMA) also upholds the bullish outlook as it crosses above the signal line, forming a golden cross pattern. A golden cross is a bullish pattern whose appearance assures traders that the path with the least resistance is to the upside.
Up 8% in the last seven days, Ethereum price is trading at $1,816 on Monday during the US business hours. The uptrend will go a long way if bulls keep the immediate support at $1,815 intact.
However, not all will be lost in case of a brief pullback—one that would sweep through liquidity preferably at $1,800 to build the necessary momentum for the next run-up to $2,000.
Investors feeling already sidelined by the bullish trend in October are likely to appreciate the correction, as it would offer them a chance to buy Ethereum at a lower price point while anticipating a bigger breakout beyond $2,000.
In the event, that the pullback to seek volatility causes fear among traders and investors and they start to sell to lock in the gains, the 200-day EMA (purple) would be in line to absorb the selling pressure at $1,714. Further losses would seek refuge at $1,680, a support area marginally below both the 21-day EMA and the 100-day EMA.
Staked Ether Rises To A Quater of The Total Supply
The decentralized finance (DeFi) sector in the Ethereum ecosystem has been growing at a commendable rate, thanks to the protocol's transition from the proof-of-work (PoW) consensus algorithm to a proof-of-stake (PoW) mechanism.
Defi Llama shows that of the $42 billion of the total value locked (TVL) in DeFi systems, $22.8 billion is accounted for by Ethereum.
In October alone, ETH TVL's balance has grown by $3 billion from $19.8 billion. This increase can be attributed to the trend reversal that has seen Ethereum price rally from $1,522 to $1,816 and the long-term view investors have for Ethereum.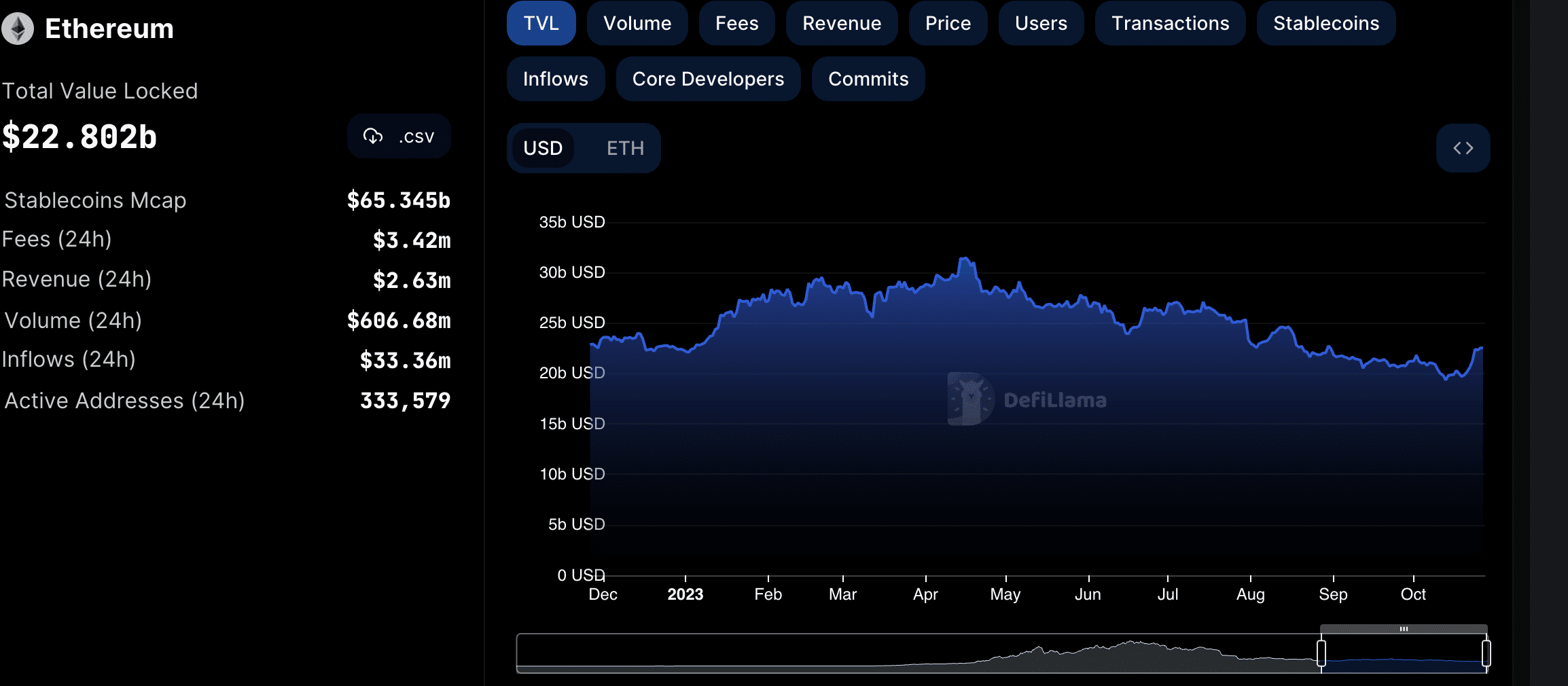 Ethereum TVL | Defi Llama
Blockchain data from IntoTheBlock and shared by @KriptoBaykusV2 on Twitter (now X), shows that staked Ether has continued to grow in 2023 such that it accounts for at least a quarter of the the network's total supply.
$ETH arzının neredeyse dörtte biri şu anda stake ediliyor. Ocak 2023 de bu oran %14'tü. Güçlü bir artış var ve yavaşlayacak gibi de görünmüyor. #ETH boğada nereye gider acaba?#btc #Bitcoin

Kaynak: @intotheblock – https://t.co/typanDsG8o pic.twitter.com/cuPddc7YE9

— Baykuş (@KriptoBaykusV2) October 27, 2023
So far, almost 28 million ETH has been staked in various smart contracts. Liquid staking protocols like Lido and Rocket Pool account for the highest number of staked Ether but platforms like Maker, AAVE, and Uniswap are also very competitive.
Related Articles
Singapore MAS Partners UK, Japan, Swiss Regulators For Crypto Projects
Popular Analyst Warns Correction In Shiba Inu, Dogecoin, Cardano And Injective
Big Week For Crypto Market Amid Bitcoin Rally; US FOMC Among Major Events