Ethereum has not only been the market's second-largest cryptocurrency, but it has also been the torchbearer for many of its fellow altcoins. Even as Bitcoin succumbed to a month-long consolidation phase, ETH was until recently noting new highs, with its growth contributed to by sectors such as decentralized finance [DeFi] and stablecoins. However, this growth was limited to the spot market as there was a lot of congestion on the Ethereum blockchain, one that pushed Tether's [USDT] move to OmiseGo, a Layer 2 solution for Ethereum.
The aforementioned integration between Tether and OMG Network would result in a reduction in confirmation times, while also helping ease the burden of high transaction fees. While the news did lead to the OMG token soaring by almost 115% within a week, Ethereum soon noted a brief pullback in the market.
According to Glassnode Alerts, Ethereum's Active Supply 6m-12m [1d MA] fell to a 14-month low of 15.639 million ETH on 22 August.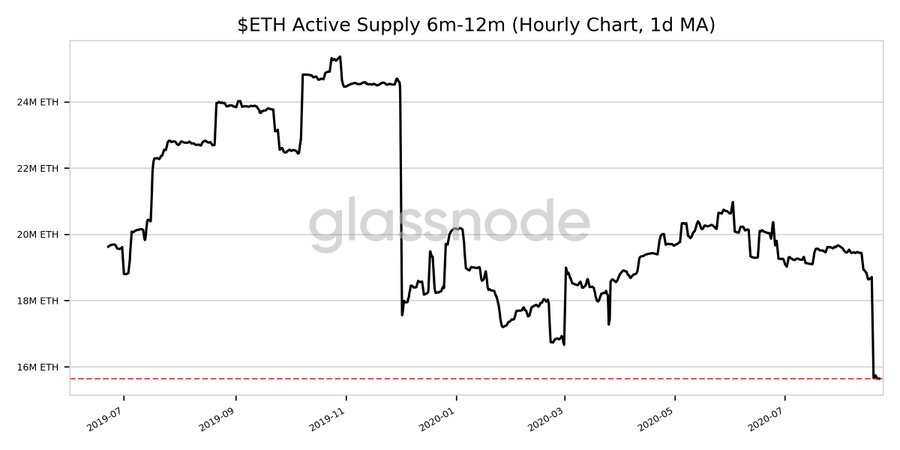 Source: Glassnode
On the contrary, the average gas price remained high. According to Etherscan, ETH's gas price peaked on 11 June, a day when the average gas price touched 709 Gwei. However, this was the limit of gas spent on anomaly transactions. As August went on, the price climbed as high as 263 Gwei on 13 August, with the same remaining above 100 Gwei since. The average gas price on 21 August was reportedly 161.84 Gwei.
This was a sign of the fact that gas priced had not been impacted, despite Tether moving onto OMG.
Meanwhile, altcoins' market cap has been also registering a proper decline. In fact, many mid-cap ETH-based assets were reporting great gains like Golem [GNT] with a 95% surge on its charts while Ethereum slumped by 8%.
Along with Ethereum, most major assets have been the victims of a red Friday. At press time, ETH was falling by 4% in an hour, while other major cryptos like Litecoin [LTC] and Bitcoin Cash [BCH] were noting falls of 3-4%, all within the hour.