What a day it's been for the Bitcoin, Ethereum, and crypto markets. After days of consolidation, the leading cryptocurrency surged higher from its sub-$10,000 slumber over the past 48 hours. The asset now trades for $11,000, up around 10% in the past 24 hours alone.
Unfortunately, with such market volatility, there have been some mishaps.
Just minutes ago, Bitcoin, Ethereum, and many other cryptocurrencies experienced a flash crash. Bitcoin plunged from $11,300 to $10,800 in the span of literal minutes while altcoins followed suit.
ETH faltered especially hard during this drop lower. According to one trader, the asset briefly traded at $300 on BitMEX as long positions presumably were stopped out of their positions, leading to a rapid decline.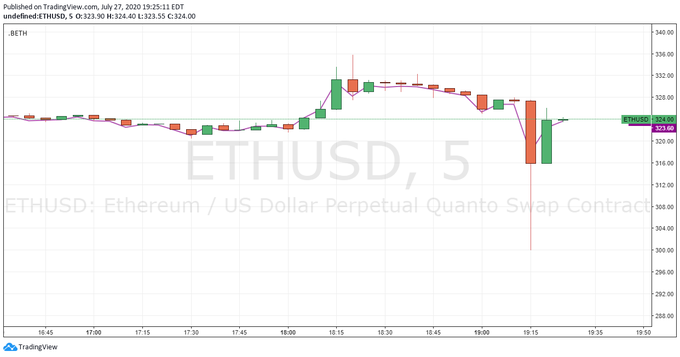 Ethereum chart by trader "BitBitCrypto". Chart from TradingView.com
Ethereum has returned to $325 as buyers have stepped back in, only cementing how crazy these market conditions are.