Is Ripple on the verge of outperforming Ethereum? An analyst makes a case for it.
Ripple's price has increased by 5.6% throughout the past seven days and is now trading above $0.5 after a period of depressing sideways action and declines.
The uptick in volatility and trading volume has also stirred the waters, with some analysts coming up with interesting XRP price predictions.
We reported earlier today that the most obvious target for XRP throughout a potential expansion phase would be its former all-time high at around $3.3. Meanwhile, if you're interested in a more macro overview of Ripple's potential performance during the next bull run, check out our recent video on the matter:
That said, one well-known analyst is pinning XRP to the second-largest cryptocurrency by means of total market capitalization – Ethereum (ETH). Back in July, he outlined that XRP was on the verge of breaking a resistance against ETH that was in place since 2018.
Now, the analyst, who goes by the X handle Dark Defender seems to believe that XRP is about to outperform ETH by a factor of 5x.
The reasoning is that XRP managed to complete a successful backtest of said resistance against Ethereum.
XRP/ETH pair completed the back-test. XRP is expected to appreciate 5 times more than ETH. Watch Ethere. The Misty Pond got a new King.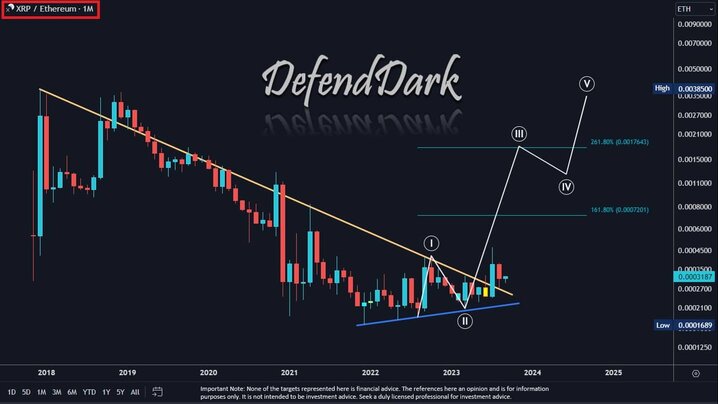 It's important to note that XRP outperforming ETH doesn't necessarily mean that it will flip in terms of price or market capitalization. It simply means that XRP will perform better in relative terms.
Join our Telegram Channel https://t.me/elevenews