The on-chain tracking platform Lookonchain revealed in an X (formerly Twitter) post today that a trader has been able to perfectly time a number of swing trade positions. According to the post, this particular trader sold 4,127 Ethereum (ETH) at $1,842 after its price increased over the past 24 hours. This is just another trade in a series of ETH trades that this individual has performed.
The #Fantom #Foundation #Drainer could be a great trader!

He/she sold 4,127 $ETH at $1,842 after the price of $ETH increased.

This guy traded $ETH 5 times, buying at lows and selling at highs each time, which is very good at swing trading.https://t.co/r1LKDzdaM5 pic.twitter.com/c78phVLzKi— Lookonchain (@lookonchain) November 2, 2023
In another X post published on October 30, 2023, Lookonchain analyzed some of the trades that this person performed in more detail. This post revealed that the trader sold 4,390 ETH, valued at $8.1 million, on October 26, 2023. Just 3 days later, the trader purchased 4,556 ETH at $1,775.
The swing trade resulted in a profit of around $200K, according to Lookonchain, after the trader sold 4,561 ETH, valued at $8.3 million. This was after ETH's price had risen to $1,819, noted the on-chain tracking platform.
Meanwhile, a whale deposited 24,495 ETH, worth $45 million, to Binance, according to another post by Lookonchain. In the post, the on-chain tracking platform revealed that the deposit also followed ETH's latest price increase.
The smart whale deposited 24,495 $ETH ($45M) to #Binance after the $ETH price increased, expecting to make ~$5.47M.

The smart whale has traded $ETH 8 times since Feb 12, 7 of which were profitable, with a win rate of 87.5% and a total profit of $13M+.https://t.co/WdvRcwa7il pic.twitter.com/wZs6z0Psq6— Lookonchain (@lookonchain) November 2, 2023
At press time, CoinMarketCap indicated that the altcoin leader's price had corrected slightly since the trader executed his/her latest swing trade. Subsequently, ETH was changing hands at $1,836.46, which was still a 1.94% increase compared to its price yesterday. This latest gain added to ETH's weekly performance, pushing it to +2.10% as a result.
ETH also recorded an increase in its 24-hour trading volume. At press time, CoinMarketCap data indicated that the cryptocurrency's total daily trading volume was up 65.79% and stood at more than $11.455 billion.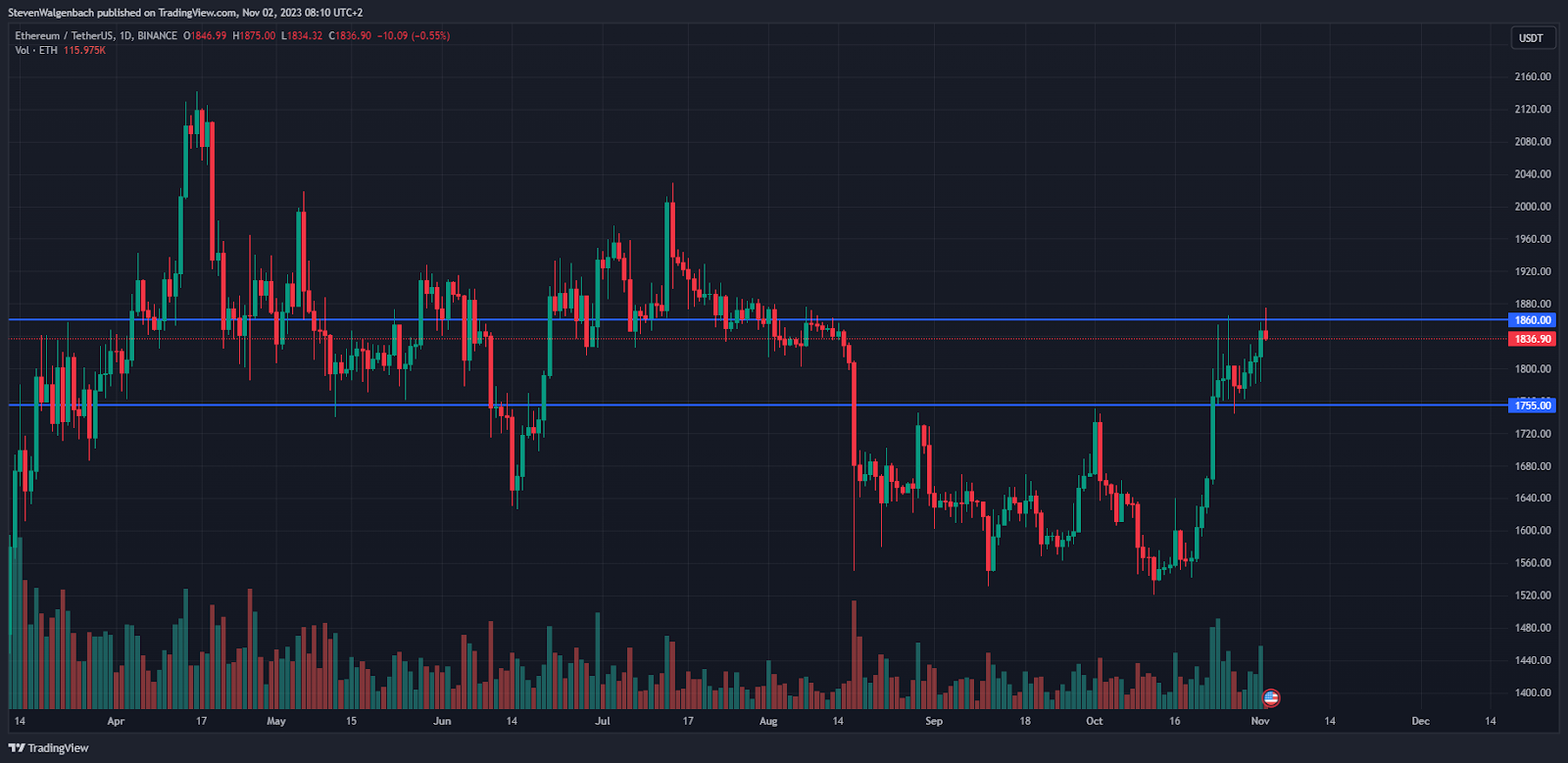 Daily chart for ETH/USDT (Source: TradingView)
ETH attempted to break above the $1,860 resistance level over the past 24 hours. Although it was able to break above this barrier earlier in today's trading session, bears were quick to force the altcoin's price back below this mark at press time.
Subsequently, ETH returned into the consolidation channel between $1,755 and $1,860. This was a sideways channel that it had traded in for the past two weeks.