On Jan. 4, 2021, Ethereum's (ETH) price surged above $1000 for the first time in almost three years. As transaction activity increased, the second blockchain became almost "unusable."
$10 for a transaction, $100 for a trade
Tushar Jain, managing partner of Multicoin Capital investment firm, has shared his opinion on the Ethereum (ETH) congestion caused by Ether instant price growth. According to Jain, on Jan. 3, regular trade on the flagship Ethereum-based DEX, Uniswap, was taking $100 in gas fees.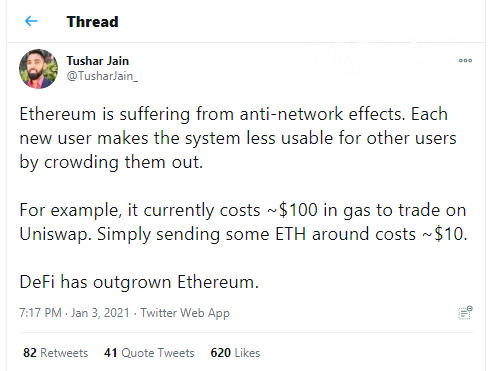 Image by Twitter
Transaction fees for a simple Ether transfer between the two accounts surpassed $10. According to Mr. Jain, these numbers speak for themselves:
DeFi has outgrown Ethereum.
Matthew Finestone of Loopring, an Ethereum scalability instrument, has added that other Ether-based platforms with automated market making are even more gas intensive.
To demonstrate the power of second-layer solutions, he live streamed the authorization of a $5 transaction with Loopring. It took $0.0125 in gas fees and was finalized very quickly.
Also, Ethereum (ETH) users were disappointed by a very low transaction speed: according to some guesses, with "normal" gas fees, transfer confirmation lasted for 2-3 hours.
New normal for Ethereum
However, recent congestion is very far from being the most dramatic for the Ethereum (ETH) blockchain. According to YCharts data aggregator, the average transaction fee is $10.20 at press time.
Image via YCharts
To provide some context, in September 2020, this metric surged above $11-12 twice in two weeks. Further, in 2020, spikes in Ethereum (ETH) fees coincided with Black Thursday, the most overhyped phases of the DeFi euphoria and the upsurge in Ether- and Pazos-based Ponzi schemes, Forsage and MMM.
To avoid the enormous fees and slow transactions, some services have switched to Layer 2 solutions.
For instance, Bitfinex cryptocurrencies exchange moved all of its USD Tether transactions to OMG Network (previously OmiseGo). These systems process some transactional data off-chain to reduce the pressure on Ethereum mainnet.