Investing during the cryptocurrency boom, when Initial Coin Offerings (ICOs) were the hype, was a risky business. It was difficult to estimate which projects were reliable, and the fact that the crypto market was hardly regulated at the time did not help either. There are, however, several crypto projects that you could have made a lot of money with, especially if you had this crypto in your wallet now.
DataLight, a company that provides analytical data on the crypto market, has compiled a graph showing the ROI (return on investment) of various known crypto projects. For example, the list shows that if you had invested $ 100 during the Ethereum ICO, you would now have $ 68,305.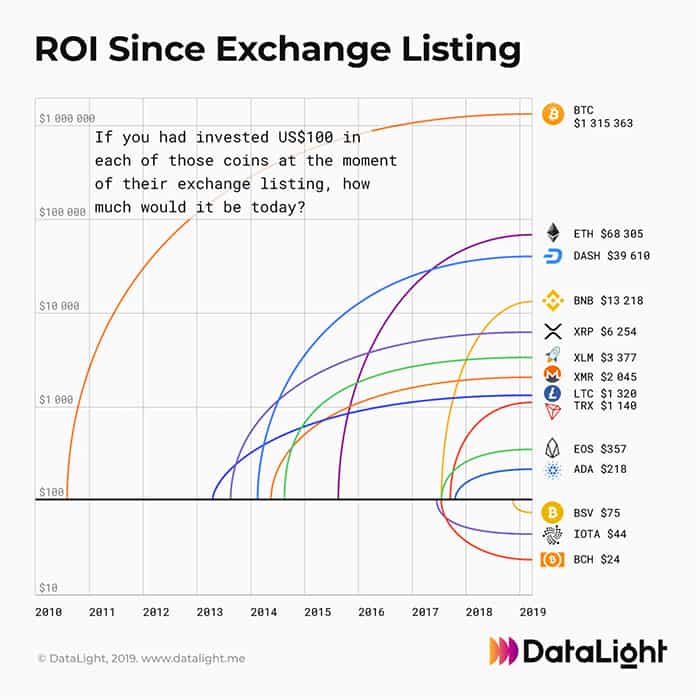 However, the absolute king of crypto investments remains bitcoin (BTC). With $ 100 in investments in bitcoin in 2010, you would have been a millionaire with $ 1,315,363. Investing in ICOs is not a guarantee of success. A lot of ICOs suffered huge losses.
For example, with an investment of $ 100 in the ICO of the banking startup Bancor (BNT), you now only have $ 16 left after the value of the token fell by no less than 84%. During the ICO, Bancor sold tokens for $ 3,864 each, which are now only worth $ 0.60.
According to some, the next chance to achieve a high return is the launch of Facebook Coin. In addition to the fact that this can generate quite a few pennies for Facebook itself, the cryptocurrency may also provide quite a bit of profit for investors.