Save for a few blips, XRP, Litecoin, Bitcoin Cash, and others have been part of the top 10 cryptocurrencies for years. Since the crash of 2018, the altcoins at the top of the pack have largely been unquestioned.
But a prominent researcher and fund manager is challenging the status quo. He wrote in a recent tweet that he doesn't think that five of the top 10 cryptocurrencies "do NOT deserve" being where they are today.
TOP RESEARCHER AND INVESTOR COMES OUT AGAINST XRP, BITCOIN CASH, OTHER ALTCOINS
Simon Dedic, the co-founder of crypto research firm and a managing partner at Moonrock Capital, is challenging the crypto status quo.
The investor wrote on June 21st that he thinks that five of the top 10 cryptocurrencies are overvalued:
"$XRP, $BCH, $BSV, $LTC and $EOS absolutely do NOT deserve belonging to the TOP 10 cryptocurrencies. Actually can't wait until they vanish and clear the way for solid candidates."
NOT THE ONLY ONE EXPECTING A SHAKE-UP
Dedic isn't the only industry executive to expect a shake-up in the top-10 cryptocurrencies.
Ryan Selkis, CEO of crypto research firm Messari, shared the tweet below on June 21st. Attached, he wrote:
"Overvalued is one thing. Stupid is another. Here's hoping to flushing out the real garbage."
His expected top ten cryptocurrencies for 2021 basically forces out a majority of the incumbent top altcoins. Selkis' list even suggests that XRP and Tether's USDT will drop out of the top 10, which would be a strong change from their fourth and third standing today.
XRP COULD BE THE FIRST TO FALL: ANALYSTS
While Dedic and others see weakness in many prominent altcoins, XRP may be the first domino to fall.
As reported by Bitcoinist previously, a prominent commodity analyst is suggesting that XRP could plunge 90% in the coming months.
Multi-decade trader and technical analysis author Peter Brandt said that the cryptocurrency recently broke below a crucial support against Bitcoin. The support held on multiple occasions over the past few months. It also acted as a launchpad for the cryptocurrency in 2017.
Should XRP fail to recover that support in the near future, Brandt is expecting the asset to fall to 200 sats. That is equivalent to approximately $0.02 per coin, assuming Bitcoin's current price of $9,700.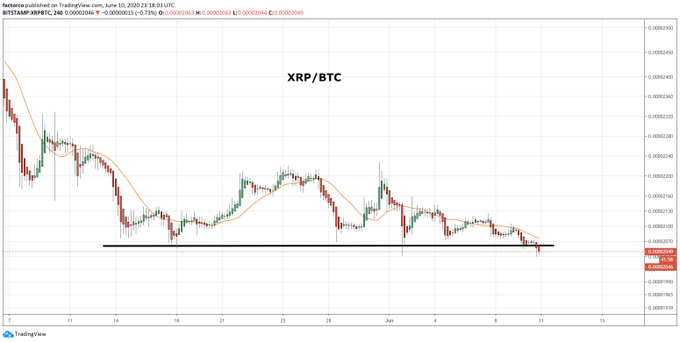 XRP/BTC chart from Peter Brandt. Chart from TradingView.com
Others have echoed in the skepticism.
One pseudonymous trader suggested that there's a high chance the cryptocurrency trades above $3.00 or even $1.00 again, calling XRP overvalued.
And another said that while XRP's growth in 2017 may have been predicated on "promising tech," there is no guarantee that it will rally.