It isn't only Cardano and DeFi tokens that have performed extremely well over recent days.
Stellar Lumens (XLM) is up over 50% in the past four days, having rallied from around $0.06 on the weekend to $0.09 as of the time of this article's writing. At the local highs, the popular altcoin traded just a few dozen basis points shy of $0.10.
Stellar (XLM) price chart over the past week from TradingView.com
This strength has made Stellar Lumens one of the best-performing cryptocurrencies of the past week. XLM is only trailing players like Dogecoin, some DeFi projects, and the aforementioned Cardano.
With such a rally over the past few days, it's worth asking if the altcoin has reached a top. According to a number of analysts, it's unlikely.
Watch Out: Stellar Lumens' Rally Might Have Legs
Analysts think that XLM's ongoing breakout has longer-term legs.
One trader shared the chart below, showing that against Bitcoin, the altcoin has cleanly broken a one-year range. Considering the importance of the resistance XLM just rallied past, the analyst postulated that a further 60-70% rally is possible.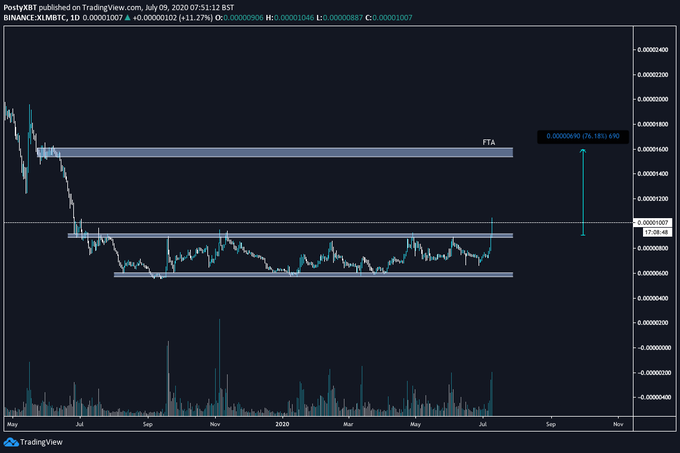 Stellar (XLM) price chart by "Posty" (@postyxbt on TWitter), a crypto trader. Chart from TradingView.com
Others shared the optimism, also pointing to Stellar Lumens' ability to cleanly break above the range.
Importantly, XLM's outlook is somewhat predicated on that of Bitcoin. Despite the altcoin largely outperforming the market leader, Coin Metrics reports that the two metrics still have a 180-day correlation of 0.175.
Social Media Trends Beg to Differ
Despite Stellar Lumens' strength, there are social media trends that could put a stop to the ongoing upswing.
As reported by NewsBTC previously, the term "XLM" is one of the top five crypto topics according to Santiment's Emerging Trends tracker. Santiment is a blockchain data company that focuses on social media trends and how they can affect the price of a cryptocurrency.
XLM Surges In Emerging Trends. (Source: Santiment)
Some may see this as a positive sign for Stellar Lumens. But as Dino Ibisbegovic, head of content and SEO at Santiment, explained:
"Within the next 12 days after a coin claims a top 3 position on our list of Emerging Trends, its price drops by an average of 8.2 percent. Based on our study, once the increased crowd attention subsides a short-term price correction – or consolidation – is often a likely outcome."
What he is seemingly referring to is the fact that these altcoin rallies are largely momentum plays. That's to say, these rallies are only sustainable if a consistently growing number of users and capital enters a market.
Any drop-off in adoption can trigger a sell-off as those that bought in lower naturally seek to take profits.