Binance Coin price fell to trade below $280 within the hour of the announcement of the SEC lawsuit.
The Securities and Exchange Commission noted that the cryptocurrency exchange violated securities law.
Binance CEO Changpeng Zhao responded to the claims with his standard "4", suggesting FUD, fake news or attack.
Binance Coin price is facing the brunt of the bear market as the already persisting skepticism was flamed further today by the Securities and Exchange Commission (SEC). The regulatory body fired its shot against the world's biggest cryptocurrency exchange and its CEO, bringing the native token BNB to a multi-month low.
Binance Coin price crashes
Binance Coin price is trending downwards at the time of writing, trading at $273. Down from $305, the cryptocurrency is facing panic selling from investors resulting in a 10% crash in the span of a few minutes.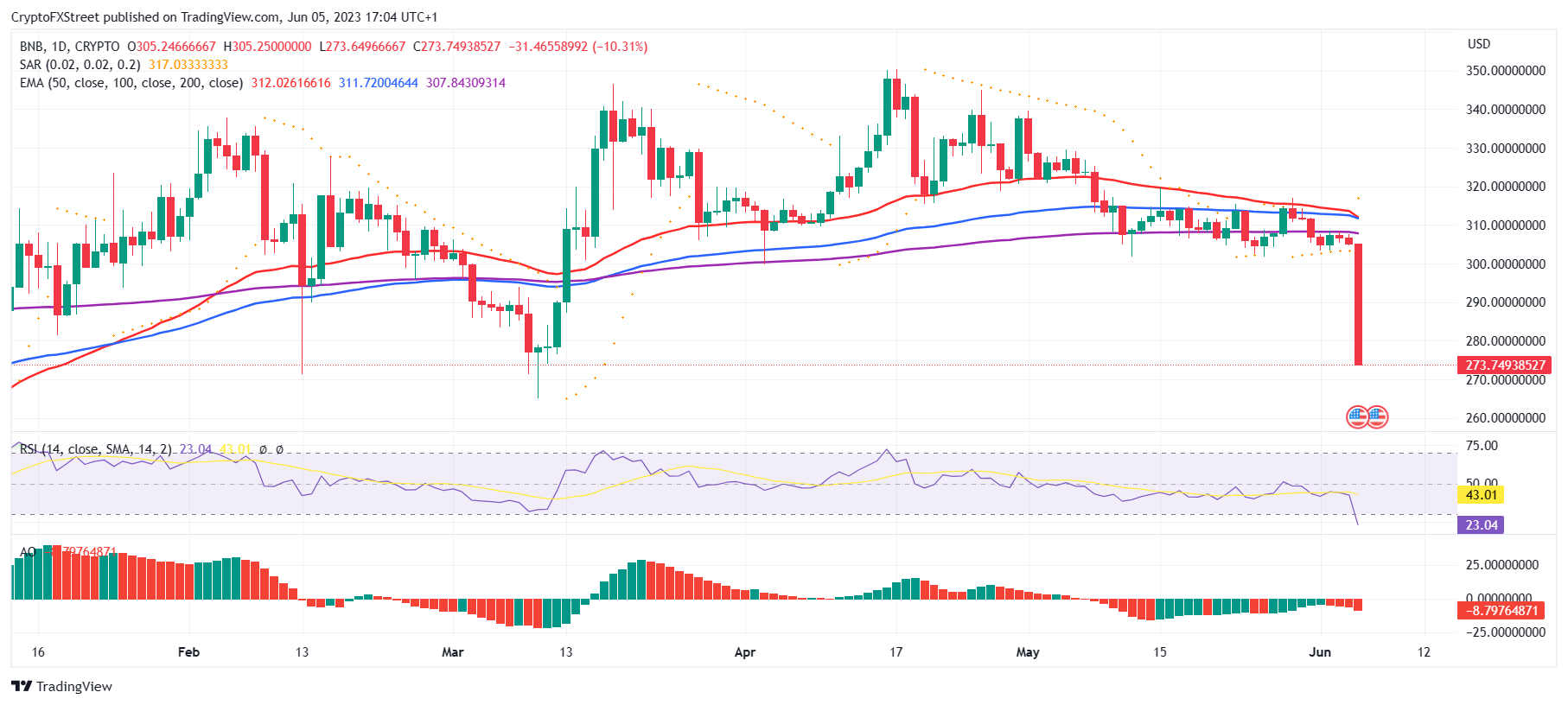 BNB/USD 1-day chart
Earlier on May 5, the SEC filed a lawsuit against the exchange and its CEO, Chengpang Zhao (CZ). The regulatory body claimed that the accused were in violation of securities law in the process of claiming BNB and BUSD to be securities. The SEC noted that Binance, its US arm and the CEO offered these unregistered securities to the general public.
At the same time, the company was also accused of allowing citizens of the United States to operate on the primary platform (Binance.com) other than Binance.US. The SEC stated,
"As a second part of Zhao's and Binance's plan to shield themselves from US regulation, they consistently claimed to the public that the Binance.com Platform did not serve US persons, while simultaneously concealing their efforts to ensure that the most valuable US customers continued trading on the platform.
Furthermore, the suit alleged that the accused commingled and diverted billions of dollars of customer funds to a third-party entity owned by CZ as and when they pleased. The SEC claimed that the users' crypto and fiat assets were moved around by Binance in ways other registered brokers would not.
Binance responded to these allegations, stating,
"While we take the SEC's allegations seriously, they should not be the subject of an SEC enforcement action, let alone on an emergency basis. We intend to defend our platform vigorously.  Unfortunately, the SEC's refusal to productively engage with us is just another example of the Commission's misguided and conscious refusal to provide much-needed clarity and guidance to the digital asset industry.
Additionally, the CEO of the company CZ responded with his trademark "4". The number is a code for all things FUD, fake news, attacks, etc., against the organization, adding.
"Our team is all standing by, ensuring systems are stable, including withdrawals, and deposits. We will issue a response once we see the complaint. Haven't seen it yet. Media gets the info before we do.
4.

Our team is all standing by, ensuring systems are stable, including withdrawals, and deposits.

We will issue a response once we see the complaint. Haven't seen it yet. Media gets the info before we do.

🙏

— CZ 🔶 Binance (@cz_binance) June 5, 2023