Bitcoin continued to slip lower after Bitcoinist's previous market update.
The cryptocurrency slipped from the $9,500 support where it was attempting to hold to a low of $9,070 on major exchanges. This means that from the daily high of ~$10,000, BTC has dropped by nearly $1,000 — one of the biggest moves since last week's $1,500 drop in three minutes.
The weakness in the stock market comes in spite of the fact that the Federal Reserve announced that it will likely be keeping rates near or at 0% for the next two and a half years.
It is too early to tell if a bearish trend has formed, but analysts say that the stock market has sentimental signs of a top. They reference how their family and friends have suddenly become interested in stocks while bankrupt companies like Hertz are rallying hundreds of percent, suggesting that assets are reaching an exhaustive point in their rallies.
Should stocks plunge yet again, Bitcoin is unlikely to benefit. As Arthur Hayes of BitMEX explained:
"Bitcoin will be owned unlevered. Could the price retest $3,000? Absolutely. As the SPX rolls over and tests 2,000 expect all asset classes to puke again. As violent as the Q1 collapse in asset values was, we have almost 100 years of imbalances to unwind the ancien régime."
BTC LOSES KEY SUPPORT
The bearish sentiment building has been corroborated by technical analysis.
In the wake of the move, a day trader shared that Bitcoin has broken below a "pitchfork" pattern that contained Bitcoin's price action from the March and April lows.
The loss of this uptrend pattern may be the start of a "much bigger breakdown," the trader opined.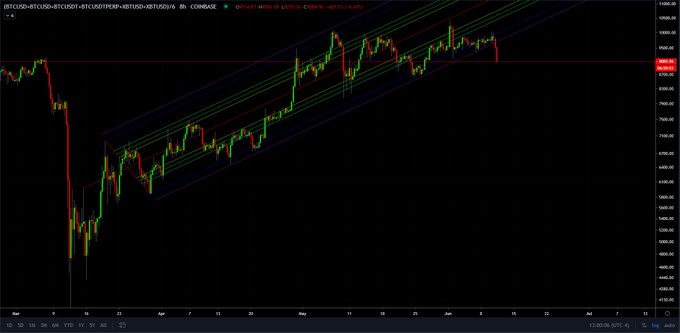 Chart from Jonny Moe