The Bitcoin price has not yet been able to break out of the narrow price channel between $9,600 and $9,900 and continues to trend sideways.
Some analysts forecast a bull run in the near future, which will drive BTC to a price of over $10,500.
---
The Bitcoin price has been moving in a price range between $9,300 and $9,900 for just under two weeks and between $9,600 and $9,900 for several days. So far Bitcoin has not been able to break the strong resistance along the $10,000 mark and is still close to the $9,800 mark. In the last 24 hours Bitcoin has shown a plus of 0.19% and is trading at a price of $9,742.12. The market capitalization remains at $179 billion.May 22
Price: $9.186,19
Prominent trader Josh Rager describes how he has been waiting for a significant upward movement of Bitcoin for several days now to confirm a new uptrend. In his opinion, Bitcoin could also fall back to as low as $7,000 after the long sideways movement, as many short positions are waiting at the $10,000 mark as well and could pull the price down.
Crypto-Trader "Teddy", however, states that the continuing sideways movement is only the "calm before the storm" and the next movement of Bitcoin will mark a longer-term new trend, whether up or down. He himself uses the current opportunity to make profits in a short period of time through the trading technique of scalping.
Big Chonis Trading notes that Bitcoin continues to trade in a tight price range, yet remains above the middle Bollinger Band as well as above the EMA 26 on the daily chart, and the signs for an upward breakout remain strong. However, he also points out that Bitcoin rebounded back above the $9,900 mark a few hours ago and immediately dropped back just below the $9,800 mark.
Even "Jonny Moe" is currently unsure whether he will open a new long position, as Bitcoin is not sending clear signals and has been unable to break the $9,900 mark permanently for almost two weeks. Nevertheless, he also thinks that Bitcoin will continue to rise in the coming days and thus break out of the narrow trend channel.
The Altcoin market continues to follow the trend of Bitcoin and is also moving sideways. The Ethereum price has fallen by 0.38% to a price of $243.45. In anticipation of Ethereum 2.0, there is a massive accumulation of wallets with a holding of 32 ETH or more. In total, more than 120,000 wallets are ready for ETH staking.
Wall Street and institutional investors are increasingly buying Bitcoin
In the last 12 weeks, 125,368 Bitcoins have been mined, of which Grayscale has purchased 62,972 Bitcoins for its own Bitcoin Trust. According to the well-known author Nick Chong, institutional investors are bunkering large quantities of Bitcoin and are thus preparing for a rising Bitcoin price.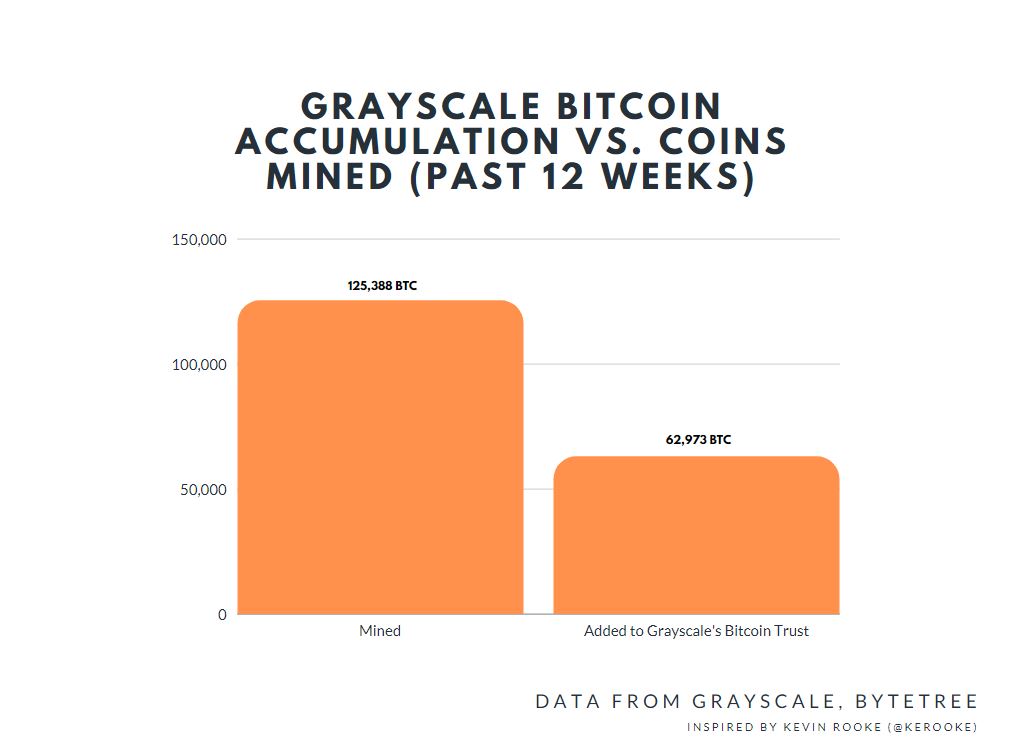 Source: https://twitter.com/_Nick_Chong/status/1269867686059597825/photo/1
On the world's largest futures exchange, the Chicago Merchantile Exchange, call options reached a new local high. The majority of investors are therefore betting on a soon to be rising Bitcoin price.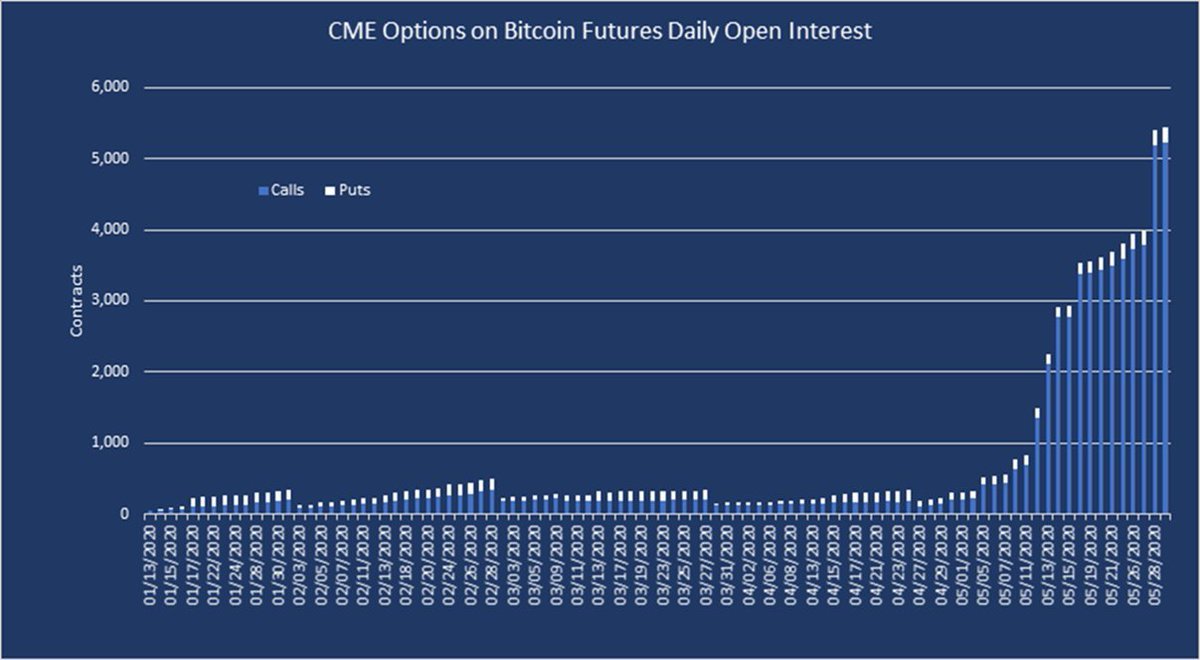 Source: https://twitter.com/Bobbert69572732/status/1270437071593844736/photo/1
Taken together, these developments could indicate that Bitcoin is preparing for a bull run.