Bitcoin under custody is growing amidst increasing interest from institutional investors.
Both BitGo and Grayscale now hold $16 billion worth of cryptocurrency assets under custody.
Interest from institutional investors was sparked when Michael Saylor announced MicroStrategy's first Bitcoin investment in the summer.
Digital assets company BitGo now holds $16 billion in digital assets under custody, it announced yesterday. One other company also reached the same figure a day later: Grayscale, which invests crypto-assets for its publicly-traded trusts.
Institutional investors flocked to the cryptocurrency market this year. Leading the charge was Michael Saylor's MicroStrategy, the US business intelligence firm that purchased $425 million worth of Bitcoin in August and September. Now, MicroStrategy owns over $1 billion worth of Bitcoin, and companies offering crypto custodial and investment services are now in demand.
Mike Belshe, CEO of Bitgo, said, "We're seeing unprecedented interest from institutional investors as a result of the pandemic's economic impact, as well as Bitcoin's extraordinary performance."
The flagship cryptocurrency broke a new all-time high price of over $24,000 this month, after finally breaking through the ever-elusive $20,000 bracket on December 16, 2020.
For Grayscale, the Grayscale Bitcoin Trust lets investors trade shares in trusts that hold large pools of Bitcoin. These trusts trade on the stock market.
According to bybt.com, a website that tracks Grayscale holdings, Grayscale Investment Holdings now holds $16 billion worth of assets under management.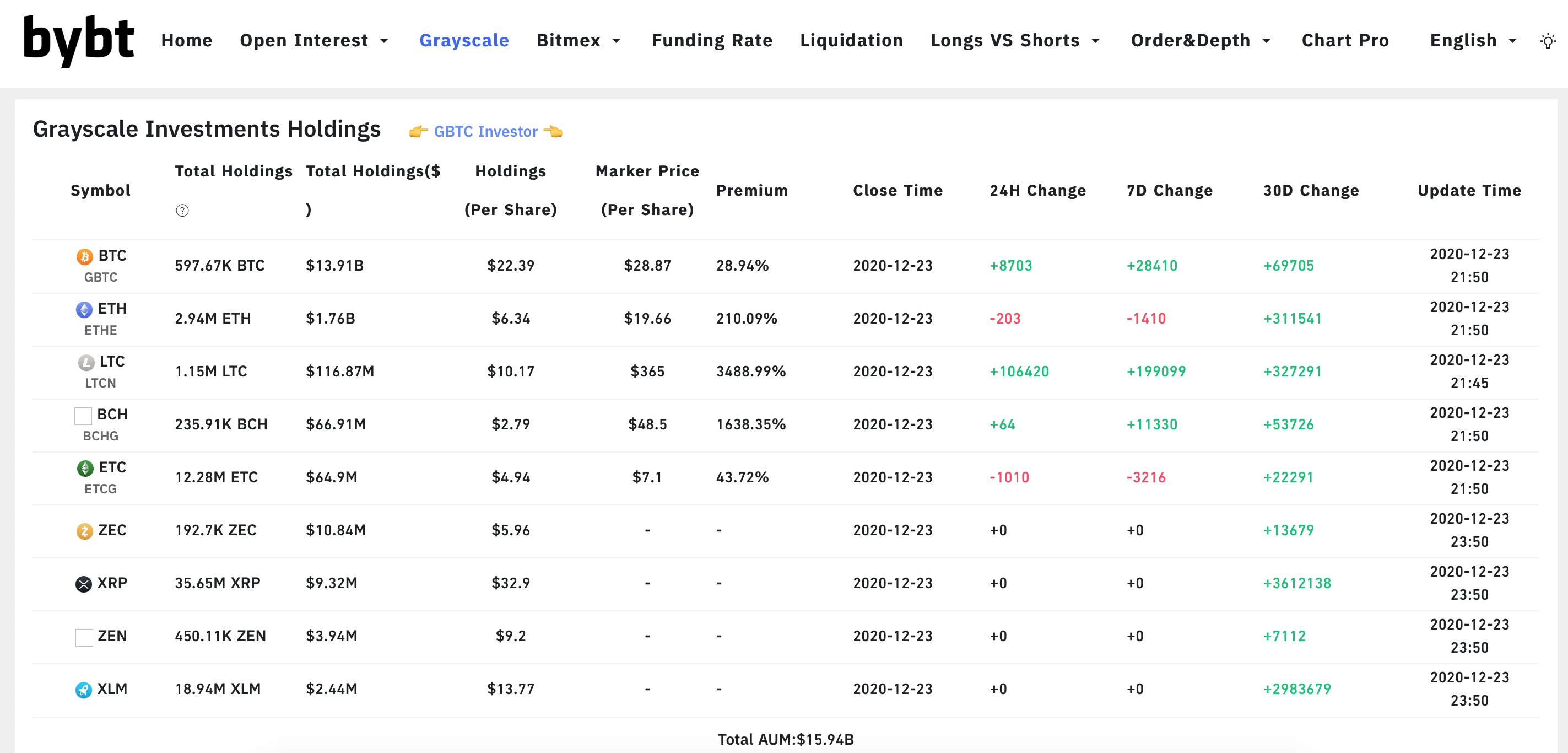 What's more, the Trust holds almost 550,000 ($13.91 billion) Bitcoin in total, which represents about 70% of the total Bitcoin held by publicly traded companies according to Bitcoin Treasuries.
BitGo custodies all 115,000 Bitcoin ($2.6 billion) held in exchange for WBTC, an ERC-20 token that represents Bitcoin. BitGo also acts as a prime broker for institutional investors.
BitGo's focus on institutional investors began in 2013 with the launch of BitGo's multi-signature wallets. Since then, BitGo launched BitGo Trust Company, a qualified custodian designed to sore digital assets in the industry.
There has been talks about the possibility of PayPal purchasing BitGo for a few months, but according to Fortune, that deal has now stopped in its tracks. "BitGo is an independent company and has not been acquired," Belshe told Decrypt.