Despite Bitcoin's stagnation, Cardano (ADA) has performed extremely well over recent weeks.
Data from crypto research firm Messari shows that the leading altcoin is up 150% since the start of the year. This is a much better performance than almost all top-50 cryptocurrencies, save for a few outliers in the DeFi space.
Cardano vs. other smart contract cryptocurrencies since the start of 2020. Chart from Messari
A full-time trader, however, thinks that ADA's outperformance won't last for long. He shared a chart indicating that the cryptocurrency has formed the same bearish signal last seen at Cardano's 2019 peak.
CARDANO'S BULLISH TREND MAY NOT LAST FOR LONG: TRADER
A trader shared the image below on July 1st, noting that Cardano's performance charted against Bitcoin is forming a bearish divergence. The analyst's indicator is trending lower while prices trends higher, suggesting underlying weakness:
"The reason I'm building the ADA short here. If we invalidate the divergence I'm happy to step out the way. Until then I'll continue to slowly build this position until the div confirms, at that point I can ramp up," he commented on the chart.
The divergence that has formed is especially pertinent as it formed prior to ADA falling ~75% against Bitcoin from Q2 2019 to Q4 2019.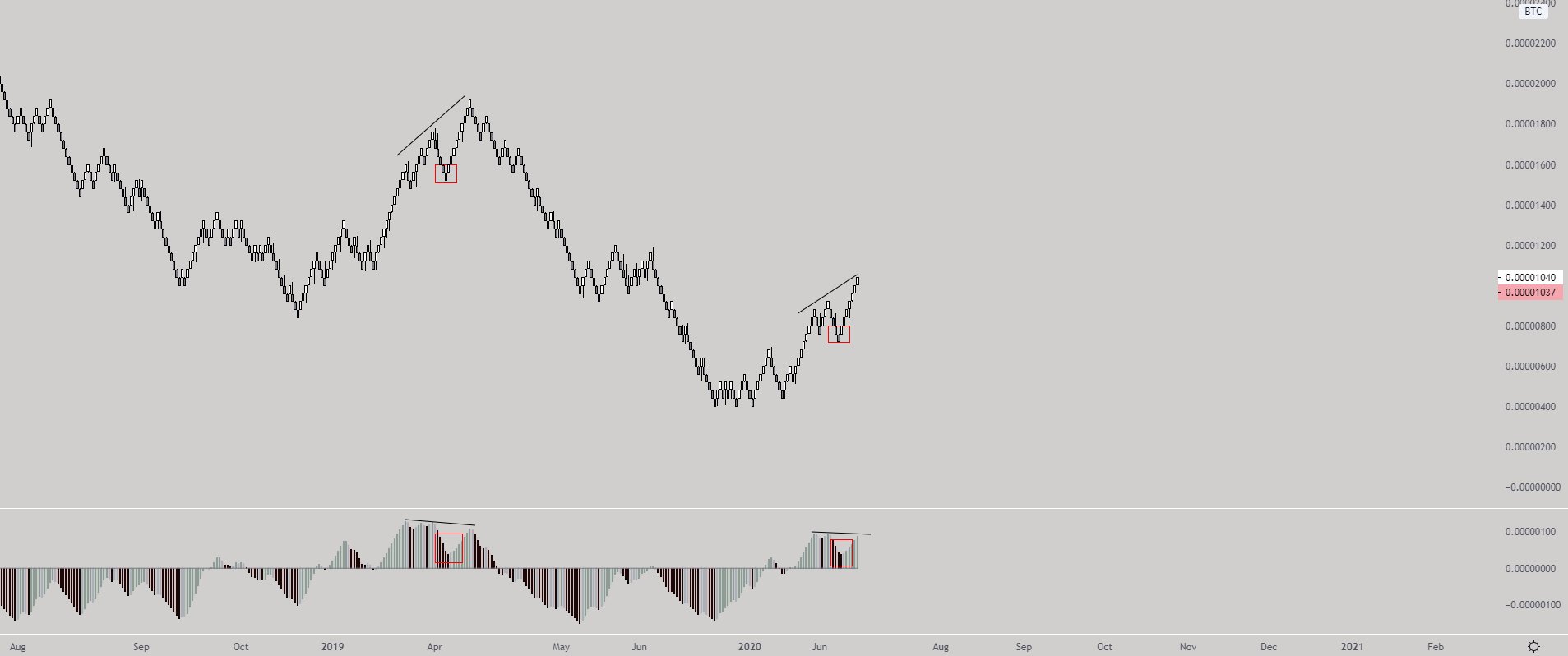 Cardano (ADA) analysis by full-time trader Cold Blooded Shiller (@ColdBloodShill on Twitter). Chart from TradingView.com
BUY THE RUMOR, SELL THE NEWS?
ADA's extreme outperformance over recent weeks has largely been tied to the asset's underlying fundamentals.
As of the time of this article's writing, the underlying Cardano blockchain is going through what is known as its "Shelly" upgrade.
Shelly is a phase of the blockchain's development that will increase its performance while optimizing for decentralization. This will be done through a Proof of Stake system. As the Cardano Foundation explains:
"Shelley will also see the introduction of a delegation and incentives scheme, a reward system to drive stake pools and community adoption… Come the end of the Shelley era, we expect Cardano to be 50-100 times more decentralized than other large blockchain networks."
With ADA rallying off that implementation, the cryptocurrency could see a "sell the news" drop afterward. This is similar to what happened with Bakkt and Bitcoin in 2019 and the CME/CBOE futures rally in 2017.
CARDANO'S FATE IS TIED TO BITCOIN
In some senses, the fate of ADA's price trajectory is tied to that of Bitcoin. After all, Coin Metrics data shows that the two cryptocurrencies have a positive 180-day correlation of 0.84.
Fortunately for Cardano bulls, analysts are once again becoming optimistic about BTC.
As reported by Bitcoinist, Glassnode CTO Rafael Schultze Kraft observed that Bitcoin's on-chain trends are stronger than they have been in months. He observed that the number of hourly new BTC addresses reached a two-year high while the hourly count of transactions reached a 10-month high.
There's also the simple fact that more than 62% of all BTC hasn't moved in a year.
"Bitcoin 1yr HODL new ATH!! We have reached a new all-time high, with 62% of bitcoin not moving on-chain for at least 1 year. Strong hands from hodl'ers! Such high levels of HODL'ing have been present at the start of previous Bitcoin bull runs," on-chain analyst Philip Swift recently wrote in regards to the image below.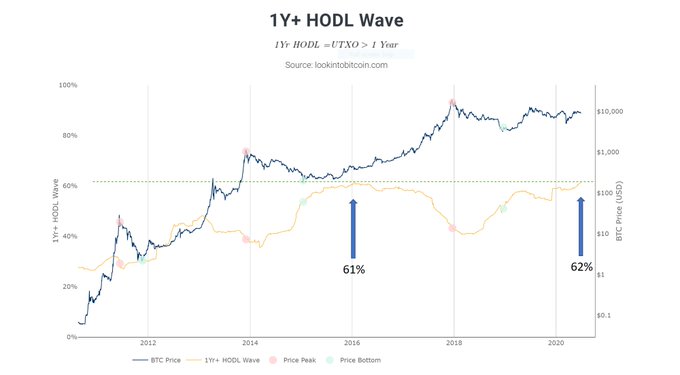 Bitcoin 1 year+ HODL Wave indicator from on-chain analyst Philip Swift (@PositiveCrypto on Twitter)