The CBOE Futures Exchange (CFE) stops recording bitcoin future contracts. The US stock exchange reports this in an official announcement to investors. Whether the stock market will stop permanently is unclear. CFE now says it is conducting research into how the stock market wants to tackle the product in the future.
In the report, the stock exchange reports that the "t" XBT "bitcoin futures contract for March 2019 will not be listed. CFE states in the announcement:
"CFE will not list Bitcoin (USD) (" XBT ") futures contracts before March 2019. CFE is assessing its approach to the way it intends to continue offering digital asset derivatives. […] XBT futures contracts that are currently listed remain available. "
This means that the XBTM19 contract will be the last contract that CBOE notes for the time being. This contract expires next June. Why CBOE has decided to stop the bitcoin future contracts is unclear. It is clear, however, that the volumes of the contracts have been disappointing for a long time. Below is a graph showing the volumes of the bitcoin future contracts of CBOE (light blue) and its rival CME Group (dark blue):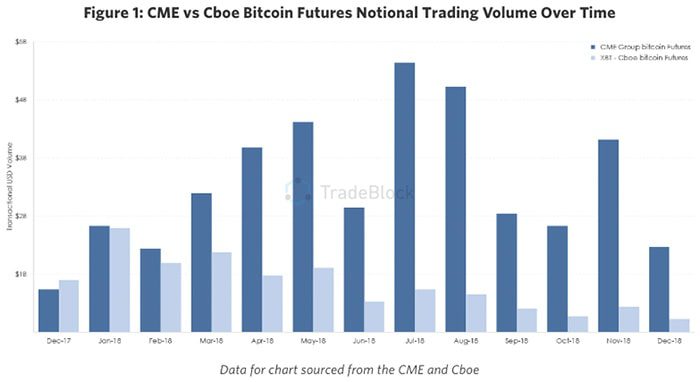 It is clear that the volumes for CBOE are disappointing. The stock exchange has been trading on the trading instrument since the end of 2017, when bitcoin and other cryptocurrencyies were a huge hype. That hype has since largely disappeared, which is reflected in the volume data.
CBOE's decision had no effect on the bitcoin rate. This is probably due to the fact that the share of CBOE in the bitcoin futures market is small, certainly in view of the disappointing trading volumes. At the time of writing, BTC is even slightly in the plus and is currently worth $ 3,959.18 after an increase of 0.92% in the last 24 hours.