Financial markets have finally started to slow after two months of rallying, and Ethereum is no exception. After attempting to break the $250 resistance multiple times over the past few weeks, the cryptocurrency has slumped into a range, trading between $220-240 as bulls and bears try and establish a trend.
The market seems indecisive — the funding rates of futures markets are trending towards 0% as each attempt at a breakout is rejected by bulls or bears, depending on which side the breakout is on.
Yet an eerie fractal predicts that it is only a matter of time before Ethereum sees a retracement.
ETHEREUM COULD SEE A STEEP CORRECTION, FRACTAL ANALYSIS SHOWS
According to the trader who predicted Bitcoin would fall to the $3,000s this year, Ethereum is currently trading in a fractal.
A fractal is a term used in financial analysis that describes a period of price action that has been seen before on a different time frame and/or with a different asset.
This analysis suggests that Ethereum's recent price action (over the past four months) looks extremely similar to the collapse of ETH in 2018. The fractal predicts that Ethereum will fall to ~$150 in August/September. A drop to $150 would mark a 35% retracement from current price points.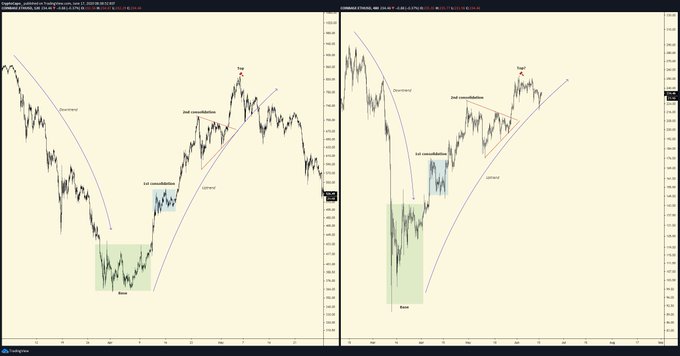 Ethereum fractal analysis by il Capo of Crypto (@CryptoCapo_ on Twitter). Chart from TradingView.com
BITCOIN WOULD NEED TO FALL AS WELL
For Ethereum to fall back towards $100, Bitcoin would need to also enter a bear trend. After all, all cryptocurrencies are extremely correlated over short-term time frames, with BTC leading this market up and down.
Fortunately for ETH holders, BTC bulls are purportedly in control.
As reported by Bitcoinist, the trader who in the middle of 2018 predicted the Bitcoin bear trend would bottom at $3,200 shared four signs that the uptrend is intact
BTC is trading above a technical downtrend that formed at 2019's $14,000 highs.
Volume is contracting as prices consolidate, suggesting a breakout. The breakout may take place in the upward direction as prices hold key supports.
Bitcoin's recent consolidation looks extremely similar to the middle of 2019's rally.
BTC hasn't printed a medium-term lower low yet, holding the $9,000s.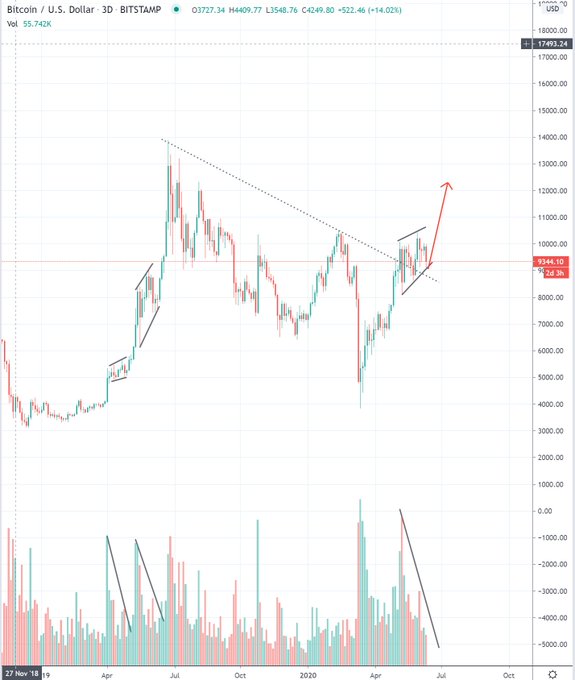 Bitcoin price chart shared by cryptocurrency trader @Smartcontracter (Twitter handle). It shows the leading cryptocurrency is still trading above a key resistance downtrend. Chart from TradingView.com
Another analyst stated that as long as Bitcoin holds the $8,700 range, BTC (and Ethereum) will likely see "bullish continuation."
The commentator attributed this assertion to the fact that over the few months.
"If price was to close below 8700, this gap would likely fill in a high volatility quick move," he wrote, pointing to the low-$6,000s as a likely place at which said "quick move" could bottom.
TradingView.com BTC chart annotated by BitDealer (@Bitdealer_ on Twitter)