The trend in the crypto market is often compared with Bitcoin [BTC] to define progress. However, Ethereum's [ETH] on-chain metrics have been noticing a pump independent of Bitcoin market performance. According to data provider Glassnode, on 7 June, Ethereum's daily network fees surpassed bitcoin's fees. As Bitcoin fees continued to plummet to $308k, ETH's fees noted a spike and reached $498k.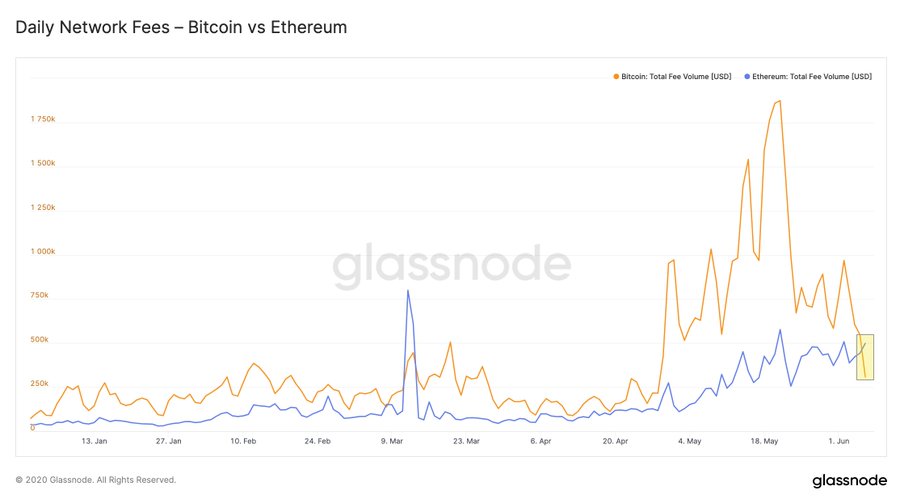 Source: Glassnode
As ETH's performance in the market takes over Bitcoin's growth, the traders have been entrusting their investments in the second-largest digital asset. The total number of addresses holding ETH at 39.96 million also surpassed those holding Bitcoin at 30.1 million, according to data observed by Intotheblock.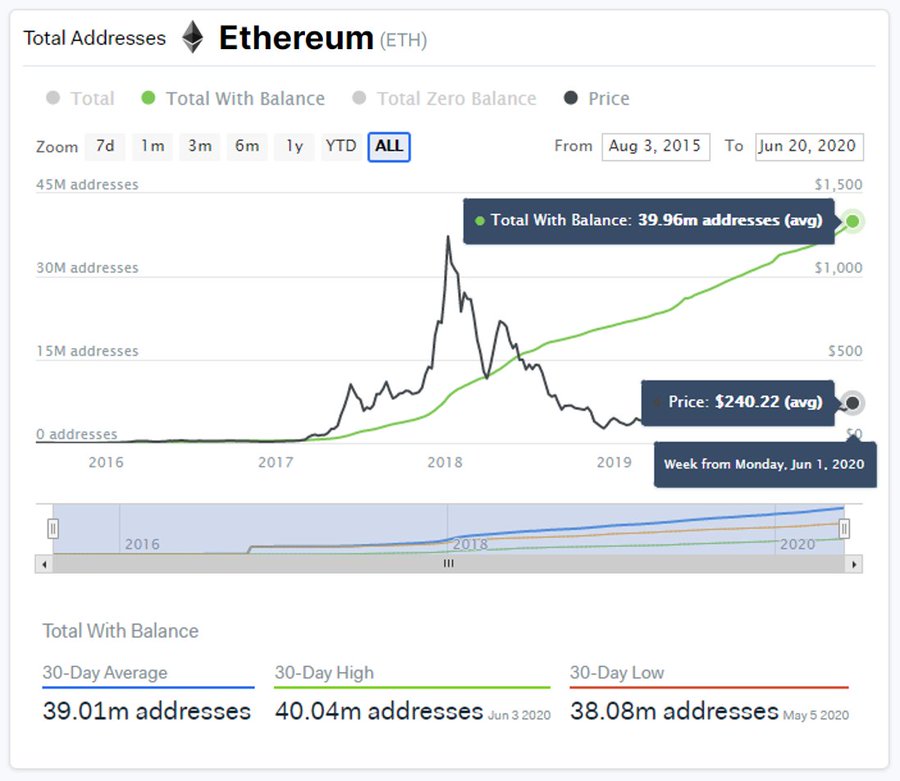 Source: Twitter
Following its improving performance and anticipation in the market related to the launch of ETH 2.0, the number of wallets holding over 32 ETH also noted a rise. Ever since the beginning of 2020, the scheduled events like Bitcoin halving and the launch of ETH 2.0 has kept the traders engaged in analyzing the market. According to Etherscan, the number of unique addresses holding has spiked from 84.218 million to 100.403 million since the beginning of the year.
Source: Etherscan
Apart from the growing popularity of the digital asset among the traders, the Ethereum network has been witnessing a marching up hash rate. According to data, the hash rate has increased by 26.8% since the beginning of the year and was at its peak for the year 2020. As the hash rate and other fundamentals rise, there have been speculations that this growth could also be a result of USDT and its transfers that have been carrying more value to the ETH network.
Recently, ETH's price stunned the market. The Ethereum Trust of Grayscale Investments was trading at a premium of over 750% of Ether price. As far as the second-largest coin's performance has been concerned, it was retuning 85% as compared to BTC's 36%.