Trading alongside Bitcoin, Ethereum saw a strong rejection at a crucial resistance this week.
For BTC, the rejection came at $10,000; for ETH, the rejection took place just above $250.
The cryptocurrency has not plunged from this pivotal level, yet analysts expect Ethereum to retrace upwards of 20% as bulls remain tepid.
ETHEREUM COULD REVISIT $200 AS PRICE SEES CRITICAL REJECTION
Ethereum's inability to establish a decisive foothold above the $250 level is a death knell for the ongoing uptrend, a top trader has shared.
Sharing this sentiment, he published the chart below on Jun. 13, noting how a downtrend is likely to form after two successive failed attempts at $250.
"So currently looking to be running into some pretty heavy resistance and it looks as though we could start trending down from here unless we see some large buys," the analyst wrote, postulating that ETH could retrace to at least $200 before bouncing, if at all.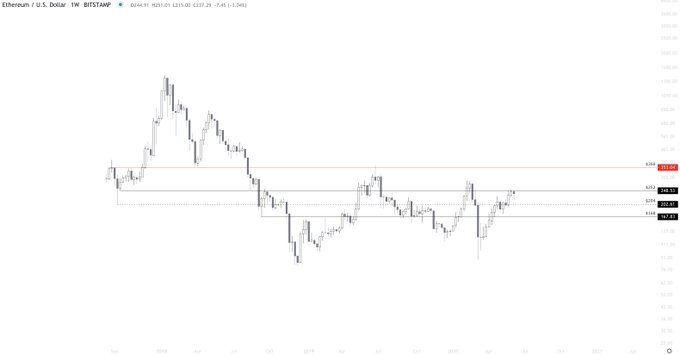 Ethereum price chart shared by "Cactus" (@TheCryptoCactus on Twitter). Chart from TradingView.com
There are other reasons why analysts expect Ethereum to retrace lower in the coming weeks.
A trader who was bearish in February when most were bullish recently indicated that Ethereum is about to break below a crucial diagonal level.
It failing to hold this level will precede a move to $200, the analyst suggested.
The technicals can be corroborated by on-chain metrics.
Per previous reports from Bitcoinist, blockchain analytics firm Glassnode found that 80% of the Ethereum market supply is currently in profit. This measure is derived by determining the price at which addresses obtained ETH, then calculating the aggregate number of coins obtained below the current market price.
This is pertinent to price action because the last time 80% of the Ethereum supply was in profit, the asset dove by over 50% in three weeks. The time below that was at the peak of 2019's bull market.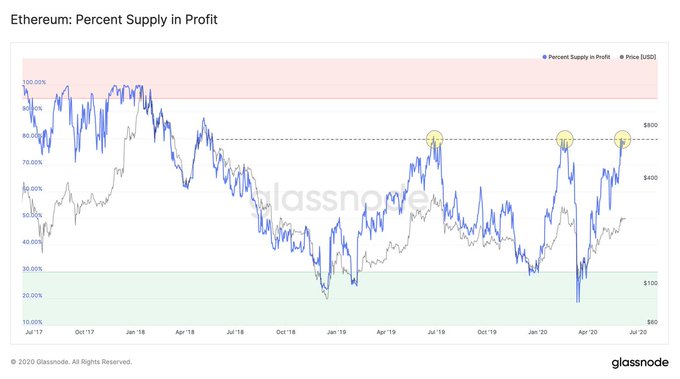 Ethereum on-chain metrics shared by cryptocurrency analytics firm Glassnode (@Glassnode on Twitter).
BITCOIN ALSO FLASHING SIGNS OF WEAKNESS
Analysts are also expecting a drop in the price of Bitcoin, which will drag Ethereum lower due to the high correlations between top digital assets.
Discussing how BTC broke below an ascending triangle formation during this week's rejection, one analyst said:
"Still ranging. Took a stab at range high, failed to breakout, broke the ascending triangle to the bottom, and is now on its way to range low. Needs to reclaim the pattern breakdown point for me to expect higher, until then expecting range lows."
The expectations that Ethereum retraces comes shortly after a fund manager revealed that it doesn't see ETH as a viable investment, especially for institutional players.