Bitcoin and Ethereum have bounced a few percent over the past few hours, as are altcoins like Balancer. The Ethereum-based BAL is up 26% in the past 24 hours according to Coin Market Cap, reaching a price of $23.50 for the first time in many days.
At a 26% gain, Balancer is the second best-performing crypto asset in the top 100 cryptocurrencies, only underperforming Cosmos (ATOM).
Analysts say that the asset could be primed to move higher, especially as the decentralized finance space continues to move higher.
Related Reading: Crypto Tidbits: MicroStrategy's $250m Bitcoin Purchase, Ethereum DeFi Boom, BitMEX KYC
Ethereum DeFi's Balancer (BAL) Is Up 25%: Here's Why It Could Rally Further
Ethereum decentralized finance darling Balancer (BAL) has gained 25% in the past 24 hours as buyers have stepped in en-masse. This comes after the altcoin faced a two-week drawdown from a $27.90 monthly high to a local $18.250 low.
Analysts are hopeful that the asset has room to move higher.
Last week, one trader shared the chart below. It shows that Balancer is primed to move towards the $30 range, 27% above the current price, due to a break above a critical downtrend that constricted price action for around a week.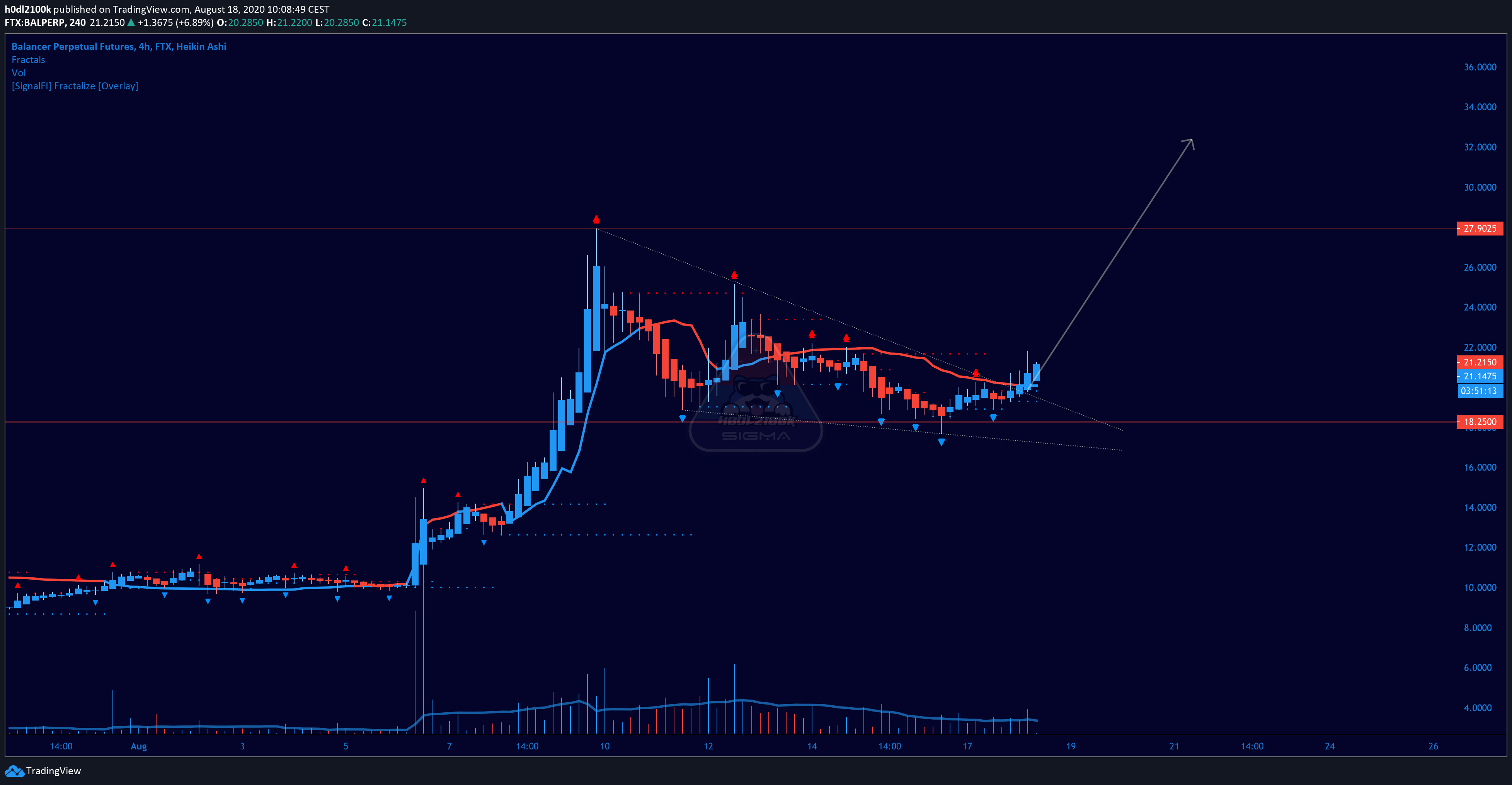 Chart of BAL's price action since the start of the month with analysis by crypto trader "HODL2100k" (@HODL2100k on Twitter). Chart from TradingView.com
Another analyst has also shared his optimism, citing the fundamentals such as a potential Coinbase listing and growth in the decentralized finance space:
"Up 30% since sharing the entry on $BAL here. Price discovery looming. Potential Coinbase listing being considered. Defi. This thing is gonna rip soon. Another leg down on $BTC MAY give you one last opp to enter- again, don't sleep on it."
Should Balancer reverse to the downside, this analyst believes that there is pivotal support in the $13.50-17.50 range that should hold. If that level is lost, the cryptocurrency could enter a medium-term bear trend due to the importance of the aforementioned zone.
DeFi on the Rise
Supporting growth in the price of Balancer is an overall trend of growth in the entire DeFi ecosystem.
Analysts comment that this segment of the cryptocurrency market is poised for another round of growth due to growth in the value of Chainlink, along with fundamental trends like new protocols and developments.
Related Reading: Crypto Tidbits: Dave Portnoy Drops Bitcoin, Tether Supports Ethereum's OMG Network, DeFi Still Hot
Featured Image from Shutterstock
Price tags: balusd, balbtc, baleth, ethusd, ethbtc
Charts from TradingView.com
Ethereum's Balancer (BAL) Surges 25%—and More May Be to Come

News source