Even as the cryptocurrency market is trading in red, GMX has witnessed an upsurge rallying more than 10% over the past 24 hours amid worries over bank industry turmoil in the United States.
Falling stocks in Europe and the banking crisis in the US have sent shockwaves invoking mass fear among investors and traders across the world. Although the U.S. government took extraordinary meausres to stop a potential banking crisis after the historic failure of Silicon Valley Bank (SVB) and Signature Bank, the markets reeled under negative sentiments.
Already on edge after the failure of two major banks in the United States last week, Swiss banking giant Credit Suisse recently identified "material weaknesses" in internal controls that dragged its stock price down, more than 25%. This fateful banking crisis along with macroeconomic headwinds have dampenned market sentiments adding to the falling crypto prices.
GMX RACES DESPITE ECONOMIC HEADWINDS
Despite the digital assets sector witnessing another downturn, GMX prices have surged in both its daily and weekly charts. According to CoinMarketCap, GMX is up 10.36% in the last 24 hours to hover at $81.84. The digital token jumped more than 21% over the past seven days even as major tokens continue to slip.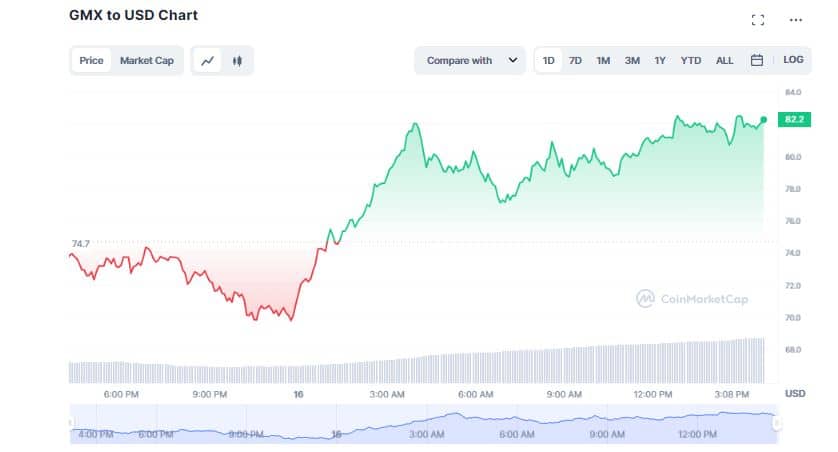 Over the recent few months, GMX, has gained exponential traction after the spectacular collapse of Sam Bankman Fried's FTX Empire. Additionally, it seems investors and traders alike have been tagging decentralized finance (DeFi) as an alternative to maintain revenue generation through yield farming and liquidity provision in wake of the banking crisis that is threatening a wider economic turmoil.
It is likely that GMX is currently carving out a niche for itself, which is reflected in the current embrace of its native token. In February, it outperformed rival exchange dYdX in terms of total value locked (TVL) despite low trading volume compared to the latter.
GMX BOOMS FOLLOWING FTX COLLAPSE
As per recent reports, GMX's TVL increased substantially with the total value locked on the protocol jumped from $550 million to $648 million, in just one week. In one of its latest updates on its official Twitter account, GMX said that more than $7.6 million have been collected in rewards over the past seven days.
Weekly Rewards Info 🔹

$7,648,041.59 collected in the past 7 days

$6,566,297.52 (ARB), $1,025,758.71 (AVAX), $55,985.36 (GMX-ETH)

To buy and stake $GMX / $GLP: https://t.co/HnDqM1JFdz pic.twitter.com/KNIV0gCem2

— GMX 🫐 (@GMX_IO) March 15, 2023
This comes after after the perpetual exchange generated fees of almost a whopping $5 million in just over 24 hours, temporarily making it the largest revenue generator in DeFi, earlier this year. The move catapulted GMX ahead of the Ethereum blockchain in daily fees. In January, Forbes Advisor, a global platform for finance related news, advice and inputs, listed GMX token as one of the best cryptocurrencies to watch out for in 2023.