Believe it or not, XRP is actually one of the best-performing cryptocurrencies of the past 24 hours. According to Coin Market Cap, the asset has gained 8.5% in the past 24 hours.
Analysts are not yet convinced the altcoin is in a bull market. They claim XRP is below crucial resistance levels.
One trader went as far as to say that if bulls don't "step on the gas" for the crypto soon, a 25% drop may follow.
Although the asset is breaking higher over the past 24 hours, analysts say that altcoins will underperform if Bitcoin starts moving once again.
XRP COULD FACE STEEP REVERSAL, ANALYSTS FEAR
XRP is finally breaking higher after Bitcoin and Ethereum underwent their respective rallies. In the past 24 hours, the popular altcoin has gained 8.5% against the dollar and 9% against BTC — one of the best daily performances for the asset in a while.
The asset is not in the clear yet, according to a trader.
He shared the chart below on July 28th, amid the rally, arguing that the asset remains below a crucial resistance level:
Now that the daily demand got retested can we finally send it out of this range? 2400 is such a tasty target for now. With the USD Pair looking like it does and the retest XRP saw on the "BTC Pair I think it's time for it to step on the gas. Otherwise -> 1500 Sats."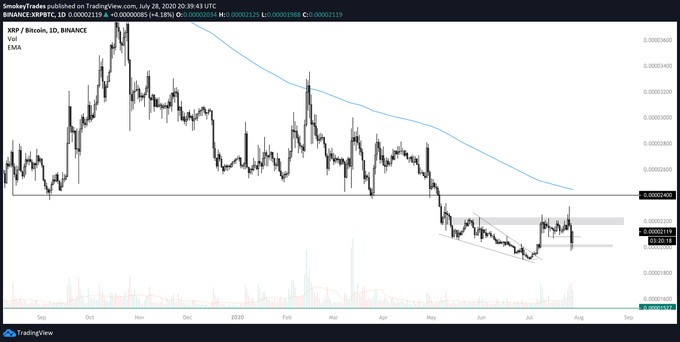 Chart of XRP's macro price action against BTC by trader Smokey (@TraderSmokey on Twitter). Chart from TradingView.com
This sentiment that XRP is in a precarious spot comes as reports have confirmed that the asset was dealt a fundamental blow.
As reported by Bitcoinist, The TIE and eToro — a blockchain data firm and exchange/trading platform, respectively — reported that XRP's social volume is on the decline. For their report for the second quarter of 2020, they wrote:
"While existing crypto investors became increasingly positive about the industry, there was no mainstream euphoria surrounding crypto post-halving. 73% of cryptos saw a decreased number of tweets in Q2."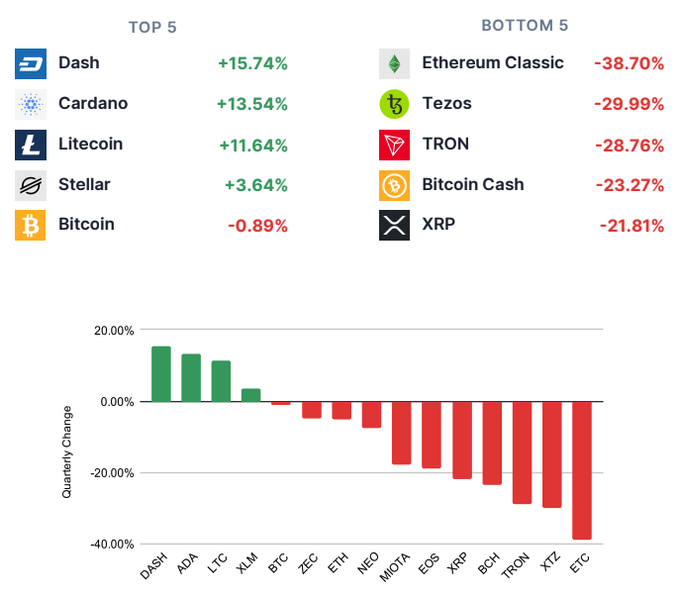 A BITCOIN-CENTRIC MARKET
XRP may also underperform because right now, the crypto spotlight is fixed on Bitcoin. Ari Paul, the CIO of BlockTower Capital, wrote on July 26th:"A big part of altcoins rallying for the last few months has been BTC in a tight range. IMO, most alts likely to underperform BTC if it breaks out in either direction… Historically, alts have generally done best when BTC takes a long pause after rallying substantially. The BTC rally reflects new money coming in, then in the pause, previous BTC holders take profits and rotate into riskier assets to continue their gains."